Grow membership by fulfilling Maslow's Hierarchy of psychological needs
Conundrum 101 – people don't know about credit unions? What? Why? How can that be? Let's open their eyes and tell our story. Cool! United messages make us stronger, collaborating to find solutions with key thought leadership. It is happening, and when consumers become aware, are we ready to emotionally connect them to what it feels like to be a member, to belong.  Relevant membership is all about the feeling of belonging to something more than a transaction account.  Remember when members had a common bond, they knew who they were pooling their money for and why it made a difference to real people?  Lifelong membership comes from knowing a credit union cared and helped you at a time of need. Some think that the sense of collective interest went away with digital transformation, but not me – evidence shows that all generations are gathering online for what's trending, what are key health issues, what friends are attending and who shared a common experience with them. This conundrum took me back to Maslow's hierarchy and how applies to financial services.
I googled 'key business leader characteristics.' The first article that came up was from Inc., and the first item on the list was self-awareness. This characteristic aligns with the pinnacle of Maslow's Hierarchy of human needs, self-actualization.
Many credit union leaders possess this awareness, this drive to be the most they can be, whether successful as a credit union professional, a leader of people or helper of those who haven't reached self-actualization yet. These are the people who will lead credit unions to continued greatness, because they grasp the big picture and express empathy, for their employees, their members and all human beings.
Research has determined that when organizations are mission-driven like credit unions and their leaders are passionate about the philosophy and strategy of the organization, employees are more motivated and engaged. Forbes reported that nearly three-quarters of millennials say they are not feeling engaged or are actively disengaged at work. Further, a Harvard Business Review study found that when employees find meaning at work, they are twice as satisfied and three times more likely to stay, which saves the credit union money and bolsters success in today's talent war environment.
When employees are engaged, they better serve your members and your business. Then, they can reach those levels of love, belonging and esteem that put them on the path to self-actualization in their work. Doing the right thing is good business and these credit unions become heroes through their leadership and vulnerable collaboration, helping their members achieve their own path to self-actualization.
The Mitchell Stankovic Underground Community thought leaders will tackle membership growth by challenging the fundamentals of Maslow's hierarchy of human needs and the RAW, life stage our members are facing. Identifying and navigating solutions through credit unions that also make sense for credit unions.
Physiological needs: When we're young, we need some of the basics for launching our lives. Young adult members might feel lost. They need a home, possibly a car and, of course, a job to pay for it all. It can be overwhelming but removing some of that uncertainty by providing financial education, information and products and services with their specific needs in mind is what credit unions can do best. Or as we confront life's challenges:  divorce, death, addiction, health issues, gender, our once self-actualized world falls apart.
Safety needs: Safety means many things to many people. For some, it may be having a safe place to put their retirement nest egg. For others, granting a home equity loan to replace a front door that may not be as secure as they would like to protect their family in an area that may be affordable for them but high-crime. And still others might need the very basics of safety, like those surviving the ongoing earthquakes in Puerto Rico, which was wiped out just a few years ago by Hurricane Maria.
Love and belonging: People literally belong to credit unions. We ask people to join us, but are we meeting them halfway: Are we joining them with any real connection? When this need is not met in humans, they may turn down dark paths. Minorities who are not accepted with open arms, not represented at your credit union, whether gender identity or preference, ethnicity or age, don't feel like they belong. We must assimilate to our communities through financial inclusion, not the other way around.
Esteem: Every car loan to a member with less-than-perfect credit (perhaps because they lost their job and now need a vehicle to get to a new one) supports the individual, the community and the credit union's business. The credit union can charge less than the buy-here, pay-here shops, while still respectfully pricing to mitigate risk. Your credit union can improve someone's finances in a highly stressful situation and help to boost their feeling of self-worth by providing a service that's very common to you; not so much to the member.
Self-actualization: Seeing how the credit union – through its well-trained employees who are on their own path to self-actualization – treats members and assists in their specific human condition, will reward you and them in many ways. Once the members achieve this status, they may decide to pay it forward, even volunteering at the credit union or getting involved in your foundation, and become evangelists of the credit union purpose. And the word of mouth marketing is priceless as they share what they've learned through life's trials with the help of their credit union!
What credit unions provide is not a commodity when the business operates in line with the foundational credit union philosophy: people helping people. And those people, consumers of financial services, have said they would change brands to one that is purpose-driven with similar price and quality – 91% of them according to Forbes. The article added that a study of 10 years of data found "purposeful, value-driven companies outperform their counterparts in stock price by a factor of twelve." Eight of 10 American consumers also report they are more loyal to purpose-driven brands, according to For-Managers. Credit unions must get these members in all stages of their financial and life's journeys – and keep them!
When we, as leaders, have reached self-actualization, we must use it to share our experiences, bumps and all, with those who are rising up behind us. We must use it to sow seeds, helping our colleagues and members through words and deeds. And we must do this, knowing we could get knocked back down the ladder when unexpected personal or business issues send us reeling. That's vulnerable collaboration. #STANDUP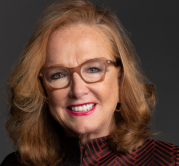 Susan Mitchell is a passionate believer in making a difference! As the CEO of Mitchell, Stankovic & Associates, a consulting firm that has provided over 5,000 credit unions innovative consulting ...
Web: www.mitchellstankovic.com
Details