How credit unions beat the myth of ease
We saw the movie Incredibles 2 this weekend along with millions of other families. Among the laughter and adventure was squeezed a quick lesson that got my attention.
I won't go into great details, but one character Evelyn Deavor had an interesting conversation with Elastigirl that struck me.  She claimed, "consumers aren't interested in quality, they fall for ease every time. It's all about convenience." Presumably, that was how she would wipe out superheroes for good – using people's weakness to be convenienced.  This little tidbit stopped me in my tracks.
It's not surprising to me what she said.  Actually, we are a society addicted to convenience and if you don't think you are, just recall the last time you walked to your TV and changed the channel.  Nope, that remote control was the first thing you looked for when you entered the room. Convenience. It's not going away. The thing that tripped me up is …will it all dwindle down to the easiest sales experience wins?
First, let me tell you that as long as credit unions are in business, quality will always be a factor…thank goodness! It's people helping people, not machines helping people or computers making it simple – that we stand on.  It has me wondering though, is it enough?
Take a look at mortgage lending and the changing process flow…automated underwriting, swift online mortgage applications, day one certainty, and the list goes on.  With these in mind, will convenience defeat the ways of a good underwriter, loan officer, or processor?
I'm going to go out on a limb though and say no.  When automated underwriting began all those years ago, everyone said "oh I'd really hate to be an underwriter right now. They won't have jobs soon." And, more recently we've heard the same about the loan officer and various other positions throughout the mortgage process.  We all still have underwriters and loan officers and a slew of other necessary professionals to close a loan.
While creating convenience is a necessity to compete, it isn't what is going to keep members and it isn't what is going to grow your membership.  Convenience, while necessary, is common among all financial institutions, lenders and companies across the globe for that matter. From ATMs to online mortgage applications no matter what aspect of your business, you have to be convenient.  Yes, we get that aspect of it, but there is so much more to it.
My point, if all things are created equal and everyone has the latest and greatest technology, it's going to be your people that make the difference.  It's going to be the way they connect with the consumer and the way they empathize with them. It's going to be how the staff problem solves or how they work together to make a difference in communities.  It will never be just about convenience. It will always be the extra difference your people make.
I'm honest in realizing that only those who can afford to compete in the digital world of convenience, can continue on.  If a credit union can't afford to compete by providing the latest technology solutions to its members, then maybe they won't survive. But, I will say that partnerships with the right vendors might make a big difference.  Not everyone can buy the technology themselves, but if you can partner with the right people to ensure you have the right tools to assist your team, maybe the credit union becomes the superhero in the story.
If your credit union has struggled in finding the right technology or staying on top of the changing technology in mortgage lending, talk with our team.  CU Members' is positioned to compete with the latest tools, but we're also positioned with the right attitude in assisting members. We believe in doing the right thing, and that's what's kept us going for more than 35 years.  You are not out of the competition because you don't have the right tools, you simply need to have someone to help arm you with the right gear.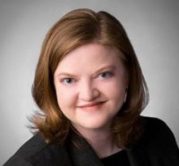 Alison Barksdale is the Assistant Vice-President of Marketing for CU Members Mortgage and has worked in the field of marketing since 2000. Her various positions within the field of marketing ...
Web: www.cumembers.com
Details