How does Santa answer all those letters (and so much more)?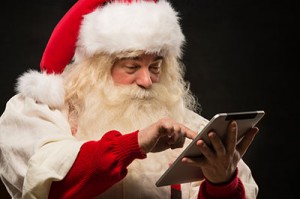 By Tom Tennant
The question is expected. It is delivered well before the last ornament is placed on the tree. Before the stockings are hung. Before the wassail is mulled.
"Daddy, how does Santa deliver gifts to all the children of the world?" my daughter asks. "I mean, how is it even possible?"
"It's a secret, my dear," I say, the answer escaping my lips before I even realize it is there. "But I'll share it, if you promise not to tell a soul."
There is a moment of hesitation. Then she agrees.
"The secret," I whisper, "is enterprise content management."
Her eyes roll. Way back in her head. So far back, I'm certain they've come clear around. "Daddy," she sighs. "C'mon. Really?"
"Really," I say earnestly, then think, isn't this what 16-year-olds do, not 6-year-olds? "Let me explain …"
Letters to Santa
"It starts with your letter to Santa. When you drop it in the mailbox, it joins millions of other letters from all around the world, each one delivered to that Jolly Old Elf at his North Pole address.
"They arrive at Santa's Workshop, where the elves remove tiny candy canes and hand-drawn pictures from each, preparing the letters for high volume batch scanning. They're rapidly scanned, indexed and archived in a central database, making the letters – and the wish lists within – instantly accessible to every elf, reindeer and snowman up at the Pole. All in seconds.
continue reading »