How to make credit unions appealing to Gen Z and beyond
Confession No. 1: I had very little knowledge of what a credit union was before I actually started working at one earlier this year. It's …. something to do with credit, I thought. Of course, I studied up while in the interview process and have learned a lot since actually starting the job (and I hope my colleagues agree with me). But it was interesting to poll friends and family over the past few months to see what their knowledge of the industry was. From my limited pool of respondents, it seemed as though friends with military ties were very familiar with credit unions, a few had used one to get an auto loan and the majority, like me, didn't know much about them but assumed they also had something to do with credit.
Confession No. 2: I am a millennial. That means for a long time there, every marketer was wondering how to sell to me and my friends, who supposedly hate all advertising. But because I'm an older millennial who still remembers dial-up internet and a time before cell phones, I often feel out of touch when it comes to the latest media trends, and marketers seem to have moved on from my particular age group, too. That's why I like to check in to see what the "young folks" think about things from time to time, and what better opportunity to do that than when you have summer interns? Luckily for me, we had some great ones this year, and they provided me with a wealth of knowledge of what Gen Z cares about in marketing. Here's what I took away from our conversations, and what credit unions can do to become more appealing to this maturing generation, so they can be equipped with more financial knowledge and banking choices than my peers and I were.
Teach Them Young
Just like me, it seems like a lot of college students don't know what it is that a credit union does. That's why credit unions need to create awareness from an early age. Programs such as CU 4 Reality, developed by America's Credit Union Museum, pair credit unions with local colleges, high schools and middle schools to create "reality fairs" in which students receive a budget based on a job that they select, and must plan their life around that set budget, with temptations such as sporting events and vacations along the way. At an even younger age, programs such as Money Mammals can help teach kids that saving is fun, with games, picture books and money saving kits.
Of course, many young people are likely to open their first savings or checking account with whatever financial institution their parents use, so it makes sense to get in front of parents, too. Create marketing and programs that involve the whole family, so that brand loyalty is passed down from generation to generation.
Create Awareness of Credit Union Benefits
Now that you have the attention of your prospective members, make sure you emphasize the benefits of belonging to a credit union. For a generation that's increasingly aware of brands' social impact, the not-for-profit, community-driven aspect of a credit union may be very appealing. Develop a brand mission and cause, and ensure that your members know what that mission is. If, like many credit unions, financial literacy is part of your cause, know what issues are important to college students and others in Gen Z. Student loans and battling debt are top of mind these days, but a lack of understanding around credit scores, how to invest for the future, and understanding disclosures/small print are all issues that our interns named as being of concern.
Without a doubt, lower rates and fees are also important to message to young people, who are concerned with keeping expenses down. Have special incentives for students, such as free Student Checking, access to FICO® Scores or even free pizza Fridays? Emphasize those, too.
Make It Easy to Bank on the Go
If your credit union participates in shared branching, this is a great aspect of credit union membership to share. A huge part of purchasing decision is still based on convenience, so if members know they conduct transactions at local branches and access no-fee ATMs when they leave their hometown, this will aid in retention and brand loyalty.
What's even more convenient than shared branching? Being able to conduct transactions from your mobile device, anywhere you go. With the majority of young people doing their banking on their phone, make sure you have full-service online banking and a strong mobile app that allows members to pay bills, remotely deposit checks or even open an account or apply from a loan within the app.
Reach Them Where They Are
We all know the importance of social media advertising by know, and most of us know that Facebook's audience is not getting any younger. According to a 2018 Pew Research poll, in the 18-24 age range, Snapchat and Instagram are the most popular social media channels. Learn how your audience is speaking and interacting on these channels, and create ads that speak to them in a language that they understand. Create incentives in your ads, and make sure you're giving a reason for them to pay attention.
In addition to social media, "TV" programming is still a great way to reach people; you just need to reconsider where TV is these days. With more and more people cutting the cord on cable, YouTube and streaming services that still have advertising, such as Hulu, are promising channels in which to get in front of captive younger audiences.
With so much shifting of brand views and how brand loyalty is created, it's an exciting time to get in front of this new audience and empower them with the knowledge to create a better financial future for themselves. Good luck!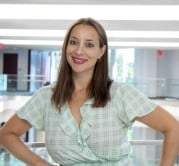 Anna Baskin is content manager at Service Credit Union, the largest credit union in New Hampshire, with 50 branch locations in NH, Massachusetts, North Dakota and Germany. Before joining the ...
Web: www.servicecu.org
Details