After the death of the great Gene Wilder a few weeks ago, many of us returned to the wit and wisdom of Willy Wonka and the Chocolate Factory. I loved this article by Bo McDonald, Five Leadership Lessons from Willy Wonka. Very insightful about the beautiful lessons Mr. Wonka taught us.
But I'm reminded of a scene that I have quoted many many times in my career. To remind people about the speed in which we must make decisions. And what members expect from us today. In the immortal words of Veruca Salt "I want it now daddy!"
The other day I checked out of my hotel room, ordered up an Uber to the airport and got my boarding pass. All three of these activities on my smart phone in less than a minute. I can't imagine queuing up to get my hotel bill, asking the concierge to call me a cab and standing in line at the airport to get my boarding pass. I won't do business with people that still operate in that world.
Tony Boutelle, CEO of CU Direct believes we need to emphasize speed as the key to success in lending, and that we have a lot of work to do in this area. Of the $27 billion in credit union auto loans CU Direct funded last year, only 7% of applications were approved instantly and 40% took three hours or longer to approve.
"Speed does matter, and if you focus on that as the most important metric in your organization and get to 'yes' faster, you will fund a lot more loans and a lot of other good things will follow that you need to focus on," he said.
Rocket Mortgage promises that in the 8 minutes it takes a space shuttle to reach orbit, Americans will now be able to receive a full mortgage approval online. Eight minutes.
FinTech companies are looking at this thing called "banking" and wondering why we have made it so complicated. Should it take 3 hours to approve an auto loan? When a customer can get a mortgage approval in 8 minutes? If we don't do it now daddy – we're sunk.
Salesforce wrote about the 5 ways millennials are re-defining the customer experience. And number one was "Don't care how, I want it now!" The need for speed has never been so prominent. Millennials don't know a world that doesn't exist in real time, on their phone. Ask me to come down and fill out a paper application? Not going to do it in a million years.
Self-service is preferred by millennials. According to Salesforce 70% of customers expect a company website to include self-service tools. This is a time/money saving investment for your credit union as well. Self-service tools help deflect the repetitive, low-urgency questions that otherwise can clog up your chat/call queues and turn your members off and away from your site.
The NACUSO Next Big Idea winner for 2016 gets it. Rate Reset which officially launched its CUSO CURateReset, is a self-serve tool that enables a member to reset their loan without the cost and hassle of refinancing. It's the Rocket Mortgage of loan retention.
I've said it before, and I'll say it again. Credit unions are not innovators. At best we are fast followers. If you are just launching remote deposit capture, you've waited 8 years to do it. And this product is not even geared to Millennials.
Before Veruca Salt was deemed a "bad egg" and dropped down the trash chute she sang these words of wisdom:
I want the world.
I want the whole world.
I want to lock it all up in my pocket (think smart phone)
It's my bar of chocolate.
Give it to me now.
If you give the Millennial Veruca what she wants now, here's the good news….she'll tell her friends and stop complaining.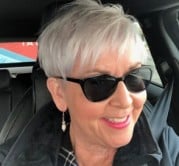 Denise started her credit union career over 30 years ago as a Teller for Pacific NW Federal Credit Union in Portland, Oregon. She moved up and around the org. chart ...
Web: https://www.zest.ai
Details