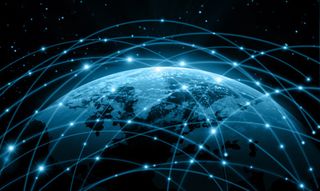 by Mark Arnold
We took our family vacation this year to New York City. Broadway shows. Empire State Building. Statue of Liberty. Wow – everything moved so fast. It reminded us of a few lines from the popular 1989 Don Henley / Eagle's tune New York Minute.
In a New York Minute, everything can change …
In a New York Minute, things can get a little strange …
In a New York Minute, everything can change …
Replace the words "New York" with "Internet" and you get a just as apt and even more startling look at the online cultural phenomenon in 2013. Consider the following statistics about what occurs on the global internet every sixty seconds:
More than 204 million emails are sent
Amazon rings up about $83,000 in sales
Around 20 million photos are viewed and 3,000 uploaded on Flickr
At least 6 million Facebook pages are viewed around the world
More than 61,000 hours of music are played on Pandora
More than 1.3 million video clips are watched on YouTube
What does this mean for your bank or credit union?
Everything.
continue reading »