Install A Little Free Library at Your Credit Union?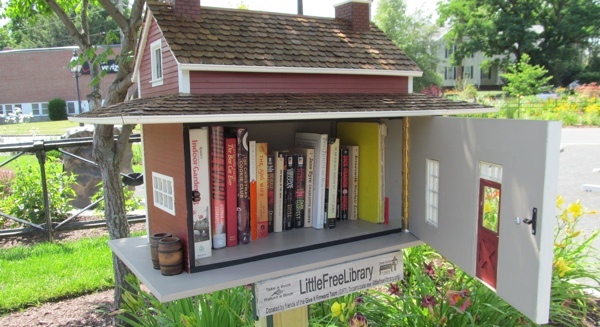 Have you ever seen a Little Free Library? They are everywhere here in Madison, Wis. and starting to pop up all over the world. They look like nice little birdhouses but they are filled with books for people in the community to take and/or return…for free.
Anyone can build one and either go for a ready-made kit or come up with their own unique design. I think they are a neat idea for a lot of reasons and recently noticed that Dane County Credit Union has a few of them installed in front of their branches. The libraries seem like a great fit for credit unions so I recently asked Bonnie Rosenmeier, VP Marketing and Member Service at Dane County Credit Union, about their experience.
The original thought came from one of our staff who had one in her neighborhood. She told me about them because she thought the concept was so unique. It was probably a year later, after many emails and much planning, we installed our first one at our west side branch. Two more followed at our other main branches.

We are always looking for different ideas to bring community togetherness and awareness to our credit union branch. The Little Free Library was a perfect fit for us.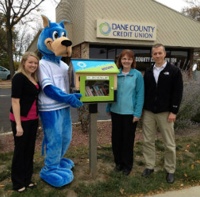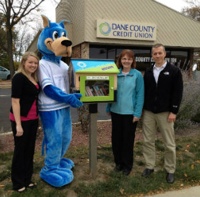 There were costs involved but they were minimal. We hired Little Free Libraries to build and install the libraries. We hired local artists to paint each one of our libraries so that they would be attractive, unique, and hopefully a destination for the community to view. Roughly it cost us about $3,000 for 3 libraries. It doesn't have to cost that much though.

We get positive feedback about our libraries all the time. What surprised me and everyone here is how often people use them, how the books are always rotating, and how we hardly ever need to restock them.

Any credit union would benefit from installing a Little Free Library. It goes hand in hand with the credit union cooperative philosophy. It builds community camaraderie and a goodwill sense of sharing. It was easy for us to get our Little Free Library up and running because Madison has them all over and the awareness of them is wide spread. In other communities where they are not as well known, there may be opportunities to really stand out by being the first ones to bring them into the area. 
I'm intrigued. Little Free Libraries could be a low cost way to engage with your community and members. A way to educate members and another easy way to leverage your cooperative values.
The possibilities and opportunities seem endless. Stock yours with books relating to financial literacy, local authors, children's books, favorite books by staff, and more. Have your staff design the library or hold an internal design contest. Work with local artists like Dane County CU did. Be creative. Have fun with it.
And remember: big things start small!
Christopher Morris is currently an engagement consultant at the Credit Union National Association (CUNA), providing specialized attention to broad and diverse stakeholders throughout the Midwest Region. Previously, Christopher was a ...
Web: www.cuna.org
Details