Is change keeping you up at night?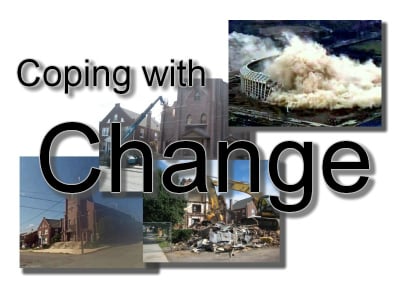 Several weeks ago I learned some disturbing news. Back where I grew up in Northeastern Pennsylvania, the decision was made to tear down the building which served as the parish church and parochial school I attended all throughout my early childhood. Hearing about this and seeing the pictures seemed to suddenly thrust all the precious memories I have of my grade school experience, the Polish Nuns and serving as an altar boy into a dark and stomach-wrenching void.
The last time I felt something similar was when I watched Veterans Stadium in Philadelphia be imploded in order to accommodate the new baseball field, Citizens' Bank Park. All those memories of going to ballgames at "the Vet" as a kid with my Dad and brother were turned into ashes in a matter of a few seconds. Or were they?
I know I'm not alone in experiencing the kinds of feelings these situations evoke. Such occurrences are common to all of us. They are part of the fabric that is time, and as time marches on, change inevitably keeps up the pace—sometimes in sync; sometimes a whole lot slower. It's all part of life's journey and experienced by all of us everywhere without exception.
For example, look at the credit union system. There was a time when the US was home to more than 10,000 credit unions. How many do we have today? What about all those stories of credit unions that had once used a cigar box to store money and receipts and today are organizations that can boast having assets in the billions? I remember hearing those stories. You, too, may have heard them.
Today's credit union system continues to change almost on a daily basis. There are new regulations, new threats, new products and services, and let's not forget new ways to engage members. Paper has evolved into the digital, and mobility is rattling the stability of bricks and mortar. Long time CEOs are retiring, passing the torch to a new generation. And all the while it seems more and more people are discovering the value of credit unions and transferring their accounts to them from banks.
There's no doubt, change permeates every nook and cranny of the credit union community and it only stands to reason. If credit unions are growing, developing and expanding in membership, sophistication, products, and services, then change is to be expected. It's just something we have to learn to accept and live with.
I for one am certainly seeing change dominate the headlines of my life story at the moment. I'm in the process of relocating from Southern California to Madison Wisconsin. I've started a new job as Editor-in-Chief of Credit Union Magazine at CUNA. My wife, Deborah, and I are selling our house in Cali. We're also buying a house in Madison . . . and, those are just the headlines!
Seeing photos of my church and school being torn down and moving from the Pacific Time Zone to the Central Time Zone where I'll be breaking out the winter clothes and learning to navigate the halls of CUNA certainly embody change.
For some folks, such change can be earth shattering, rocking the status quo beyond belief. For others, among whom I identify, such change represents the start of a new chapter and a whole new set of opportunities.
And, as for letting go of what has seemed to be such icons of my history, whether it's Veterans Stadium or my home in California, I look at it this way.
When change takes us on a new path, we don't lose the past or what we left behind. All of it continues to be with us as part of our personal heritage, safely entrenched within the vault of our sweetest memories. Those memories help form the foundation on which we will build new friendships and experiences. And most important, it's those memories that will also help shape and influence everything we'll do in the years to come.
So why let change keep you up at night? After all, once you take a closer look, maybe it's not all that it's cracked up to be?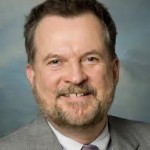 Walt Laskos, C.U.D.E., M. Div., is editor-in-chief of CUNA's monthly flagship publication, Credit Union Magazine. He is a DE (Development Educator) with a background spanning more ...
Web: www.cuna.org
Details