It's Q4, how are you doing on those goals?
There is a chill in the air, leaves are quickly abandoning their trees, and the stores are stocking up on holiday décor. That's right, it's that time of year again: the end. As we approach the culmination of 2017, how are you doing on your goals for the year?
If you have completely abandoned "The big 3" for 2017 or need a refresher, let's take another look at three main goals for the year every financial institution should be working toward
Improving records management
In order to keep up with the growing number of regulations involving documents and records to avoid fines and bad press, all institutions should be setting records management functionality as a priority.
Once digital, records management capabilities use predefined rules to automate records management processes, from record declaration through final disposition. Users can then place holds on those records to automatically destroy or purge them from the system, staying in compliance with the exact amount of time records need to be held and avoiding the risks associated with unsuccessful audits.
How far did you get on this one?
Knowing your members
To support today's crucial member-centric banking strategies, credit unions should utilize a content services, or an enterprise content management (ECM), platform. With electronic documents and information stored in a secure, central system, employees are able to access member information and documents directly through their core banking systems or line-of-business interfaces without having to switch screens or applications.
With a simple mouse click or finger tap, employees immediately know everything they need to.
How is your credit union tracking against this goal?                                                                                                     
Wowing your members
Instant access also means employees are focusing on members, not looking for information. By integrating core banking software with ECM, member service representatives have that instant access to relevant information.
This empowers them to provide fast, accurate answers when a member needs help – the true "core" of your business. This is not only a great time to make a lasting impact on your members, but also capture sales information, generate leads, make offers or create new sales.
Going even further, content services solutions also provide several mechanisms for customized, automated statement delivery. You can deliver compound statements with check images via email, fax or posting on the internet and then customize them to include specific marketing messages. You can also provide secure online access to documents, enhancing the member experience as well as reducing the workload on service representatives.
How did you do on this one?
Good luck as we wrap up 2017. And if you're coming up short or run out of time, like Cleveland Browns fans know all too well, "there's always next year."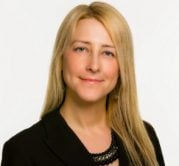 Michelle Shapiro has more than a 15 years of experience in the banking industry to her role as Financial Services Industry Expert at Hyland Software. Her mission is to share ...
Web: www.onbase.com
Details