Jumping into the deep end: The first all-virtual World Credit Union Conference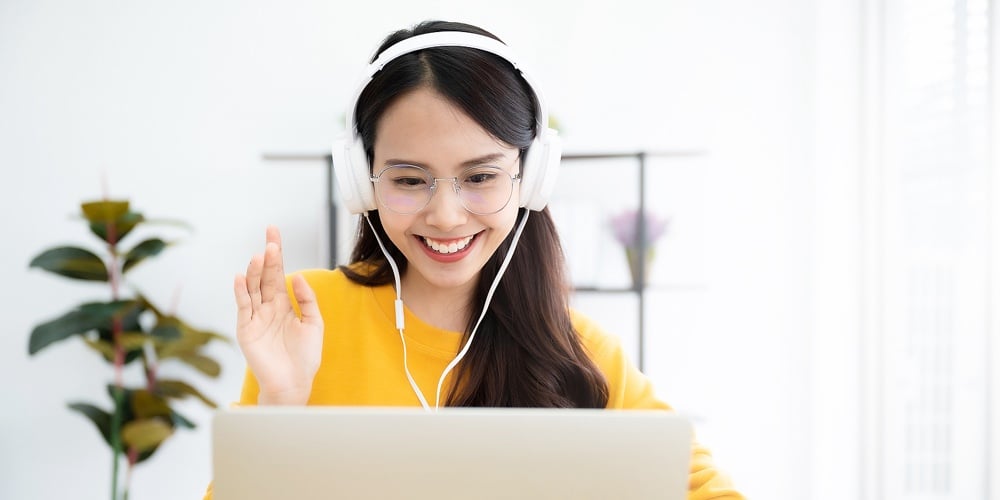 It is very normal for the World Council of Credit Unions' Education and Networking team to feel a sense of accomplishment and relief in late July. After all, the annual World Credit Union Conference (WCUC) they work all year to stage has just ended and they have some time to reflect on a job well done.
But if you listen closely, you can hear a much deeper, more prolonged exhale coming from them this July. Why? They just pulled off an unprecedented feat: a fully virtual World Credit Union Conference.
In the pre-pandemic world, Christi Swoboda, WOCCU Director of Meetings and Expositions, worked with her team to first identify a host city and venue where the annual conference could be held each year, chose hotels where attendees could stay, and selected some fun, side activities credit union professionals could participate in during their week away in a new country.  
But by December 2020, it became apparent the best laid plans to host this year's conference in Glasgow, Scotland would not be possible due to dire projections about global COVID-19 vaccination rates. After all, WCUC is an international conference with people from dozens of countries in every corner of the world—some of which still haven't seen many doses of vaccines distributed. That meant Plan B was now Plan A.
A virtual platform  
There was no shortage of factors to consider and scenarios to play out when making plans to move an in-person conference onto a computer screen for more than 1,000 people speaking multiple languages, living in different time zones and using different levels of technology.
Step one was to identify a virtual platform that would meet our top priorities. 
"We demoed 25 different platforms. Given that translation of the platform and audio interpretation of the sessions were non-negotiable for us, many of the services which peers in our industry raved about didn't suit our needs," said Swoboda. "It absolutely had to be accessible from a multi-lingual point of view, and the reality was that, while there are tons of platforms to choose from, not many have made that a priority yet."
Some platforms gave the option of setting up multiple environments, one for each language, but we know our attendees prefer to interact with one another, even if they speak different languages. Because our global community is at the heart of our event, we had to keep looking.
Eventually we settled on a platform that not only met our translation and interpretation needs, but also offered dedicated networking features like a matchmaking survey, and one-on-one video chatting capabilities.
"We were able to develop additional dedicated networking activities as well," said Kadie Hochmuth, WOCCU's Event Marketing and Communications Manager. "One was a one-hour long "networking roulette" activity where attendees were paired with a new person to video chat with every seven minutes. Another, the "same difference" activity, prompted attendees to chat with peers and find out the commonalities they shared. Both received very positive feedback. Working with multiple languages on these activities was still challenging, but we believe the platform allowed our attendees to come away with some solid connections."
What time is it where I live?
In setting up the conference agenda, we had to consider every time zone, which meant any schedule we made would be inconvenient for attendees in some part of the world. Ultimately, we opted for extended schedules on our two main conference days (July 14 and 21), with the goal being that at least some of the sessions would be live during the working hours of each time zone, and any that were at inconvenient times could be reviewed later—as the content is available on-demand to attendees for six months after the event. Even with those challenges, we had many very committed attendees stay up through the night with us and we were incredibly uplifted by their enthusiasm.
Unforeseen benefits
While we missed personally connecting with the more than 1,150 credit union professionals in attendance, the virtual event had a few key benefits. One was that travel costs were not an obstacle to anyone. That meant we were able to secure a diverse group of phenomenal speakers.
The lack of travel expense also meant that a huge percentage of those who registered were first-time WCUC attendees. Whereas credit unions or other organizations in our industry may have only sent a few, select executives to our in-person conferences in the past, the virtual nature of this year's event made it more affordable and more open to other credit union professionals. It was inspiring to see so many people connecting with the global movement for the first time.
For Kassandra Schroeder, WOCCU's Manager of Virtual Engagements and Special Events, the biggest takeaway from WCUC 2021 was how much teamwork a virtual event of this magnitude required.
"And I'm not just talking about teamwork among staff," explains Schroeder. "It takes a lot more teamwork with your attendees than an in-person event. And by that, I mean organizers can never have full control over the attendee's technological set-up, right? Everyone has different devices or protections built by their institutions—pop-up blockers, bandwidth limitations, you name it. As much as we try to anticipate every possible bug and bring on tech support to be available to everyone, it requires that our attendees are willing to work with us on solutions, have an open mind about the experience, make the effort to come on video or type in the chat to participate. They also have to trust that even if something isn't working immediately, we will still ensure that they receive the education for which they signed up." 
We had some truly amazing attendees who went on this journey with us, and we are so grateful for their enthusiasm and engagement. It made for a great event. We plan to be back in person for the 2022 World Credit Union Conference, with Glasgow still planned as the destination. We hope to see our first-time attendees in person, but we also know the lessons learned in 2021 will be put to good use next year.
Greg Neumann is Director of Communications for World Council of Credit Unions. He directs the tactical and strategic management of World Council's communication efforts, and works to build WOCCU'...
Web: www.woccu.org
Details