Keep the community relationships thriving post-merger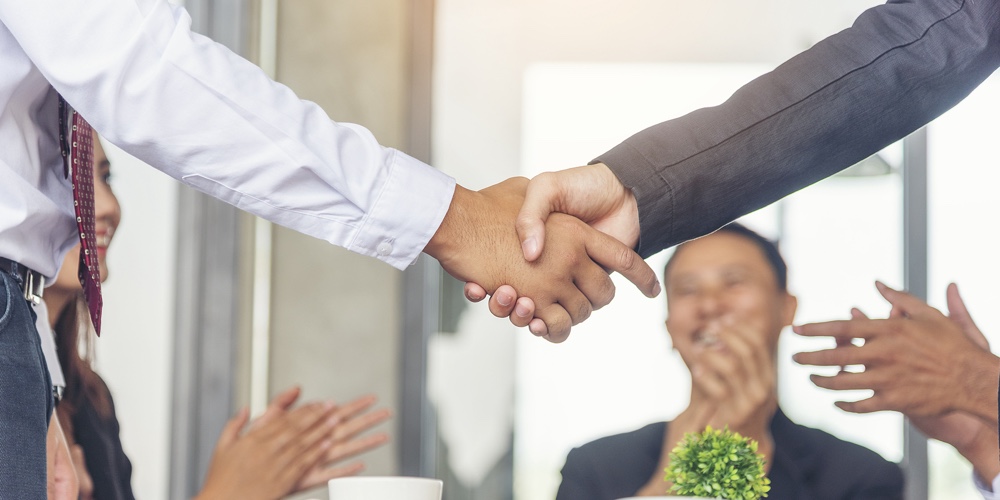 When two credit unions come together via merger, the main focus should be on doing what's best for the members as well as the communities they serve. Members often benefit from a merger by having access to a broader range of products, services, delivery channels, and, in some cases, additional branches. They also benefit from being part of a broader community that falls under the umbrella of a single credit union.
"Mergers may open doors for new opportunities of helping our neighbors, not just our members, which really goes back to our industry's DNA," says Steve Ewers, President/CEO of $950M Members Cooperative Credit Union, Duluth, Minnesota, who was among several credit unions to give his opinion on the topic in "More for Members: Credit Union Leaders Plan Post-Pandemic Merger & Acquisition Strategies," a three-part DDJ Myers white paper. "Credit unions play a significant role in leveraging their physical, financial and human capital to help people, and mergers can potentially increase these resources to make even more significant impacts."
Defining "Community"
When credit unions merge, they should make it a priority to ensure that community relationships remain strong in the post-merger period. The first step is defining what is meant by the term "community."
"Community is a broad-based term," acknowledges Matt McCombs, President/CEO of $970M Vibrant Credit Union, Moline, Illinois. "It could be geographic communities. It could be workforce communities. It could be communities of faith. But the broad-based community you serve, as well as the members and employees of the organization, should all find collective value that comes from the merger."
Having defined the broader community that the newly combined credit union will be serving, the merger partners should ensure they create a merger plan that directly addresses issues relevant to connecting with the community in its entirety. In executing this plan, the continuing credit union should be especially mindful not to lose the community relationships that the merging credit union has built over time.
"Many credit unions are pillars of the communities they serve, especially in smaller towns, and there is often tremendous brand equity and a deep reservoir of goodwill for them and their employees," says Teresa Freeborn, President of $6B Kinecta Federal Credit Union, Manhattan Beach, California. "There's huge value in that for the combined credit union, so the merger plan should include specific plans to ensure local members, employees, and community partners know why the merger is a good thing for them. One can't make promises about the future … but communities need to know that they're valued and that the continuing credit union has a plan for the future that includes them."
Everything in a merger is negotiable, and that includes determining how the continuing credit union handles relationships in the community that have value to the merging credit union. "I would suggest that if a merging institution feels that it's important that certain aspects of their membership base are served appropriately, these terms should be negotiated prior to the transaction closing," says Shawn Gilfedder, President/CEO of $1.7B Kitsap Credit Union, Bremerton, Washington. "They should take the opportunity to put those asks forward and make sure they're addressed and not just leave those elements to chance."
One of the considerations in a merger agreement should be what to do about branch locations. Barry Shaner, President/CEO of $1.1B Directions Credit Union, Toledo, Ohio, reports that his organization would be unlikely to pursue a merger that would require the closure of a significant number of branches to make it financially viable. If the bottom line of measuring a merger's impact is member benefit, he explains, a significant reduction in branch locations could be viewed as a big negative.
Maintaining Community Ties
There are several ways to maintain ties with the community of the merging credit union in the post-merger period. One particularly effective way is to make sure there are familiar faces on the board at the continuing credit union. This strategy has worked well for $2B USAlliance Federal Credit Union, Rye, New York, whose current vice chair comes from the board of a small credit union in West Haven, Connecticut, that has merged into the organization.
"We also have the mayor of West Haven on our board, and she is a great person to have as a community contact," says President/CEO Kris VanBeek "If you have someone on your board who can leverage those relationships, I can't think of anything better than that. The individuals from West Haven have been great additions to our board."
In some merger situations, USAlliance has established advisory committees as a presence in the community, which has turned out to be a great way to establish brand awareness. "We've done everything from investing in libraries and parks to sponsoring fireworks," VanBeek says. "The advisory boards have played a role in allocating funds so that we can have the biggest impact."
It's also a good idea to include the community causes previously served by the merging credit union in the ongoing credit union's philanthropic endeavors. At $2.1B Pen Air Federal Credit Union, Pensacola, Florida, leaders use the term "communi-rosity" to describe their organization's support for regional charitable causes—support that extends to the fields of membership of merger partners.
At $290M Park City Credit Union, Merrill, Wisconsin, the leaders there have determined that any potential merger conversation would have to include consideration of how the consolidation would further the organization's mission of serving its members and the community.
"We give to over 150 community organizations every year and provide thousands of hours of community service through our Park City Cares initiatives," says President/CEO Val Mindak. "If we were able to find a partner who has that same kind of philosophy, we would be happy to engage with them."
Click the link to download the three-part white paper, "More for Members: Credit Union Leaders Plan Post-Pandemic Merger & Acquisition Strategies."
Deedee Myers is founder and CEO of DDJ Myers, Ltd. and co-founder of the Advancing Leadership Institute. For the past 20 years, she has been passionate about establishing and developing ...
Web: www.ddjmyers.com
Details