Onsite: Leadership vs. management – Opening thoughts from CETNET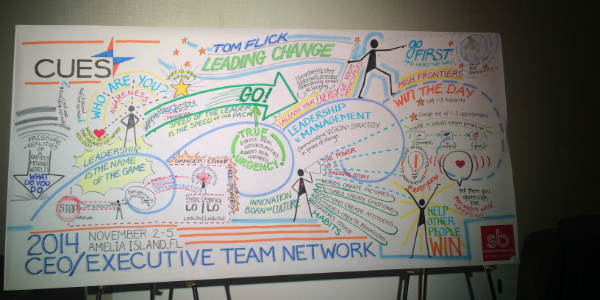 CUES kicked off the opening session of their annual CEO/Executive Team Network (CETNET) conference yesterday with a bang! Former NFL quarterback Tom Flick gave a powerful leadership speech to a packed house.
We live in a highly competitive world, and if we don't differentiate ourselves from others, then we will be dead in the water. So what do you do? You have to make changes, which is, of course, easier said than done. Creating change in an organization isn't something that happens overnight, or happens because a group can identify that they need to make a change. Change happens when someone takes action. Change happens when a leader steps up.
Relating this back to his experience on the field Tom noted that life is like looking at the defensive line and a true leader will be constantly looking for the blitz. Looking for the challenges, and when they spot them, they will rally their team, find a hole, and get the win. Take a second and look around, what blitz do you see coming at your credit union?
A point that really resonated with me is that traditionally organizations have too many managers and not enough leaders. When I processed that for a second I realized that he was completely right, but why? Our brains are programmed to look for patterns and simplify tasks. We are genetically wired to be managers. A leader is a person who fights that natural instinct and looks for risks and opportunities. BUT (and this is key), you must have both in order to be successful. It has be a balance of leaders and managers or you will topple over. Think of it in these simple terms: a manager is the defensive line, they react to what they see and they do what they know will work; a leader is the offense, identifying and seizing opportunities as soon as they see them.
Take more risks, sounds easy right? If it were then we wouldn't have the imbalance we have now. In his speech, Tom identified 2 major obstacles that prevent people from becoming leaders:
Complacency: People who are complacent probably don't think they are complacent. They think they are doing just fine and they have had success doing things the way they do, so they stay in the box.
False Urgency – This is a frantic behavior where they feel they have to get everything done right away. It quickly leads to feeling burnt-out and exhausted. Often these people feel like they are always in "survival mode".
The key to helping people transition is having and relaying true urgency; which simply put is how can you win for today. Not for tomorrow, not for 3 years down the road, but what stands in your way of being successful today? Doing this creates a "Go" attitude in which you can persuade others to seek out opportunities or re-focus on what is really important. It revitalizes exhausted employees and helps them set tangible goals. If you take that approach and see one play at a time, then before you know it, you'll have no trouble spotting the blitz, avoiding the hazard and getting the win.
Also make sure to check out Randy Smith's post for more on the event: Onsite: CUES 2014 CEO/Executive Team Network (CETNET) 
Amanda Reed joined NACUSO in December of 2021 as the Marketing and Membership Officer. She has a background in education and served as a middle school English teacher before being ...
Web: nacuso.org
Details