Masking the dangers of COVID-19
Imagine access to personal protective equipment (PPE) being a requirement for keeping your credit union movement open during COVID-19. That was the reality for Ukraine's 23 credit unions in mid-March due to a temporary shutdown. The system reopened on April 2 due to a joint advocacy effort, but only on the condition that all credit unions equip staff and visiting members with PPE.
This proved to be easier said than done. All of Ukraine's credit unions faced significant, unexpected cost increases due to the mandated PPE procurement, as well as difficulty in sourcing because of their location in rural areas. Simultaneously, the cost of PPE rose given the demand. Leaders of the Ukrainian system were starting to panic. World Council of Credit Unions' field staff in Ukraine could hear the anxiety and stress in the voices of the credit union staff:
"Our credit union operates in the second most affected region of Ukraine. We try to do our best, but it was hard to comply with requirements of Cabinet Ministers of Ukraine regulation. We didn't have funds allocated for PPE purchase. In order to provide staff and our members with PPE, we used money from our reserve fund." – Deputy CEO of CU Boikivshchyna Bogdan Shchepaniuk.
In hearing reports of the Ukrainian movement's closure and lack of resources to aid in PPE support, Worldwide Foundation for Credit Unions volunteered its Project Storm Break program — originally designed to aid credit unions in rebuilding after natural disasters — to quickly allocate funds to support the PPE need.
In less than 30 days, PPE had been procured and delivered to all 23 credit unions, allowing members and front-line staff alike to keep themselves safe, credit union doors open and freeing up resources to focus on addressing a long-term need: delivering digital services.
An IT assessment was done of the movement, discovering that the timeline and cost for implementing such an infrastructure build was not feasible for a short-term implementation. So credit unions found another route: providing members with a debit card issued by a bank or payments provider. The result: One Ukrainian credit union is already seeing 100 online payments each week, only to go up.
This option is a short-term fix however, as credit unions are charged 1.5% on each payment under such arrangements. Some credit unions are choosing to eat the cost entirely, while others are splitting it with their members. The future is obvious: Go 100% digital. The ultimate member experience is one that is safe, affordable, and convenient. In our current, collective reality of COVID-19, Project Storm Break and the PPE grants masked the dangers of COVID-19, allowing safety and business continuity to continue, while reallocating resources toward providing everyone digital financial services for the future.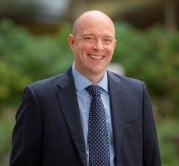 Mike Reuter is the Executive Director of the Worldwide Foundation for Credit Unions, the 501c3 charitable nonprofit that supports the World Council of Credit Unions in its mission of providing ...
Web: https://www.woccu.org
Details