My most embarrassing credit union moment…
I offered to drive him into town so he could drive his new car back home. We barely made it to the credit union before they locked the doors. It had been snowing most of the day…and the 35 miles from the station to the credit union was a slow crawl on the snow-packed Interstate where just hours earlier we were treating, triaging, and transporting patients from a 10 car pile-up that actually made the National news! It had been a long day but we were on a mission.
When we walked in, there was no one at the greeter's station. I locked my eyes on the closest desk I could see, where eventually the young lady reluctantly rose to help us. Her hands were dug deep in her pockets, you could almost see the balled up fists. She asked if she could help us. "Yes, he is here to close on a car loan and we were told to ask for Erica," I said. "Erica went home early," she said, then looking up at an imaginary clock she continued, "Besides, we close at 5:00."
One week earlier…
His wife's car was finally at the point where it no longer made sense to put more money into repairs. It had left her stranded at 2:00 am in the morning one too many times. She's a 911 dispatcher and chose to work from 4:00 pm to 2:00 am so that she can come home, catch a few hours of sleep and then spend time with her 2-year-old son.
I told him about a repo I saw on a credit union website. Turns out it's the credit union that he belongs to already, has a checking account, direct deposit of both paychecks, and they've had a loan with them before. Should be a piece of cake.
It was not.  
He probably could've applied online or on the phone but he felt it was important to go to "his branch" where they "know him." It did not matter. Their policy says they need the last two months pay stubs before they can submit to underwriting. Even with direct deposit. He is not only the Fire Chief he's a part-time Lifeguard Flight Paramedic. The loan officer wanted the last two pay stubs from this part-time job, which would not have been an accurate representation of the income since it's not a "regular" schedule. Trying to explain this was close to impossible. But this "hung up" the loan. He was given no assurance that they even qualified.  
He almost gave up.
I encouraged him to hang in there because this was the ideal car for his family. He gave her everything she asked for, two days passed, no word. Again, he almost gave up. Finally, I had a friend that works there intervene. The debt-to-income ratio was in line, the auto value clearly in line, they could afford the payments, they priced it based on the credit score, so what was the hold-up? Lack of communication.
This member is 26 years old, one of those elusive Millennials that we desperately need. He's going to college part-time to finish his Bachelor's degree in emergency medicine and then applying to Med School at UNM. His long-term goal is to become the Medical Director for the district he now manages. He and his wife paid off all their debt and saved for a down payment so they could buy the home they would raise their children in – at the age of 24.  This is an ideal member with a bright future … and we almost lost him.
Back to the lobby…
"He is going to buy one of your repos out back, and has been approved for the loan, he just needs to sign," I said exasperatedly. Her hands dug deeper in her pockets, and she basically shrugged her shoulders. So I had to say it, "Can I please speak to your manager?" As we waited for the manager an interesting thing happened. At a teller window nearby a woman was unsuccessfully trying to communicate something in Spanish. He is fluent in Spanish. He offered to help. So while he's waiting, hoping SOMEONE will find his loan, he's happily assisting a fellow member with a language barrier. He told me later that she was trying to make her car payment but they were trying to tell her that she needed her loan coupon. She had no knowledge of receiving these coupons. She was told she would have to wait to get them in the mail … I'm going to bet we lost her.
This particular credit union is in great shape.  All the numbers are there: Net worth of 12.08, ROA 1.26, Delinquency at 0.29, over $500 million in assets. Ticks all the boxes. All those "data points" spell success. But the one data point that is missing that could be the warning shot across the bow in terms of their future … Member Effort Score and Member Experience (Satisfaction – Net Promoter) Score. It's too easy to get a loan these days online to make your members jump through so many hoops.
This was my most embarrassing credit union moment in my 30 plus years. I was a loan officer in the early '80s and it was easier then to get an auto loan out the door than what he was put through in 2019. These are the moments of truth that will define the future of all credit unions.
EPILOGUE: He got the car and his wife loves it. He's still a member but will never apply for a loan with them again. He's still waiting for remote deposit capture to be launched. His old credit union had that feature. He was thinking of moving the station's checking account from a local bank to his credit union – not after that experience.  We lost him, his friends and his family.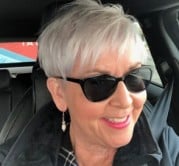 Denise started her credit union career over 30 years ago as a Teller for Pacific NW Federal Credit Union in Portland, Oregon. She moved up and around the org. chart ...
Web: https://www.zest.ai
Details