New Congress brings new credit union opportunities
Credit unions had a very successful 2022 election night in the sense that the 118th Congress will once again feature a credit union-friendly majority.
Regardless of who ends up controlling each chamber, credit unions worked for two years to elect this credit union-friendly majority because it's what our members and communities need.
We're among the most effective—and bipartisan—trade associations in Washington, D.C. for a reason, so we can continue to champion our members regardless of which way the political winds shift.
Credit unions are in this unique position because we're not fighting for shareholders or bigger profits, we're fighting for policies that will let us do more of the good work we're known for.
Our members need us no matter who holds the gavel or chairs a committee.
We've worked to create these opportunities for ourselves, and now it's time to capitalize. Our close work with the Leagues leading up to the election ensured there are familiar faces that support the credit union difference, but now is the time to start engaging with these incoming members—and their staff—on real, concrete policies they can move forward to help their communities.
Even the most conservative estimates show that next year will be a rough one for the economy. Costs continue to rise and the possibility of a recession looms.
Members of Congress are our partners in trying to make things better. All 535 of them will swear into the 118th Congress on Jan. 3 with hopes, goals, and ambitions of improving lives.
We stand with elected officials who want to improve the financial health of our communities, and we have the ideas, data, and track record of service to continue to make a difference.
We've spent decades building a top-notch reputation with both parties in Washington, D.C., and we need to keep doing so.
As a trade association the CUNA-League system is universally trusted as the best at bringing the voices of our members directly to who needs to hear it.
We don't just speak for our members, we speak with them, complementing their hard work on the ground in their communities with opportunities to move policies forward.
We've seen great progress in the 117th Congress. We supported common-sense bipartisan solutions that promote financial well-being for all and advance the communities we serve.
Members of Congress worked with us on governance updates, and we got a major field-of-membership modernization through the House and introduced in the Senate.
There was increasing bipartisan work on digital assets, data privacy, and data security legislation. These issues affect all consumers, not just credit union members, and laws that fully grasp the latest technological development are urgently needed.
We've seen the blueprint for moving through a narrowly divided Congress: We're going to pursue common-sense bipartisan solutions to promote financial well-being for all and advance the communities we serve.
Every elected official, regardless of their personal beliefs or the letter next to their name, ran for office with the idea of doing right by their communities and constituents.
It's our job to show them that credit unions are an essential part of that equation, that credit union members unquestionably show better financial health than non-members.
We put ourselves into position to succeed because we have to succeed. Our members and communities are counting on us.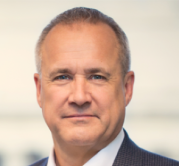 Jim is president and CEO of the Credit Union National Association (CUNA). Since his appointment in September 2014, he has worked to position credit unions as America's best financial partner. ...
Web: www.cuna.org
Details