New Year – New social strategies may be required
Twelve months from now, you'll be reflecting back on your social media efforts from 2016. If you play your cards right, you'll end up with results that are toast-worthy. If you don't, you may want to refer back to this article for a refresher in what to do in 2017.
The average person will spend four years of their life looking down at a screen. Are your social strategies strong enough to grab and hold the attention of your audience? There's no better time than the present to optimize your social media marketing strategies and piece together a very successful social media marketing campaign for your financial institution.
Here are 8 strategies to implement in 2016 for those looking to make a big impact:
1. Curated (and Scheduled) Content
Taking time to plan out and schedule your content is not only strategic; it's just plain smart. Most of us wear twenty different hats on a given day, so should be sourcing content via content curation tools (Post Planner, Feedly, DrumUp, etc.), planning and completing social media content calendars, and then scheduling well-crafted content. And, when scheduling (via Hootsuite Tweetdeck, Facebook, etc.), we should be sure we're utilizing analytics and insights to determine the platforms, days, and times that our audiences are most active.
2. Fan and Follower Focus
You can't imagine running successful branches without top-notch customer service, right? The same line of thinking should be applied to social media. Your online communities (fans and followers) expect and appreciate being made the center of attention. Your online communities really don't care about your great rates and great service. What they do care about is how you make them feel. Are you welcoming new fans and followers? Are you thanking those who are actively participating and commenting? How are you expressing your appreciation for fans? Contests and giveaways are great ways to give back to your online communities. Your customers are more connected and plugged-in than ever and demand fast and personalized customer care on social platforms. Concentrate on this in your '16 social strategy and watch your online community thrive like never before.
3. Invest in Technology
Social technology can do great things for your business and will help you prove the impact of your social efforts, generate and track leads, and gauge the effectiveness of your social media marketing campaign. It will help you collect data and allow your financial institution to use it to gain new customers, new loans, new credit cards, etc. (Yes! All of this via social media.) The most talked about type of social technology for financial institutions today has to be lead generator apps. We work with financials everyday that are not only generating leads and new income, but also increasing excitement and engagement on social platforms and growing their online communities by leaps and bounds. Lead generator apps – get one today.
4. Use Your Listening Ears
Every day, millions of people are having conversations on Twitter, Facebook, Instagram, SnapChat, YouTube, blogs, review sites, and more. On Twitter, more than 1/3 of tweets containing a company name don't actually include their handle and over half of all company mentions will happen when you're out of the office. So, just because you log on daily to review your direct @ mentions on Twitter does not mean that you are seeing all of the conversations taking place about your financial institution. How will your financial be sure you are not missing these conversations in the New Year? Develop a solid listening strategy for 2016 so that you can capture these conversations and engage with your online community on a deeper level. Tools you may want to add to your tool belt include: Social Mention, Mention, TalkWalker, Topsy, and Hootsuite to name a few. People are talking about your brand online whether you're listening or not. Monitoring tools will allow your brand to be a part of these valuable conversations.
5. Boost Your Social Budget
It's no secret that Facebook organic reach is on the decline. (Okay, it's nearly dead.) The days of "Pay to Play" are here, meaning advertising is no longer optional, but necessary. Reserving a portion of your budget for ads in 2016 will help your financial institution achieve its social media goals, whether you are striving for reach, awareness, or increased sales.
Facebook ended 2015 turning record profits due to advertising. (Don't look for this trend to decline.) Platforms will only continue to look for ways to get advertisements in front of users. Get the most for your money by utilizing tried and true methods, but don't be afraid to experiment (split-testing) and learn how new methods work.
Today, you have to spend money on Facebook and other platforms to be seen and heard.
6. Stop Making Excuses and Add Video
In 2015, we saw Meerkat and Periscope emerge. Twitter and Instagram have significantly improved their video offerings, and now…Facebook is rolling out Facebook Live (their own live-streaming tool) to more than just celebrities, musicians, and professional athletes.
If your goal is more engagement on Facebook, video has to be part of your social media strategy in the New Year. Facebook has proven that video is the #1 type of content where engagement is concerned with more than 1 billion videos being played on Facebook every day.
Never mind the fancy video equipment and production crews. You have everything you need to get started right there in your back pocket, on your smartphone. (Once app you may want to consider is Adobe Premier Clip, a mobile app that lets you create and edit videos on your mobile device.)
Start by videotaping community outreach events, contest winners, employees making
announcements or highlighting new products or services. For those who've recently added a new feature like mobile deposit or Apple Pay, have you considered giving a quick demo of how that works? Others may be changing online banking providers, so you may want to show your customers how to log into your new system with a video tutorial. There are endless ways you can incorporate video into your social strategy.
7. Test Some Stuff
One way you can ensure that 2016 will be your best year yet on social media platforms is to test some stuff. Yes, it takes longer in the short term to create more than one version of an email marketing message, Facebook post, tweet, or social ad, but you'll get a lot more for your money in the long run if you've tested your way into social media success. A/B or split-testing is the only way to fine tune your strategies, find those "sweet spots," and reach the goals you have set for the next twelve months.
8. Get Facebook Business Manager
If you're not utilizing Business Manager for Facebook, get it and get acquainted with it today. (Trust us on this.) Creating and managing your financial institution's Facebook Page is now easier than ever with Business Manager. You can set up payment methods, track performance, and even link Facebook to your website. You can also use Business Manager to create Instagram ads. (A lot like one-stop- shopping at a Superstore, right?)
There you have it. The top 8 tips recommended by our Chatter Yak consultants to make the greatest impact to your social media marketing strategy in 2016.
Happy New Year, friends!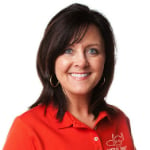 Director of Business Development and host of Social Media Chats ™ for Chatter Yak with a passion for financial institutions and more than 17 years experience in the financial services industry. ...
Web: www.chatteryak.com
Details