On Alabama and the Big Banks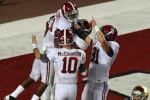 by Henry Meier
Yesterday was a good day for Alabama and the big banks.  For those of you who may have missed it, Alabama crushed the Pontiff's Maulers 42-14 for their second consecutive national championship.  It was clear by the end of the first quarter who was going to win the game and by the third quarter, my brother texted me to watch the end of the Knick game, which was much more entertaining, even though they lost.
Yesterday was also the day that the federal government effectively ended the parole that big banks had been on in this country in the aftermath of the banking induced Great Recession.  In the same day, Bank of America settled allegations with Fannie Mae that it had sold them mortgages that did not comply with secondary market standards; the OCC announced it is ending its monitoring of banking foreclosure processes in return for cash payouts to impacted home owners, most of which aren't large enough to allow these home owners to afford a decent downpayment on a new house, let alone make up for a lost home; and international banking regulators agreed to scale back liquidity regulations that they proposed in 2010 in order to prevent another financial crisis.  In contrast, NCUA recently announced its lawsuit against major banks, this time J.P. Morgan, in an attempt to hold them responsible for their own sloppy underwriting standards and the CFPB will most likely be rolling out new mortgage regulations on Thursday.
To anyone watching the game last night it quickly became apparent that although Alabama and Notre Dame were playing in the same game, they didn't belong on the same field.  And anyone who has now taken a serious look at the government's reaction to banker malfeasance realizes that although community banks, credit unions and the behemoths like J.P. Morgan and Bank of America are treated as if they are playing the same game, they aren't.  At least Notre Dame can get new recruits.  But credit unions have to abide by mortgage regulations that are going to make it more expensive for smaller institutions to offer homes to their members while the institutions that necessitated these regulations in the first place will either have the expertise and resources to deal with these regulations or they will simply work behind the scenes to get them watered down.
continue reading »