One-stop mortgage shopping an opportunity for credit unions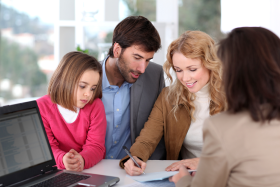 by: Tandy Vincent
Nationally recognized consumer advocate, Clark Howard, recently posted an article encouraging homebuyers to compare mortgages to ensure they get the best interest rate. Howard says "the difficulty of getting a mortgage has created a situation where people don't even shop for a mortgage anymore. There's no thought to even make a second phone call."
Unfortunately, Clark is right! According to the Consumer Financial Protection Bureau1 nearly half (47%) of Americans don't shop for a mortgage. Instead, overwhelmed with the process of finding a home, they opt to talk to only one lender! It's a financial mistake that can cost a homebuyer more than $25,000.2
Credit unions can help. But how?
As financial advocates, credit unions are uniquely positioned to help members make the right financial choices when it comes to financing a home. It's kind of our thing.
In service of that commitment, and in light of the CFPB findings, establishing first point of contact with home-buying members in the earliest stages of the process is where we should focus our attention. If we can get in front of buyers while they are just starting their home search and before they hire a Realtor, we're in a prime position to become their real estate advocate and earn their mortgage business as a result.
continue reading »