Pay if forward: What it means to be a Fortune 100 best company to work for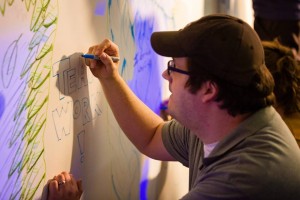 Last week, after Fortune magazine announced that Hyland Software was named a Fortune 100 Best Company to Work For 2014, I asked some fellow colleagues what that meant to them, personally.
I expected everyone to answer with a favorite perk  –  the on-site diner, barbershop, fitness center, flex schedules, relaxed dress code and so on.
But that's not what people talked about. Turns out, for most, material things don't make Hyland special or successful. They are barely top of mind. No, it is something else entirely.
"The camaraderie and the team-oriented culture make Hyland a great place to work," Bill Priemer, Hyland Software CEO, told me. "Succeeding as a company is much more fulfilling because it benefits people I genuinely like and care about."
That's right. People.  Above all else, Hylanders wanted to talk about their friends and co-workers.
continue reading »