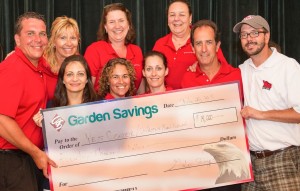 America's Christian Credit Union helps communities thrive
GLENDORA, CA (July 22, 2015) — America's Christian Credit Union (ACCU) strives to live out its mission " To Reach, Serve and Teach" in and around the local community. This year, employees have been challenged and energized by a new initiative entitled 'Live the Mission', wherein the goal is to maximize charitable opportunities resulting in a greater community presence and focus on Christ-like servant leadership. This past week, ACCU was honored to present a check to Shepherd's Pantry in the amount of $1,047.50 and a check to Neighborhood Homework House (NHH) in the amount of $1,082.50. The checks represented the total of funds contributed by ACCU employees via payroll deduction to these two 'charities of choice' in the second quarter of 2015.
One of the components to 'Live the Mission' is a voluntary staff payroll deduction to any of ACCU's three charities of choice. ACCU matches 50% of the total that is raised. Last week Mendell L. Thompson, President and CEO of America's Christian Credit Union, presented the checks referenced above to Steve Sharp, President of the Shepherd's Pantry Board of Directors and to Jennifer Hicks, Executive Director of NHH. Mr. Thompson declared, "These two organizations make a huge impact in the community and we are blessed with the opportunity to partner with them in their critical works"
Mr. Sharp remarked "We are honored to have a partner like you (ACCU) who is eager to give back! Your generosity is deeply appreciated and gives us a chance to continue our service in the community." In recent year, ACCU has had the privilege of participating in other Shepherd's Pantry outreach activities, including the Empty Bowls fundraiser in the spring and the annual Holiday Basket in December both of which serve families in need.
Ms. Hicks of NHH expressed her gratitude and excitement for the donation, which represents a continuation of a long-lasting partnership with ACCU "Thank you so much, you guys are awesome. We love working with ACCU and we are blessed by the servant leadership of your employees." In addition to supporting NHH financially, numerous ACCU employees have volunteered their time to NHH activities and services throughout the year.
About Neighborhood Homework House 
Neighborhood Homework House serves students from eleven elementary schools, three middle schools, and two high schools in the Azusa community. They serve out of one location on the campus of Foothill Community Church. Their mission is to partner with parents of at risk Azusa students to provide the tools to thrive academically and socially. Their vision is to see children, youth, and their families reach a future of fulfillment through specific building blocks. They believe that beginning with a firm foundation in education, students can extend their development into building social skills. 
About Shepherd's Pantry
Shepherd's Pantry began as a free emergency food delivery service for residents of Glendora, CA and surrounding communities in 2004. They began with a small group of volunteers delivering non-perishable food on Wednesday evenings. Food donations were stored in a local rental storage unity until ready for delivery once per week. Their mission is to strengthen families for a stronger community.
About America's Christian Credit Union
America's Christian CU provides a broad range of financial solutions to individuals and ministries that empower them to reach their stewardship goals while expanding God's Kingdom. Founded in 1958 and currently managing nearly $500 million in assets, ACCU serves the financial needs of its individual, family, ministry and business members. Funds entrusted to the credit union are reinvested in Kingdom purposes, supporting the Church worldwide.  For additional information, visit www.AmericasChristianCU.com.
---