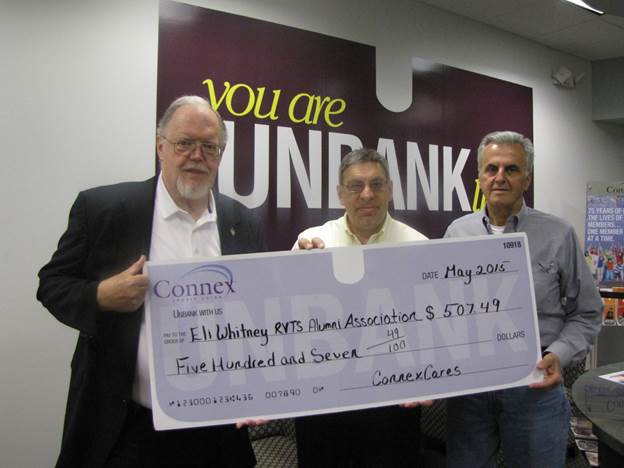 Connex Credit Union's "Coins-for-Change" program raises more than $500 for Eli Whitney RVTS Alumni Association
HAMDEN, CN (June 8, 2015) — Saving spare change can add up and Connex Credit Union has a way for you to cash in your extra coins to make a difference for local causes. As a part of its community-giving program ConnexCares, Connex Credit Union recently donated $507.49 to the Eli Whitney RVTS Alumni Association from the fees collected by Connex's coin-cashing machine at the Hamden branch. Connex's "Coins-for-Change" program charges a five percent fee to members and a seven percent fee to non-members and donates the fees collected to charitable organizations in the local community.
"We'd like to thank Connex Credit Union and everyone that counted their change the first quarter of this year at the Hamden Branch," said John Alexander, president, Eli Whitney RVTS Alumni Association. "The money raised will be used in the next school year (2015-2016) since the current school year has almost concluded. Thank you again to Connex and its members for helping."
The Eli Whitney Alumni Association was designed to assist students in gaining a proper education by lessening the effects of budgetary constraints. In the past, the association has sponsored scholarships, helped students acquire necessary tools and uniforms and even purchased toner for the printers when the budget tightened up.
If you are a local non-profit or charitable organization interested in participating in the "Coins-for-Change" program, please contact Roquita Johnson at Connex Credit Union, at 203-603-5787 or rjohnson@connexcu.org.
About ConnexCares
ConnexCares is Connex Credit Union's charitable and philanthropic program. The mission through ConnexCares is to promote financial literacy, well-being and understanding to our members and the greater communities Connex serves.
About Connex Credit Union
As the Unbank, Connex Credit Union is one of Connecticut's largest credit unions serving more than 49,000 members at 7 branches throughout greater New Haven. Headquartered in North Haven, Connecticut, Connex is a full-service member-owned credit union that offers members a full-range of financial services and products, including savings and loans, Unbank Checking, Smart Score credit score range, free online and mobile banking and more. Membership is open to anyone who lives, works, attends school or worships in New Haven, Hartford or Middlesex Counties. Connex Credit Union helps guide and improve members' financial lives through the Connex Advocacy Promises: We will always work in your best interest; we will work with you to understand your goals, identify your financial needs and provide solutions to improve your life; and we will be responsive to you and make your experience simpler, faster and friendlier. It's time to Unbank! For more information, please call 1-800-CR-UNION or visit connexcu.org.
Photo Caption: Frank Pomarico, Hamden Branch Manager, Connex Credit Union (middle), presents John Alexander, president (left), and Michael Pappas, treasurer (right), of the Eli Whitney RVTS Alumni Association with a donation for $507.49. The funds were raised through Connex Credit Union's "Coins-for-Change" fundraising program.
---