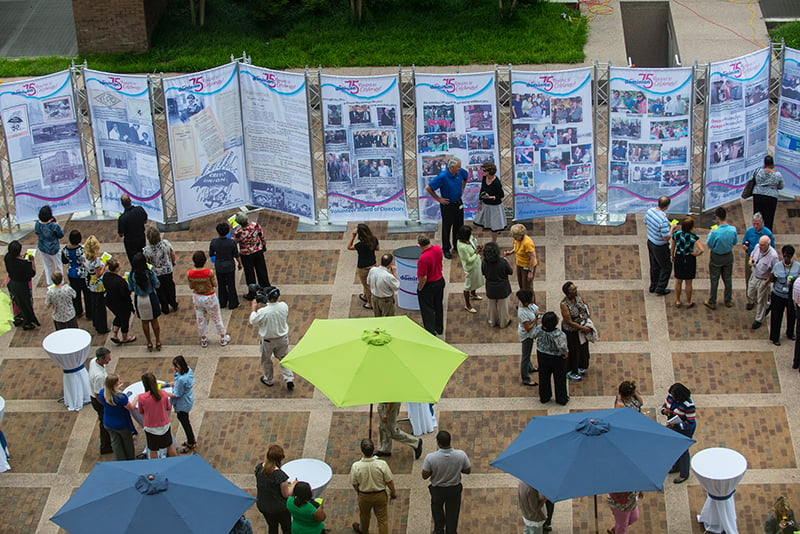 Dominion Credit Union celebrates 75 energizing years
RICHMOND, VA (June 19, 2015) – More than 650 Dominion Resources, Inc. employees enjoyed games, a money machine, and ice cream at Dominion Credit Union's Annual Meeting of Members recently as part of the credit union's 75th anniversary celebration. The event was held at Dominion Credit Union's headquarters in downtown Richmond.
"Thank you for being members of our Credit Union, and for putting your trust in us. We take it very seriously," Ken Barker, chairman of the board and Dominion vice president of technical solutions, said, acknowledging members' 75 years of confidence in Dominion Credit Union.
The Credit Union's membership is geographically diverse, with members spread throughout Dominion's multi-state locations. In order to celebrate with all members throughout the year, the Credit Union launched 75reasons.com, a micro site that exhibits its history and shares members' stories and photos. The site also does exactly what its name suggests: it shares a list of 75 reasons to belong to the Credit Union.
All members have access to special offers throughout the year. This spring, the Credit Union offered auto loan rates as low as 1.75% APR for a limited period. Facebook competitions are running monthly, incorporating the 75 Reasons to Belong. Prizes have included $75 – $750 deposits, and more sweepstakes will run through the end of the year.
Founded in 1940 as Vapsco Credit Union in Alexandria, VA, the Credit Union's membership has increased from a handful of employees in need of an affordable loan, to more than 22,000 members today.
Mike Swalley, Dominion Credit Union president and CEO, attributes this growth to the credit union adapting to Dominion employees' needs. "As Dominion has evolved over the years, we've been right there with them," Swalley said. "We've made whatever changes were necessary to better serve our members, and that's exactly what we'll do in the future."
For more information about Dominion Credit Union, please visit www.dominioncu.org and www.75reasons.com.
Dominion Credit Union is a member-owned not-for-profit financial cooperative. Members included employees, retirees, and contractors of Dominion Resources and its subsidiaries. Dominion Credit Union has assets over $264 million and serves more than 22,000 members.
---