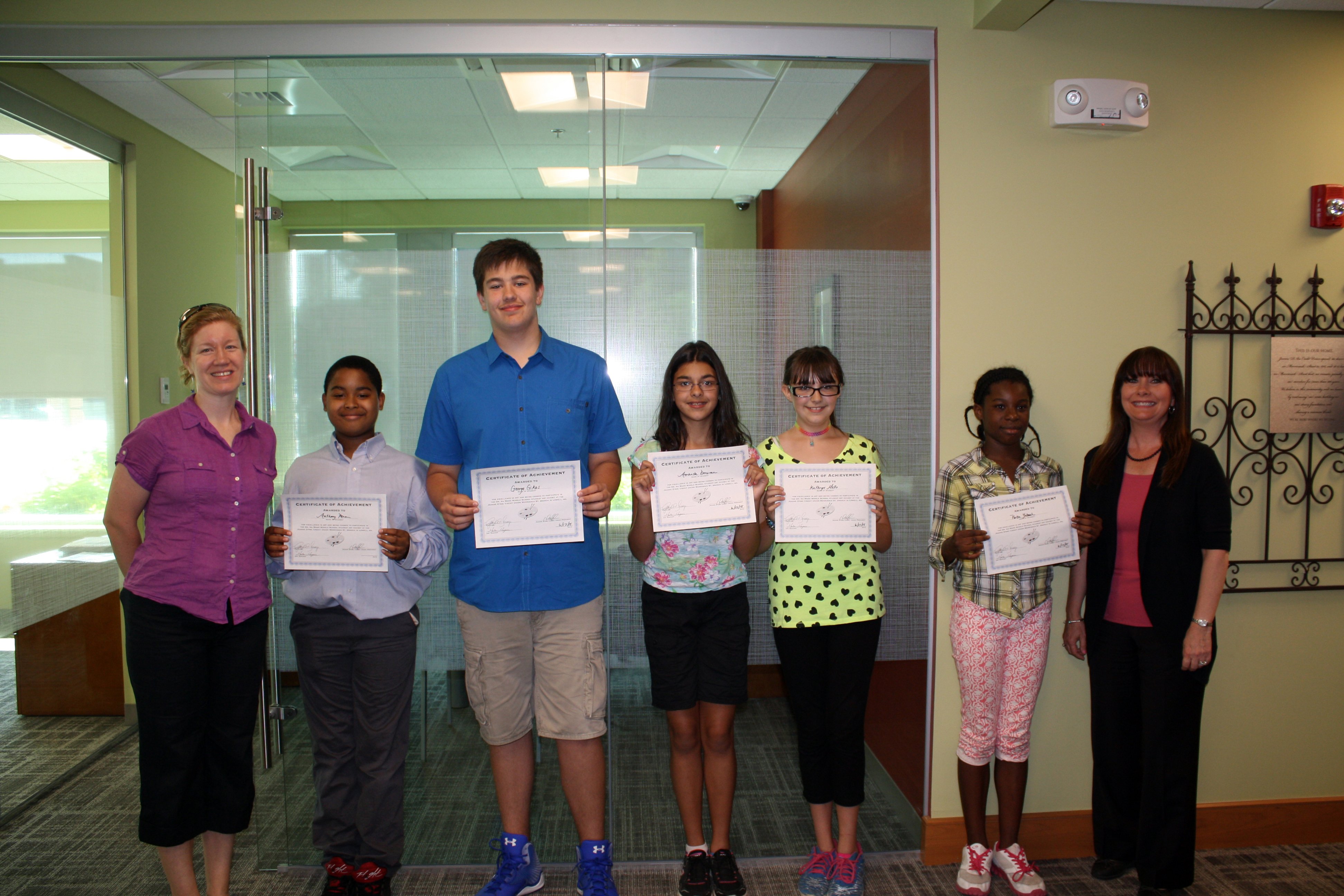 Jeanne D'Arc Credit Union holds reception for Wang Middle School student artists
LOWELL, MA (June 19, 2015) — In the continuation of an innovative partnership that kicked off in 2011, Jeanne D'Arc Credit Union held a reception on June 17th for the Wang Middle School students whose artwork is currently on display at our Lowell branch on Merrimack Street.
"This is a wonderful way to support local students and help them showcase their amazing work," said Mark S. Cochran, President and Chief Executive Officer of Jeanne D'Arc Credit Union. "The art has sparked many positive comments from our members and visitors who are highly impressed by the talent of these children."
The project was spearheaded by Wang Middle School art teacher Marta Magnus and immediately embraced by Jeanne D'Arc Credit Union. The latest display was installed earlier this month.
The artwork brightens the branch, engages members, and highlights the talents of local students.
The artwork rotates every few months to allow as many students as possible to participate. Students excitedly chatted with their family members and Jeanne D'Arc Credit Union representatives about the inspiration for their artwork and were given signed certificates of achievement.
Area residents are encouraged to stop by our Merrimack Street branch to view the students' inspiring artwork.
Photo Cutline: (From left):  Wang Middle School art teacher Marta Magnus; Wang Middle School students Anthony Pena, grade 5; George Gikas, grade 7; Amanda Donovan, grade 5; Kathryn Mello, grade 5; Portia Yeboah, grade 5; and Jeanne D'Arc Credit Union Assistant Vice President-Marketing Sharon Flaherty.
About Jeanne D'Arc Credit Union
Jeanne D'Arc Credit Union was established in 1912 and is a full-service, member-owned community-based financial cooperative with more than 68,000 members and $1.1 billion in assets. It operates seven full-service branches in Lowell, Dracut (2), Tyngsboro, Chelmsford, Methuen and Westford, Massachusetts; two high-school branches at Lowell High and Dracut High schools; a loan center in Lowell; and two mortgage centers in Chelmsford and North Reading.
---