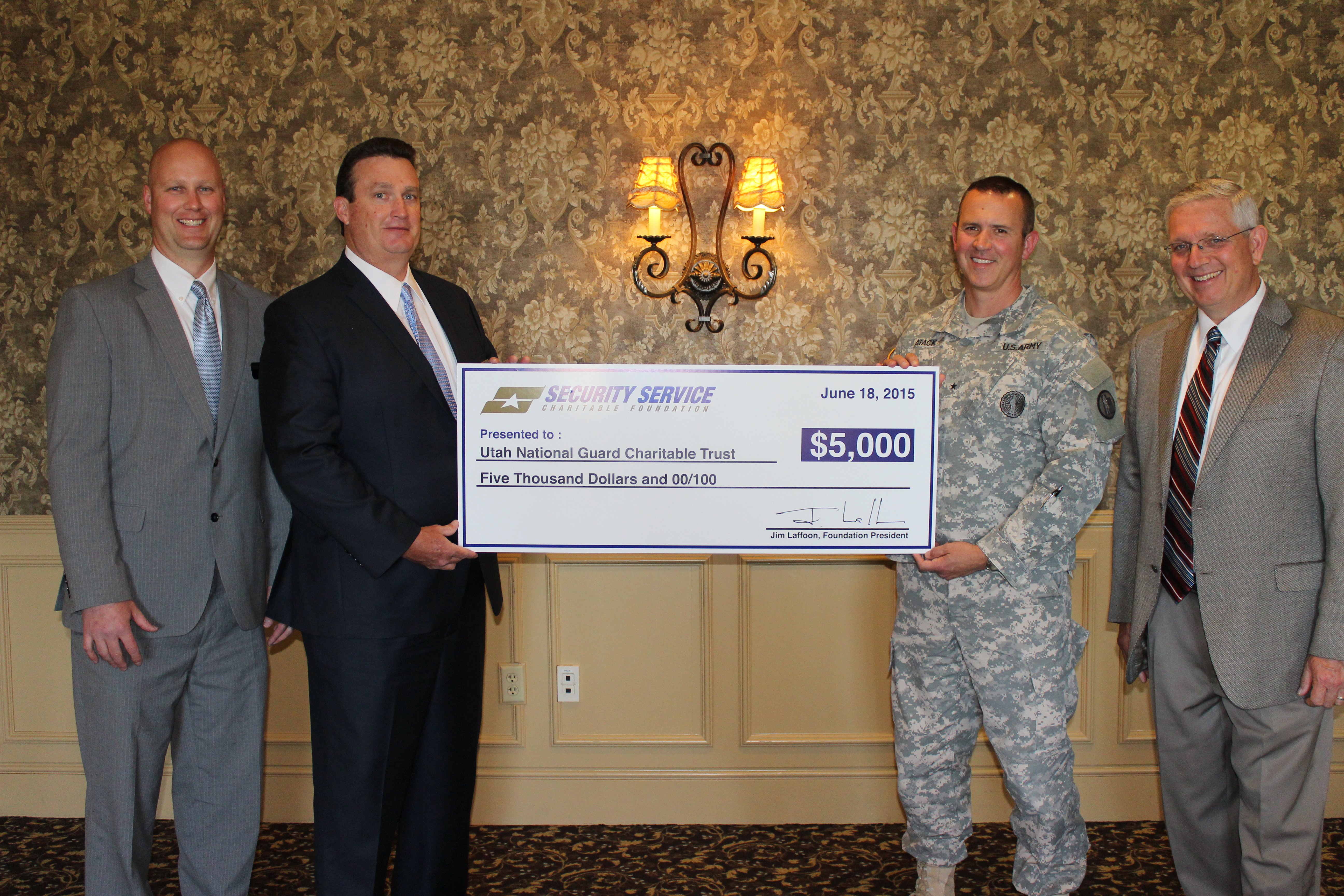 Security Service Federal Credit Union honors service members with donation to Utah National Guard Charitable Trust
$5,000 contribution to help pay family emergency costs
SALT LAKE CITY, UT (June 19, 2015) – A longtime supporter of military members and their families, Security Service Federal Credit Union is once again stepping up to help those who serve our country.  The Security Service Charitable Foundation has awarded the Utah National Guard Charitable Trust with a $5,000 contribution to support service men and women in need of financial assistance.
"We are honored to support the Utah National Guard in this way," said Jim Laffoon, president and chief executive officer of Security Service Federal Credit Union. "We never underestimate the sacrifice a military member makes for our country. Our donation is just one small way we can thank them and their families for their service."
The purpose of the Utah National Guard Charitable Trust is to assist with financial hardships encountered from medical, home or property emergencies. The Utah National Guard trust was formed to close the gap.
The trust helps cover costs of transportation and lodging for a spouse or parent to travel to the treatment facility where a National Guard member is being cared for. It also helps cover basic needs for families while a military member is deployed, to include home repair emergencies that may happen while they are away.
Photo caption: Greg Reed, vice president, operations-Mountain West Region, SSFCU and Jim Laffoon, president and CEO, SSFCU, present a check from the Security Service Charitable Foundation in the amount of $5,000 to Gen. Dallen S. Atack, Utah National Guard and Sterling Poulson, Utah National Guard Charitable Trustee and KUTV chief meteorologist
About Security Service Federal Credit Union
Security Service Federal Credit Union offers competitive, affordable financial products and services designed to meet the needs of its members. Security Service is an industry-leading financial institution with 70 locations in Texas, Colorado and Utah. The credit union is among the top 10 credit unions in the nation. Security Service strives to be America's best credit union and provides the true benefits of credit union membership with financial services of the highest quality and value. Learn more at www.ssfcu.org or call 1-800-52-SSFCU.
---