Stepping outside the fintech bubble for a night
I had the chance to speak with other entrepreneurial-minded people at business incubator Gravitate's Founder Fireside this week. Because much of my attention is often consumed with building and growing LenderClose, it was a great to step outside of the bubble for a few hours and connect with others that have an interest in Iowa's developing fintech community.
We covered a lot of ground during the conversation, but there are a few points worth revisiting. I've added a bit more detail to my favorite things we discussed below.  
Where did the idea for LenderClose come from?
Several members of the LenderClose leadership team and I been on both sides of the lending experience. For my part, I spent many years working in finance as a loan officer; I've also borrowed money.
When you're the borrower, you don't see all of the work that goes on behind the scenes to analyze and underwrite loans – you're just hoping for a smooth and quick process. The reality is it can be extremely laborious for lenders to pull all of the documentation together. It can be time-consuming and inefficient for everyone.
After years of doing it the traditional way, I knew there had to be a way to do things differently and better – and that is how the seed for LenderClose was planted.
How did you get your start? Did you always have an interest in finance?
My beginnings were very humble. When I came to Iowa at 18, I didn't have much in the way of education or experience. But, I never let that stop me from making a living. One day shortly after arriving in the state, I answered a newspaper ad promising "Make $1,600 a month!"
It turned out to be a door-to-door vacuum sales job. And let me tell you, it was perhaps the most important job I've ever had because it ignited a passion in me. No, not for vacuums (although they are great pieces of technology). The passion I discovered was for listening, learning and solving problems.
When I took that job, I had no idea I was any good at sales; I just needed to do something. I soon realized talking with people is fun. Solving people's problems is fun. Eventually, I realized that if I can knock on a stranger's door, identify their issues and fix them, that is a formula for success.
(I'm proud to say that I was once the top vacuum salesperson in Iowa.)
That job is also what led me to a sales position with a financial institution. It was easy for me to get excited about helping borrowers solve problems. That became a launching pad for starting my own businesses.
Was it scary to sell a successful business and take a chance on your new business, LenderClose?
It wasn't scary. But honestly, it was very hard. I wasn't nervous about letting go of National Loan Closings because I had my next idea, LenderClose, and it was solid. The platform absolutely was needed in the marketplace. I already had clients using it and I could see even greater demand was out there.
It was grueling to be selling National Loan Closings while also raising capital for LenderClose. The buyers needed to explore everything – and for good reason. They had to understand what they're getting. At the same time, the investors I most wanted for LenderClose needed to drill down to the micro-level of the vision for LenderClose.  
I had to be responsive to the needs of both buyers and investors, all while still running two companies. So I'm still doing sales and payroll and hiring – everything it takes to keep these two businesses going. There were several times I told LenderClose COO Ben Rempe it was all too much. He kept me motivated to reach the finish line.
Now that we've made it to the high-growth stage we're in today, I can say it was all well worth it.
Have you experienced any failures along the way?
One piece of advice I would offer is not to fear mistakes – or let the fear of mistakes prevent you from acting. Yes, I've made a lot of mistakes along the way. I've tried a lot of angles that didn't work out. But, I learned from each experience how to do things better.
One of my favorite quotes is, "Stop being afraid of what could go wrong, and start getting excited about what could go right."
It's always a bit uncomfortable to get up in front of a room full of people and talk about your journey. But, I'm a big believer that to grow, you have to make yourself uncomfortable. Who knows what can come of your sharing failures as readily as successes? In Iowa, we pride ourselves on accessibility and openness to new ideas. Events like this week's at Gravitate really bring that home for me.
There are many other great things that came up during the Fireside Chat. I'll share down the road, so stay tuned…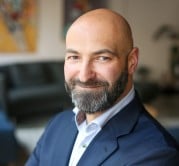 Omar Jordan is the founder and CEO of Coviance (formerly LenderClose), a CUSO, fintech company that's transforming the home equity lending process with its cloud-based platform, Home Equity Express™ (...
Web: https://www.coviance.com
Details