STOP strategic planning, START strategic doing
#STANDUP
Strategic planning is impossible today! I know that is a bold statement, but if we examine the events of the last six months, it speaks the truth. The year 2020 will go down in history as constant scenario planning with real life 'what if' thought leadership requiring vulnerable collaboration between all team members, board members and member-owners to determine how best to survive. How to address the day-to-day health crisis. How to navigate with people who are on the front lines while also creating technology workarounds and temporary business practices that were supposed to be short term.
Now, however, we find ourselves in an environment of permanent disruption and what has been coined the new norm, which may extend well into the future. We are stronger together became the mantra and created a feeling that the world was united in its quest for safety, security, love and belonging as people of the planet.
On May 25, 2020 all that changed! For almost 9 minutes, we watched graphic footage of the murder of George Floyd, which exploded the myth that 'we are all in this together.' It was clear for the world to see that there is great disparity in our daily lives and that people are dying simply because of their race. Black Lives Matter is not a slogan or about kneeling; it is not something that we should just get over or politicize. It goes much, much deeper than that. We must examine the systemic roots of cultural racism and begin to make a commitment to change; stand up together to listen, learn and begin to build a long-term strategy that will make an impact on the lives of our members and our communities.
Now is not the time to stand on the sidelines of the issue. I hear from some CEOs that their field of membership is diverse, their staff is diverse, and they do not have these issues. I call bullshit. Yes, there are two sides to every issue, but this is not about sides: It is about what is right. I believe credit unions must construct a new type of strategic planning with an entirely different mental attitude and process adjustment. Seek out ways to affect change. Everyone in need of help deserves a credit union. That's why the not-for-profit, cooperative financial services model was established, and financial wellness is the foundation of economic prosperity. Doing the right thing is also good business, because it lifts everyone up and when people have food, access to education, buying homes and secure jobs, there is a level of safety and belonging that fosters financial security and hope for the future.
For more than 25 years, we have worked with literally hundreds of credit union executives and boards to facilitate strategic planning and execute initiatives, I know that the premise of strategic planning is to be relevant and scrutinize why you exist today – not back when the credit union was founded – but here, now, today, in this terribly complex world we must tackle deep-seated, difficult issues deliberately.
Anticipate potential risks and opportunities, delve into relevant information and data and innovate for solutions that transform ideas into action. It begins with your credit union's 'why.' Why do you exist today in this world of real uncertainty? What is the purpose of the credit union?
Disparity exists in the way we serve our constituents – racial and ethnic minorities, sexual orientation, gender, age and so much more. Diversity, equity and inclusion should be a pillar of every credit union's value proposition. Afterall, credit unions were founded of, by and for the people – just like the USA! And we must work hard on both to remain relevant.
We founded the Underground Community to promote discussion and debate on tough topics with our clients and then expanded it to be more inclusive to all forward-looking credit union leaders, to all those willing to share authentically and put ideas into action. The Underground's purpose couldn't be more relevant than in 2020. Check out the recording here!
And, it is having an impact exemplified by my volunteer work as Chair of WOCCU Global Women's Leadership Network where we have pushed for 10 years to advance credit union women in leadership, www.cuwomen.org through local impact, and global connections. More than 3,000 women and men, HE for SHEs, engaged in GWLN from 82 countries, 110 Sister Societies formed, 64 scholarships given and 10,000 hours donated to local communities.
After all that credit union leaders shared in vulnerable collaboration with the Underground, how can we possibly just sit and talk and not take action on social issues and demonstrate what a cooperative can mean today and for the future of society! So, stop strategic planning and start strategic doing. #StandUp!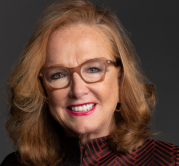 Susan Mitchell is a passionate believer in making a difference! As the CEO of Mitchell, Stankovic & Associates, a consulting firm that has provided over 5,000 credit unions innovative consulting ...
Web: www.mitchellstankovic.com
Details