Strengthen your 'employer brand'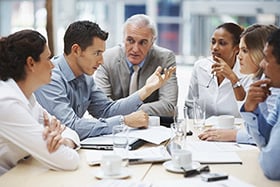 One of the things I think about every day as a CEO is how to make sure we have the talent we need to fulfill our mission. To do that, particularly in a growing economy, we need to be seen as a desirable employer.
Richard Mosley of the research and branding firm Universum discusses this in a Harvard Business Review article on the "employer brand." As the economy ticks up, Mosley says, leaders need to focus now on strengthening their employer brand – what it says about the company as an employer to people inside and outside the organization. And he says CEOs more and more are the ones seen as primarily responsible for that brand.
Social media has made sure just about anyone can learn about our business, including how our employees feel about their role and whether they're happy here. So keeping a strong employer brand requires us to focus "far more heavily on employee engagement and advocacy," he says.
To get us started, Mosley offers four tips, repeated in brief below:
Survey your key external target audiences to evaluate current employer brand awareness and reputation.
continue reading »