Stumble no more: 5 steps to winning the war for talent
I love interviews. Getting to know people, their unique stories and passions truly lights up my day. Recently, I had the opportunity to participate in a final interview for a potential candidate. Her experience was strong. She possessed unique ideas and demonstrated intellectual curiosity. She asked a set of insightful questions to learn more about our credit union. She impressed us. Then I asked the dreaded question, "What do you know about credit unions?" Not surprisingly, like so many people we interview, she lacked knowledge. She knew we are a financial institution and that there was something different about us, but when pressed, those exact differences eluded her. I looked in the mirror that evening and asked myself how we can change that consistent response.
As I enter the next twenty years of my career in credit unions, I have been challenging myself to think about what lasting outcomes I wish to help create. One answer plays on repeat. I dream that when the time comes for me to retire, students across our country graduating from college will share our passion and will be hoping and begging to work in a credit union. Ultimately, I believe we can stop the "credit union stumble."
What's the "credit union stumble?" It's the story of how nearly all of us found our way to a credit union. For me, I had two degrees from the University of Michigan, one in English and one in Psychology. I was applying for every job in either social work or marketing that I could find from one side of the country to the other, and I "stumbled into" a small credit union in metro-Detroit. They had posted a marketing specialist job. I had the opportunity to interview, was offered a job and accepted. I did not know much about credit unions or cooperative finance, but I knew that my parents would be thrilled that I was gainfully employed. End of story.
While your background, the location, the size of the credit union and the initial role might be different, I would be willing to bet your story of beginning within a credit union also began with a similar "stumble." The great news: most of us quickly fall in love. The mission, the work, the members, and the power of our movement, all ensure that we quickly drink the Kool-Aid. However, if we want to win the war for talent, we have to stop the "stumble" and create a path and story so desirable that new college graduates are racing to our credit unions.
Here are five ways to get started:
1. Master your Employee Value Proposition (EVP): Equally as important to defining and sharing the reason that consumers should join and engage with us, is shaping the compelling story that ensures people know why working at your credit union could change their life. While there may be similarities between your external brand and your EVP, the two are distinctly different. In fact, Gartner outlines five elements that together create your EVP, including:
Opportunity – What are the possibilities for your people, both in terms of their growth and the organization's growth?
People – What will the experience be with the other humans within the credit union, including their peers and leaders?
Organization – What does your credit union bring to the table in terms of what you offer and your commitments to communities you serve?
Work – What does the day-to-day environment feel like, and how does the organization invite the work-life synergy that your team desires?
Rewards – What's in it for your team in terms of salary, bonuses, benefits and more?
2. Go Beyond the Usual Suspects. As you look to attract new talent and especially talent emerging from college, explore opportunities to post your positions and share your story more widely. Beyond job postings, create partnerships with learning organizations where your team can share their story and regularly engage so that people know who you are and why considering employment there has such potential.
3. Create Ambassadors. Who are your rock stars? Invite them to share their story through a host of different mediums. Be sure to consider people with different roles across the organization. Many times, people think that the only roles that might be possible in a credit union are in accounting and finance. Be sure your ambassadors include people from your technology team, your front line, your marketing team and more. Think you don't have the right budget for this? Consider GE's Employee Ambassador program that was started for $0. According to MackCollier.com, within the first month of launch, GE "saw an 800% increase in applicants. Additionally, what GE has found is that by its employee ambassadors being more engaged online, it's creating organic engagement that's eliminating the need for purchasing traditional advertising to support the initiative."  
4. Develop a robust internship program. Increasingly, students must experience real world work in order to improve their skills and abilities. It also creates an incredible opportunity for the student to better know just what will be a good fit for their future role upon graduation. For the credit union, internships create a positive way to regularly integrate the next generation workforce into the organization. Not only will interns bring fresh eyes and new ideas, but they can create a wider long-term talent pool. KPMG was recognized by WayUp as having 2018's top internship program. KPMG's program includes a "Build Your Own Internship" element allowing exposure beyond their internship division focus.
5. Use turnover as a competitive advantage. In Filene Research Institute's "Prescriptions for Organizational Attraction in the Credit Union System," Bermiss & Darnell posit that we can "win by losing." Knowing that despite our best efforts, some people will move on and find new opportunities, we can improve our EVP by sharing the positive new places they land as well as the impact our former employees make when they move on.
Several months ago, I participated in an internal interview. The candidate worked in one of our branches and was considering a role on our marketing team. As she shared her journey, she told me about her many gifts including incredible musical skills, a passion for writing and more. I asked her, "Why Canvas? You have lots of choices." She shared, "I hope to work here until I retire. I love this place. I love our culture, but most importantly, I love what we do for people. I want to be a part of that."
Credit unions change people's lives. Not just the lives of the members we serve and the communities where we impact positive change, but also the lives of the people who create their careers with us. All of us together can ensure that in 20 years, the "credit union stumble" no longer exists. Imagine a day when college graduates are racing one another to find their spot within a credit union. I dream of stumbling no more.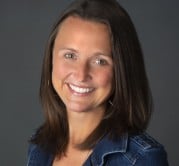 "No" is not a word in Tansley's vocabulary. If there is an opportunity to bolster Community Financial Credit Union and the industry at large, Tansley will jump on board ...
Web: https://www.cfcu.org
Details