Imagine you're lost at sea—do you float in the water, in hopes that someone finds you, or do you do everything you can to rally resources so you can get to the next destination?
In the credit union industry, simply staying afloat will sink you in the long run. Credit union growth is all about leveraging the elements that will help your organization grow in value and become stronger as time goes by.
Surviving is dying.
Credit union growth cannot be achieved by maintaining the status quo. Leaders must take an honest look at the markets, financial ratios, and their organizations' strategies if they want to maintain truly competitive positions in the marketplace.
Looking at the Ratios
Finding the right pathway to success can be difficult.  Conducting a realistic assessment of the credit union's current situation and opportunities for long term success requires strong, strategic leadership.  It requires leaders to ask truly insightful questions, questions that might have uncomfortable answers.
The easy thing to do is to maintain status quo – continue to survive.  You have a core group of members that have become accustomed to your service, a very loyal segment of your membership.  Another segment of membership stays with you because of apathy and the burden of changing to another credit union or bank.  You may be losing members year after year because it is difficult to inspire the younger members to join. And you have a hard time growing your loans even though we are in the best of times. However, as credit union leadership you are content because you have a strong net worth and slightly profitable – why change?
Long term survival requires reinvestment and may entail significant strategy change that diverges from the credit union's original mission.  Leadership may have to reinvent the credit union to focus on new, growth market segments and sometimes deemphasize segments that have historically brought success. Member capital and current dividends/favorable loan rates may need to be sacrificed for reinvestment in growth initiatives.  The board must also recognize the higher risks associated with these investments in the future. Does the credit union have the adequate resources and invest in these initiatives? Does the credit union have the expertise or will it have higher risk in successfully executing an initiative?  Will the target markets respond? How will competitors respond?
Changing consumer behavior, rapidly evolving technologies, cyber security, regulations, analytics, and new competitive threats are significantly altering the key success factors in our industry and putting a premium on economies of scale and brand power.
Increasingly we find leaders, in both small and larger credit unions, are examining the current and future prospects for their credit unions' long-term viability.  With the goal of acting in their members' best interest they have had the courage to include the option of being merged as of several growth strategies. When evaluating the power and member value credit unions can achieve by merging with the risk/reward of independence, many successful credit unions are choosing merger as the preferred option.
The nine major ratios boards should consider is a good first step in evaluating the credit union's position.    
When you're examining your ratios, ask yourself, is your organization:
Stagnating or declining in membership counts?
Growing deposits below the industry average?
Experiencing a low and/or declining net worth ratio?
Negative or low return on assets?
Having difficulty maintaining a healthy loan-to-share ratio?
A consistently high expense ratio putting your credit union at a competitive disadvantage?
Capable of obtaining the sales and marketing resources necessary to procure new business while keeping your current members engaged?
Is your delinquency ratio growing and threatening charge offs and earnings?
Struggling to employ a strategy that allows you to provide an optimal product and technology mix to satisfy the needs of different segments of your membership base?
Sustaining growth in your membership base is imperative. As big banks and online options become more accessible to people, your organization needs to maintain its sense of community while simultaneously increasing growth.
The ratios may be just a starting point in your diagnosis and are usually symptoms of    deeper issues that must be resolved. Luckily, we are blessed to be working in a very collaborative industry.  When assessing your situation, it is important to look not only at the present but also project how the future of the industry will evolve. You may be okay now, but you're surviving, not thriving.
In this competitive world, if you're not thriving, you're dying.
Putting the Best Interests of the Members Above All Else
As a leader, your job is to put the needs of your members and success of your organization above anything else. Generally speaking, this means you should always be putting credit union growth at the forefront of your agenda. For many credit unions a merger partnership may be the best way to position the credit union for future success.
For credit unions considering a merger, it is advisable to proactively put your credit union in a positive position when potential merger partners appear.
In the credit union industry, there are two types of mergers: voluntary and involuntary.
If you're simply surviving, you'll likely find yourself on the losing end of negotiations, as other firms will see your organization as financially weak.
If you're able to offer merger partners the opportunity to benefit from your strong growth, a valuable field of membership, positive employee morale, and healthy net worth, you'll have plentiful options to choose from when it's time to unite with another organization.
Is your credit union surviving or dying? In many ways, these two elements are synonymous with each other. To ensure credit union success, your leaders must be reinvesting in the long-term growth using innovative strategies.
Organic growth is one pathway to success for members, however for many credit unions mergers can accelerate the value to members with much lower investment and risk.
I encourage you to talk to your board about your organization's financial situation. If you are faced with a corporate culture that seeks to merely float, address that culture clearly.
Surviving is dying.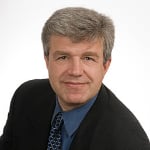 Glenn Christensen is Founder and President of CEO Advisory Group the first Merger and Acquisitions consultancy focusing on the credit union industry. As a visionary and entrepreneurial leader with 25 ...
Web: www.ceoadvisory.com
Details