Thank you, and have a seat!
I love amazon.com. I live in the middle of nowhere and so I tend to buy just about everything from King Bezos. Paper towels, dog treats, ink cartridges, a gas stove (not kidding). I know my UPS guy, Ernie, personally and my dogs can recognize the sound of his truck from two blocks away. 
Yesterday my new "soft close" toilet seat arrived. It was beautifully packaged with foam padding. When I took the seat out there was a small envelope that simply said "For You." 
When I opened it up it was wedding invitation quality, embossed silver on the front that said "Thank you" and a nice message in broken English inside, "Thank you for your order. It's a great encouragement to us with your satisfaction. Enjoying your purchase with one-year product warranty from us.  In need of any further assistance, please feel free to contact us. Email:clientsupport@lamea.cn We'd love to hear your thoughts, or see pictures." 
It was a $40.00 purchase from a brand I have never heard of, WSSROGY, it is highly rated on Amazon, with 4 1/2 stars from 185 reviews. The best part, there are 62 pictures posted of toilet seats and of course it was Amazon Prime. 
I checked out the reviews and here's one of the "negative" ones (4 stars) from Anonymous Bunion:
I was unsatisfied with certain aspects of the seat, but overall content with my purchase. Customer Service has taken my dissatisfaction to their engineering team to improve their product. Makes me feel like a valued customer, even if it's not a lot of money. The seat is exactly as described, plastic, soft close, well made, and will last. Customer service reached out to make it right, extra star!
How many times in your life have you purchased a new toilet seat? This is probably my second. Do you have high expectations? It's a toilet seat after all. How competitive is the throne business do you suppose? The top brand that comes to mind is Kohler as in the "Bold look of Kohler" but I didn't select that brand. Instead, I trust Amazon to show me the best sellers, with free shipping and I made my purchase decision in probably less than 2 minutes. 
This is our world. I want it now daddy! I trust consumer reviews. 
I read a brilliant quote last week from IBM's Bridget van Kanlingen:
"The last best experience that anyone has anywhere, becomes the minimum expectation for the experience they want everywhere." 
Today my husband and I did a very adult thing. We bought a 2018 Range Rover Epoque still under warranty with less than 7 thousand miles on it, and we were able to pay cash and had no trade-in. This was the most I've ever paid for a car in my life. I would expect what is usually a nightmare experience to be elegant, swift and pain free. I would be wrong. It took over an hour to get out of the Finance guy's office. So much paperwork, and of course he wanted to sell us add-ons, insurances, etc. The experience was clunky, felt rushed and quite honestly did not meet my expectations for a luxury car purchase. Let's see if we even get a thank you in the mail.
It's the little things that make a big difference. And this toilet seat company has it figured out. They are not counting on repeat business, but rather creating raving fans that leads to new business. 
Can you say that about your credit union?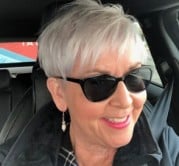 Denise started her credit union career over 30 years ago as a Teller for Pacific NW Federal Credit Union in Portland, Oregon. She moved up and around the org. chart ...
Web: https://www.zest.ai
Details