The CUInsight Experience podcast: Amy Downs – Resist complacency (#38)
"It's not so much what happens to you in life that matters, it's how you choose to respond to it." - Amy Downs
Welcome to episode 38 of The CUInsight Experience podcast. Hosted by Randy Smith, co-founder of CUInsight.com. In this episode, Randy is talking to Amy Downs President and CEO of Allegiance Credit Union in Oklahoma City, she is a motivational speaker, an IronMan Triathlete and an Oklahoma City Bombing survivor.
Amy discusses what happened to her and her co-workers when the federal building in Oklahoma City was bombed, how she was trapped under rubble and how it took over 6 hours to dig her out. She tells us what she was thinking while she was waiting to be rescued, what she wanted to change if she made it out alive and how she did it all.
Amy speaks to us about being CEO of Allegiance Credit Union, how she got there and why she stayed in the credit union industry. She chats about being a leader and what that means in the changing industry and how it's time for younger people in leadership, management and on the boards.
Listen in as Amy gives us an inside look to her disaster, her triumph and her road to being the person she is today. She has a story to tell and you don't want to miss it so sit back, plug in and be prepared to cheer at what she has accomplished.
Subscribe on: Apple Podcasts, Spotify, Google Play, Stitcher  
How to find Amy:
Amy Downs, President and CEO of Allegiance Credit Union
www.allegiancecu.org
www.amydowns.org
Amy.Downs@acuok.org
Linkedin | Instagram | Twitter 
Show notes from this episode:
Shout-out: Brent Rempe, Lois Kitsch
Credit union shout-out: Allegiance Credit Union
Check out Amy's personal website on her as a motivational speaking gigs here.
Today Show: Survivor stories: OKC bombing survivor Amy Downs on how she pushed through tragedy
Runner's World Podcast: Episode 27 – From the Rubble
Relevant Leadership Podcast: Episode 5: Oklahoma City Bombing Survivor turned CEO with Amy Downs (CEO of Allegiance Credit Union)
Video: Highlights – 2017 Ironman Arizona
Beauty for Ashes: The Amy Downs Story
Shout-out: Coopera
Shout-out: Credit Union Development Education Program (DE)
Book mentioned: Four Disciplines of Execution by Chris McChesney
Book mentioned: Radical Candor by Kim Scott
Book mentioned: Getting Things Done by David Allen
Education program that was career changing for Amy: CUES CEO Institute
Shout-out: OK Freewheel
Journal Amy mentioned: The Five-Minute Journal
Something both Amy and I do every morning: Morning Pages. You can buy the book The Artist's Way or just watch the YouTube video that got me started here.
Podcast Shout-out: Tim Ferriss Show
Product Placement: Both Amy and I use Moleskin journals.
Album mentioned: Hysteria by Def Leppard
Book mentioned: The Traveler's Gift by Andy Andrews
Book mentioned: Girl Wash Your Face by Rachel Hollis and Girl, Stop Apologizing.
Make sure to follow @AmyOn2Wheels on Instagram.
Previous guests mentioned in this episode: Lois Kitsch, John Pembroke, Tansley Strearns, Jill Nowacki (episodes 4, 18 & 37)
You can find all past episodes of The CUInsight Experience here.
In This Episode:
[01:45] – Welcome to the show Amy Downs, President and CEO of Allegiance Credit Union.
[02:53] – Amy describes for us what happened on April 19, 1995 at the federal building in Oklahoma City, where her office was located.
[06:35] – She speaks to us about the wait under 10ft of rubble to be rescued and how during that time she reflected on her life wishing she had a do over, because she thought she was going to die.
[07:49] – Amy says it took six and a half hours to dig her out from under the rubble never knowing if the unstable building was going to collapse.
[09:23] – When she was pulled out alive she decided to change her life and she promised God she would never live her life the same way she was living it.
[13:55] – Amy thought about leaving the credit union but realized that if she did and they let the credit union go under the 18 employees and over 100 members that were killed lives would have meant nothing.
[14:26] – She tells us how she went from weighing 355 lbs, to training, to becoming an Ironman Triathlete.
[17:53] – Amy is most excited about seeing the leadership that is coming down through credit unions to have the younger generation leading in a different way.
[19:07] – How is Allegiance keeping up with all the changes coming their way? In technology?
[20:43] – Amy believes that credit unions need younger more diverse people in management and on their boards.
[22:18] – What inspired Amy to take the position of CEO of the credit union? Who inspired her?
[23:18] – Her motivation has shifted since she took the position because she knows that they need to grow the credit union.
[24:51] – Amy says her leadership style is open book management, she believes in being transparent.
[25:23] – How does her team describe her leadership style?
[25:55] – Amy states that she has the best team in credit unions today, they are diverse, they trust each other and they play off of each other.
[28:10] – She says that the one mistake she has made and she sees young leaders make is trying to be the boss, it's the wrong way to earn respect.
[29:18] – Amy tells us that a significant failure she made in her career was she allowed herself to fall into a complacent place where she was showing up but not bringing her best game.
[33:17] – The piece of advise that she keeps replaying in her mind is "it's not what happens to you it's how you choose to respond to it?
[34:14] – If Amy has a free day she likes to take a 60 mile bike ride with her husband or helping people by giving motivational talks.
[35:48] – She also like to do an organized ride once a year across the state of Oklahoma called Oklahoma Freewheel.
[36:20] – Amy says the first memorable time she got in trouble was talking too much in class.
[36:52] – She is obsessive with her morning routine she does the same thing every day.
[39:39] – What is her favorite album of all time?
[40:45] – The book she gifts the most often?
[41:45] – What's become more important to you over time? What's become less important?
[43:20] – When she hears the word success who does she think of?
[44:57] – Any final thoughts or asks for our listeners?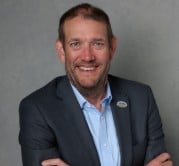 Randall Smith is the co-founder of CUInsight.com, the host of The CUInsight Experience podcast, and a bit of a wanderlust. As one of the co-founders of CUInsight.com he ...
Web: www.CUInsight.com
Details