The CUInsight Experience podcast: Bill Cheney – Lead with the heart (#45)
"Our focus is on who we serve and how we serve them. That is what has made us successful." - Bill Cheney
Welcome to episode 45 The CUInsight Experience with your host Randy Smith, co-founder of CUInsight.com. In this episode, Randy welcomes Bill Cheney, the President, and CEO of the SchoolsFirst Federal Credit Union. They are taping this episode from Mombasa, Kenya, where Bill was the keynote speaker at the 20th SACCA Congress. 
Bill speaks to us about how SchoolsFirst gives back to their local community and their global community. He shares some of the ways his team has contributed to schools in Kenya. Bill also talks about his team's focus on having empathy and understanding the communities and how to serve them best.
They discuss Bill's servant leadership style and why he left CUNA to head SchoolsFirst. He chats about being glad to be back at an actual person credit union, and he feels like he has come full circle. Bill believes that who they serve and how they serve them is what has made SchoolsFirst successful. He believes that the people in your organization are essential, he says you can't expect people to work like machines and you can't treat them like machines.
Listen in as Bill tells us why there has never been a better time to work in the credit union movement, how the members are the marker of success in any credit union and why they need to make more loans to more members. This is a great conversation from a beautiful place with essential information that you won't want to miss, so plugin and enjoy.
Subscribe on: Apple Podcasts, Spotify, Google Play, Stitcher 
How to find Bill:
Bill Cheney, President and CEO at SchoolsFirst Federal Credit Union
www.schoolsfirstfcu.org
bill.cheney@schoolsfirstfcu.org
Linkedin | Twitter | Facebook | Instagram 
Show notes from this episode:
Check out all the amazing Bill and his team are doing at SchoolsFirst FCU here.
Shout-out: to our friends at ACCOSCA and the 20th SACCA Congress where Bill was the keynote this year.
Shout-out: Crissy Cheney – Crissy was a mentor in my DE class (winter 2105 – best class ever)
Shout-out: Credit Union Development Education (CUDE) – You can do it. Sign up!
Shout-out: Lois Kitsch
Shout-out: Don Bosco Special School – I made this video of our time there.
Shout-out: Brent Rempe
Shout-out: to our friends at CUNA where Bill was the previous President and CEO.
Shout-out: Jim Nussle
Shout-out: The California and Nevada Credit Union Leagues
Credit union mentioned: Schools Financial Credit Union
Shout-out: Jill Nowacki
Credit union mentioned: Security Service Federal Credit Union in San Antonio. Where Bill got his start in credit unions.
Shout-out: Rudy Hanley
Book mentioned: Good to Great by Jim Collins
Do you remember Bank Transfer Day?
Credit union mentioned: Xceed Financial Credit Union
Shout-out: Dan Mica
Shout-out: Tim Marriott
Definition of servant leadership
Shout-out: George Ombado
Shout-out: Maurice Smith
Credit union mentioned: Public Employees Credit Union where Bill got his first car loan.
Shout-out: University Texas – Bill and Chrissy's alma mater and what Bill's watching on Saturdays.
Shout-out: John Spence
Shout-out: Diana Dykstra
Bill is another guest on the podcast who is a Peloton fan.
Best album of all-time: Willie Nelson – Red Headed Stranger
Bill sent me a text after we were done recording that the Chris Stapleton Essentials playlist on Apple Music is a current favorite to listen too.
Book mentioned: Blue Ocean Strategy by W. Chan Kim
Book mentioned: The Northbound Train by Dr. Karl Albrecht
Shout-out: David Chatfield, Patsy Van Ouwerkerk, Stan Hollen, Tom Dorety
Shout-out: Global Women's Leadership Network
Previous guests mentioned in this episode: Lois Kitsch, Jim Nussle, Jill Nowacki (episodes 4, 18 & 37), Maurice Smith, John Spence, Diana Dykstra
You can find all past episodes of The CUInsight Experience here. 
In this episode:
[01:48] – Bill, welcome to the show!
[02:09] – They discuss the conference and Bill's keynote speech.
[03:27] – Bill tells us how and why his team at the credit union gives back to the local and global communities.
[07:06] – Empathy is front and center of SchoolsFirst Credit Union; they try to understand their communities and the best way to serve them.
[08:49] – How has your experience at the state and national level helped you run SchoolsFirst?
[10:02] – Bill speaks about his wife and how credit unions have become their life and how hard it is to turn it off.
[12:07] – Who we serve and how we serve them is what has made SchoolsFirst successful.
[14:25] – He discusses the investment in technology that they have made to increase support to their members.
[15:11] – What needs to change fundamentally to keep credit unions relevant?
[17:02] – Bill tells us why he left CUNA to take the job at SchoolsFirst.
[20:18] – Has the inspiration after five years on the job changed or gotten stronger?
[21:57] – Bill says servant leadership is how he describes his leadership style.
[24:14] – Has your leadership style changed since your career started?
[28:20] – Bill says, "we need to make more loans to more members" all the time, and his team could repeat it word for word.
[30:01] – What mistake did you make when you first started? What mistakes have you seen young leaders make over and over?
[31:10] – Don't be afraid to raise your hand and get involved, is something Bill was told years ago that he still says today.
[33:02] –  People are not machines and can't be treated like machines.
[34:03] – How do you keep your message fresh with your team? With your members?
[36:24] – Bill likes to watch college football when he has a day off, fly fish, and ski.
[37:20] – What is the first time you got into memorable trouble? Did the police get involved?
[39:17] – Working out is something he does every day for physical and mental health.
[40:13] – His favorite album is Willie Nelson's Red Headed Stranger.
[40:55] – What are your favorite books?
[43:03] – Sleep is more important, and the Dallas Cowboys have become less important.
[44:16] – Rudy Hanley is who he thinks of when he hears the word success.
[45:44] – There has never been a better time to work in the credit union movement.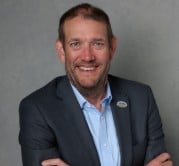 Randall Smith is the co-founder of CUInsight.com, the host of The CUInsight Experience podcast, and a bit of a wanderlust. As one of the co-founders of CUInsight.com he ...
Web: www.CUInsight.com
Details