The CUInsight Experience podcast: Bob Trunzo – Pushing and driving change (#32)
"The highway is littered with dead squirrels who couldn't make up their mind." - Bob Trunzo
Welcome to episode 32 of The CUInsight Experience podcast. Hosted by Randy Smith, co-founder and publisher of CUInsight.com. On this episode, Randy is chatting with Bob Trunzo the president and CEO of CUNA Mutual Group. Learn about the pace of change in financial services, agile technology, and why risks are important to take.
Bob and Randy start the conversation off discussing how credit unions need to adapt to stay relevant. Bob shares his thoughts on digital innovation and why keeping up with the technology is imperative for credit union survival. Technology saves the credit union and the members time and money which is what will keep both happy.
Bob also chats about the role of CUNA Mutual Group in setting an example for changes in thoughts and actions around inclusion and diversity. Credit unions need to look, feel, and act like their members to keep those members. It doesn't matter where you come from, it only matters that you have a heart for service and a drive for excellence.
Learn more about Bob in the life and leadership hacks and rapid-fire questions as well. He shares his yearly notecard ritual, his Peloton obsession, and the book that he's read over and over again. You won't want to miss this conversation. It's fast-paced and enlightening.
Subscribe on: Apple Podcasts, Spotify, Google Podcasts, Stitcher 
How to find Bob:
Robert Trunzo
President and CEO, CUNA Mutual Group
www.cunamutual.com
robert.trunzo@cunamutual.com
LinkedIn 
Show notes from this episode:
Company mentioned: CUNA Mutual Group
Check out the recent posts in the Community from CUNA Mutual Group here.
Shout-out: Chuck and our friends at PSCU who had Bob out as a keynote at PSCU Member Forum this year.
Article mentioned: Digital disruption is rocking the insurance world
The online CUNA Mutual Group Discovery Conference is celebrating 10 years. Check it out August 15th. Register here, it's free.
Book mentioned: Finding My Virginity by Richard Branson
One of the ways CUNA Mutual Group is discovering the technology of the future: CMFG Ventures
Recent press: CMFG Ventures and Filene Research Institute partner to launch new FinTech Catalyst Incubator 
Want to learn more on how humans and machines will transform the credit union industry? Check this out.
Campaign mentioned: TruStage Insurance Program
CUNA Mutual Group internship program mentioned.
Bob may have sold me on getting one: Peloton
Albums mentioned: That's the Way of the World by Earth, Wind & Fire
Book mentioned: To Kill a Mockingbird by Harper Lee
Shout out: Lee Iacocca & Steve Jobs
Previous guests mentioned in this episode: Chuck Fagan, Jill Nowacki (Ep. 4 & Ep. 18)
You can find all past episodes of The CUInsight Experience here. 
In This Episode:
[00:30] – Welcome back to the show and learn about this episode's guest, Bob Trunzo.
[02:14] – First up Bob chats about how he has helped CUNA Mutual Group move into the digital age.
[04:15] – Bob shares his thoughts on the biggest challenges facing credit unions today.
[06:39] – Bob describes CUNA Mutual Group today and it's not your mom and dad's company.
[09:41] – How does CUNA Mutual Group stay agile?
[11:20] – What causes Bob to pull the plug on opportunities when they don't pan out?
[13:14] – Bob comments on diversity and inclusion and why it is an important focus for CUNA Mutual Group.
[17:06] – How do they keep the culture positive at CUNA Mutual Group with all the transitions and changes?
[18:18] – Any credit union behaviors or beliefs that need to change to stay relevant?
[19:47] – What keeps Bob excited about where the industry is going?
[20:42] – Bob shares his inspiration for taking the job as president and CEO of CUNA Mutual Group and how it has changed over the years.
[23:16] – Does Bob feel he's changed as a leader?
[25:53] – What does say so often that his team can finish his sentence?
[26:37] – Bob thinks a mistake young leaders make is not making a decision.
[27:38] – Why Bob's Miller Park Stadium project was such a memorable failure in his career.
[29:21] – How does Bob push through when he runs into a wall on a project?
[30:30] – Bob shares what he does to recharge.
[31:55] – Enter the start of the rapid-fire questions: flirting and coffee are the first topics of discussion.
[32:36] – Bob's favorite album and the book everyone should read.
[33:37] – What has become more and less important to Bob over the years?
[35:08] – Hear who Bob thinks of when he hears the word success.
[35:56] – Bob shares his final thoughts.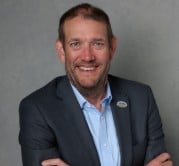 Randall Smith is the co-founder of CUInsight.com, the host of The CUInsight Experience podcast, and a bit of a wanderlust. As one of the co-founders of CUInsight.com he ...
Web: www.CUInsight.com
Details