The CUInsight Experience podcast: Bradley Leimer – Data is king (#22)
"You show me your wallet and I'll show you your values." - Bradley Leimer
Welcome to episode 22 of The CUInsight Experience podcast. Hosted by Randy Smith, co-founder and publisher of CUInsight.com. Today's guest is Bradley Leimer the co-founder of Unconventional Ventures. He works with startups in the fintech ecosystem and mentors entrepreneurs. He believes in bringing diversity to the fintech ecosystem and that anybody with a great idea should have the chance to succeed. He truly is one of the most respected names in the fintech space and I was very excited to get to speak with him.
We recorded this episode prior to Bradley's talk at the CO-OP Think event and start our conversation with a discussion on the future of the community banking model. Bradley talks about the concept of payments and the distinct difference in mindset around payments in other parts of the world versus the American view. I then brought up my trip to Indonesia and the fact that the Asian markets no longer carry cash. Applications are now the primary form of payments.
Following our discussion of the impact of technology on the banking industry, we dive into data collection and use. Bradley shares that while credit unions are poised to be able to use data more effectively than larger institutions, many times the relationship with their technology partner is not strong enough. He then gives examples of how credit unions could better collaborate with their technology partners.
Tune in to today's episode to learn all about how technology and data collection are changing the landscape of finance and financial institutions. We'll talk about Bradley's start in the finance space, his innumerable travels, and his advice for financial institutions in the digital age. Enjoy!
Subscribe on: Apple Podcasts, Spotify, Google Podcasts, Stitcher
How to find Bradley:
Bradley Leimer
Co-founder of Unconventional Ventures
bradley@unconventionalventures.com
www.unconventionalventures.com
Twitter | LinkedIn | Podcast
Show notes from this episode:
Conference mentioned where we recorded: COOP Think. The founder was on the podcast. Listen here.
Apps mentioned: BCash
Apps mentioned: WeChat
Conference mentioned: Finovate
Financial institutions mentioned: Even, SoFi, Revolut, Lending Club
Article mentioned: The Future of Financial Services Lies in the East
Book mentioned: 1984 by George Orwell
App mentioned: Zoom
Podcast mentioned: Shades of Gray
Podcast mentioned: Judge Me By My Cover
Podcast mentioned: Red Envelope
Best album: U2 – The Unforgettable Fire
Book mentioned: The Art of Travel by Alain De Botton
Book mentioned: Generation X by Douglas Coupland
Book mentioned: The Castle in the Sandbox by Kosta Peric
Shout-out: Gates Foundation and Bill Gates
Shout-out: M-Pesa
Previous guests mentioned in this episode: Doug Leighton, Caroline Willard, Sam Paxson
You can find all past episodes of The CUInsight Experience here.
In This Episode:
[00:03] – Welcome back to the show! Randy introduces Bradley Leimer, this episode's guest.
[02:40] – What's the biggest disruption to credit unions that you see in the future?
[04:30] – We discuss the move toward apps to make payments.
[05:05] – Is there a threat to the relevance of traditional financial institutions?
[06:44] – Communities are starting to be less served by banks and credit unions based in those communities.
[07:19] – Is there a place for credit unions that are going to stay relevant and fintech to work together?
[08:30] – Regulators are becoming more receptive to open banking regulations. Create open shares for data shares between different institutions.
[09:48] – What's the lobby? Is fintech attaching to the bank lobby or trying to change other rules?
[10:35] – What's been the biggest challenge of working with people in the fintech space?
[13:01] – Are the fintechs looking to partner with the more traditional system?
[14:30] – What do you mean by financial services not being age agnostic?
[16:15] – We discuss how data is affecting the customer experience and how it is being used today in other industries.
[18:03] – Bradley talks about how data can now reveal customer value based on spending and habits.
[19:09] – How is the collection and use of data going to be affected by huge breaches like those at Facebook?
[20:55] – Bradley advises credit unions to push their technology partners to start to show the value that they are deriving off of the data for the institutions.
[21:26] – We discuss the different paths that credit unions can take in utilizing the data that is provided from their technology partners.
[22:37] – Should credit unions be more collaborative with their technology partners?
[25:07] – Bradley discusses his recommendation for credit union institutions to collaborate with fintech companies to create digital banks and applications.
[27:00] – What inspired Bradley to get into credit unions and fintech?
[29:07] – We discuss the mindset of the banking institution and its relationship with the members.
[30:12] – What keeps Bradley going each day? What is his inspiration to keep working in the industry?
[31:34] – Is fintech helping to erase the barrier to entry of the traditional institution?
[33:14] – Bradley shares his productivity tips for the remote workforce.
[35:45] – Bradley shares the three podcasts that he and his company have started recently.
[38:03] – I ask if Bradley has noticed a mistake that people make over and over again and he indicates that he finds people struggle with learning from the past.
[39:12] – Bradley's life lesson that he revisits is to appreciate the people that you get to work with today. The relationships you make in your 20s and 30s are the ones that stick around.
[39:52] – How does he keep his message fresh?
[40:58] – Bradley talks about what he does with his free time. If he had a lot of free time he'd read and write more.
[42:17] – We move into some rapid-fire questions beginning with the first time Bradley remembers getting into trouble and he recalls an incident involving walking around on the roof.
[43:45] – What daily routines does Bradley observe to keep his time on track?
[44:55] – The best album of all time for Bradley is Unforgettable Fire by U2.
[45:43] – What book does Bradley recommend everyone should read?
[48:52] – What has become more and less important to Bradley as he has gotten older?
[49:55] – When Bradley hears the word "success," who is the first person who comes to mind?
[52:41] – Does Bradley have any final asks or final thoughts for the audience? And how can they get in touch with him?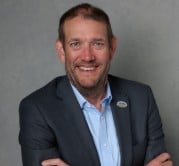 Randall Smith is the co-founder of CUInsight.com, the host of The CUInsight Experience podcast, and a bit of a wanderlust. As one of the co-founders of CUInsight.com he ...
Web: www.CUInsight.com
Details