The CUInsight Experience podcast: Bryan Clagett – Not banking as usual (#19)
"The chore of banking sucks. It's remarkably boring." - Bryan Clagett
Welcome to episode 19 of The CUInsight Experience podcast. Hosted by Randy Smith, co-founder and publisher of CUInsight.com. Bryan Clagett is the Chief Marketing Officer at Geezeo, a Forbes contributor, and a member of the Forbes Communication Council. He's an active part in the online conversation about credit unions, banking, fintech, and all things digital transformation. I go to him for questions on all things fintech or digital disruption, and I'm excited to have him on the show today to share nuggets of wisdom that we'll all be able to apply.
These days, Bryan explains, disruption is being driven by the consumer. Expectations are rising, and customers are expecting more of financial institutions. This will be a challenge, but Bryan expects it will also be exciting. From there, he'll dig into what Geezeo does to help and support credit unions, and share his excitement for advancement in the ability to be more in tune with customers' needs.
The key for credit union marketers, Bryan points out, is to leverage technology and data as a means to actually talk with members, not just talk at them. Traditional advertising in the financial services sector tends to be boasting rather than consumer-focused. Instead, the focus should be on knowing about members and doing things differently to impact their financial lives.
Tune into today's episode to learn all about all of these things, as well as how Bryan got involved in financial services, how he keeps his (and Geezeo's) message fresh, what a free day and work/life balance look like for him, and what his neighbors think of his drone!
Subscribe on: Apple Podcasts, Spotify, Google Podcasts, Stitcher
How to find Bryan:
Bryan Clagett
Chief Marketing Officer and Investor, Geezeo
bclagett@geezeo.com
www.geezeo.com
Twitter | Linkedin | Instagram
Show notes from this episode:
Check out the work the folks at Geezeo are doing to help credit unions and their solutions.
Bryan has been a long time contributor to the CUInsight Community. Check out his writing here.
Follow Bryan on all the socials Twitter and LinkedIn. Even his drone footage on Instagram over his neighborhood and the river house.
Check out Bryan's work on the Forbes Communications Council here.
Shout-out: Affinity Federal Credit Union
Shout-out: Filene, NAFCU and CUNA
Shout-out: Amanda Reed, NAFCU Services, Dan Berger, Shawn Ward
Who did Bryan want to be growing up? Find out here.
Shout-out: John Fenton, Mark Cochran, David Snodgrass, Paul Fiore
Movie mention: Edward Herrmann in The Lost Boys
Mentoring program Bryan works with: Everwise
Shout-out: Jill Castilla
Drone Bryan is currently flying: DJI Mavic 2 PRO Drone Quadcopter
Best album of all-time: Hotel California by the Eagles
Book mentioned: The Excellence Dividend by Tom Peters
Bryan mentioned the work Bill Gates is doing at The Gates Foundation.
Shout-out: Strum (formally Weber Marketing)
Previous guests mentioned in this episode: Doug Leighton, Jill Nowacki, Dan Berger
You can find all past episodes of The CUInsight Experience here.
In This Episode:
[00:04] – Welcome back to the CUInsight Experience! Randy introduces Bryan Clagett, today's guest.
[02:27] – What's the biggest disruption to financial services that Bryan doesn't think that credit unions are taking seriously enough?
[04:02] – Bryan talks about what Geezeo does to help credit unions, and what he does to keep up with the rate of change.
[05:55] – We hear an example of what Bryan means by "contextual messaging."
[08:46] – What is Bryan most excited about in the advancement of financial technologies as he looks forward?
[08:55] – Bryan shares his thoughts on whether technology is an equalizer or a deterrent in credit unions, then talks about where the stumbling blocks are.
[13:22] – Does Bryan have a few tips that he thinks every credit union should be doing? Are there things that he sees credit unions doing wrong?
[15:46] – We hear about tools that Bryan uses or thinks that credit unions should use.
[19:22] – We move into the leadership and life hacks section of the show, with Bryan talking about his first gig in the financial services space and what inspired him to make this industry his career.
[22:46] – Has Bryan's inspiration changed over the time that he has been working in this industry?
[24:08] – Bryan shares a memorable failure that ended up working out for the best, and taught him a lesson.
[27:06] – Is there a current belief held by credit unions that Bryan thinks will significantly change in the foreseeable future?
[28:35] – Bryan chats about how he (and his team) would describe his leadership style.
[30:40] – Is there something that Bryan's team has heard him say so many times that they could finish his sentence?
[31:45] – We hear about whether there were mistakes that Bryan made early in his career that he sees young leaders continue to make?
[33:13] – Has there been a particular piece of advice that Bryan finds himself going back to over and over?
[35:00] – Bryan talks about how he keeps his message fresh, not only to his team but also with Geezio, as well as whether he's constantly updating the Geezeo message.
[37:43] – We learn about what Bryan's new neighbors think of his drone habit.
[38:59] – What does Bryan do when he has a free day, and what does work/life balance look like for him?
[40:28] – We shift into the rapid-fire questions, with Bryan talking about the first time that he got into memorable trouble.
[42:44] – Does Bryan have any daily routines that his day feels off if he doesn't do?
[43:12] – What's the best album of all time?
[43:58] – Is there a book that Bryan has recommended or given away over and over?
[44:56] – When Bryan hears the word "success," who's the first person who comes to mind?
[46:08] – As Bryan has gotten older, what has become more (or less) important to him?
[46:41] – Does Bryan have any final asks or thoughts for listeners?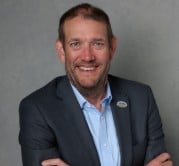 Randall Smith is the co-founder of CUInsight.com, the host of The CUInsight Experience podcast, and a bit of a wanderlust. As one of the co-founders of CUInsight.com he ...
Web: www.CUInsight.com
Details