The CUInsight Experience podcast: Carol Marx – Grassroot service (#137)
"Credit unions have done so much for their membership, and they continue to do more." - Carol Marx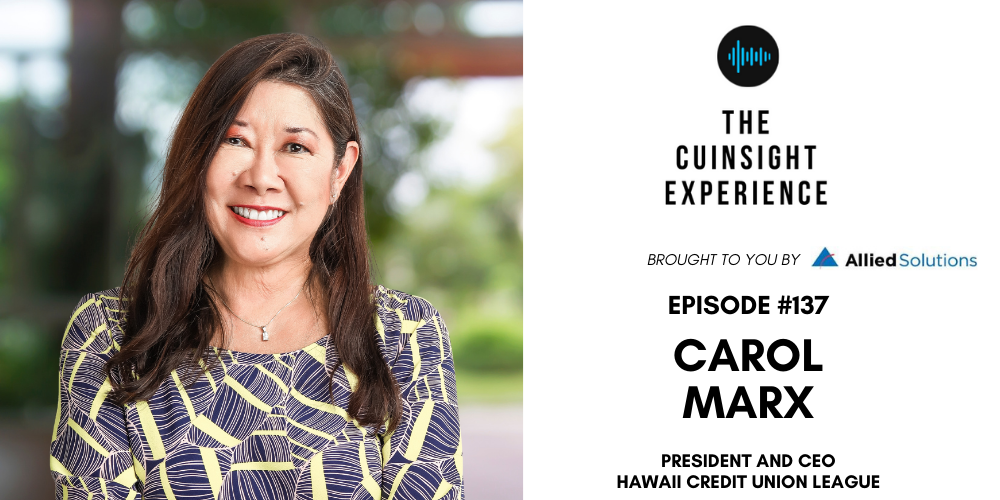 Thank you for tuning in to episode 137 of The CUInsight Experience podcast with your host, Randy Smith, co-founder of CUInsight.com. This episode is brought to you by Allied Solutions. Allied Solutions is focused on helping clients grow their bottom line, protect their business and members, and evolve to stay ahead of the competition.
My guest on today's show is Carol Marx, President & CEO at the Hawaii Credit Union League. Carol worked in financial services for over 30 years and has recently made her way to credit unions. She expresses her excitement about taking on this role and being involved in the credit union movement. Carol talks about credit union values and how they are reflected through the work performed within communities. 
During our conversation, Carol talks about credit unions being a united front and coming together to increase awareness and enhance the financial well-being of members across their communities. Carol shares her vision of success, which includes ideas of overcoming adversity, succession planning, and establishing secure housing. She also discusses the greatest investment made in her career and how it prepared her for the future. Carol and I talk about what she looks for to enhance the culture of Hawaii's credit unions and their teams. When giving feedback, Carol suggests listening to a team member's perspective first, then following up with a question-driven discussion that leads to a manageable solution. 
Carol shares what makes a good leader and the importance of aligning the "why" of the organization with their purpose. She explains ways in which she communicates change while involving team members of all levels. Carol shares her vision of what a career in credit unions will look like in five years while continuing the important work of the credit union movement to ensure a strong future for credit unions. 
As we wrap up the show, listen in as Carol shares how she recharges as a CEO, the album she listens to daily, and the reason she feels her father is the personification of, "People helping people." Enjoy my conversation with Carol Marx!
Subscribe on: Apple Podcasts, Spotify, Stitcher 
Books mentioned on The CUInsight Experience podcast: Book List 
How to find Carol:
Carol Marx, President & CEO at the Hawaii Credit Union League
carol.marx@hcul.org
http://www.hcul.org/
LinkedIn | Facebook | Twitter | YouTube | Instagram
Show notes from this episode:
A big shout-out to our friends at Allied Solutions, an amazing sponsor of The CUInsight Experience podcast. Thank you!
Want to hear more from Carol? Click here.
Place mentioned: Hawaii
Shout-out: Stanford Carr Development
Shout-out: Bank of America
Shout-out: PPP Loan (Paycheck Protection Program)
Shout-out: Monica Belz
Place mentioned: Kauai, HI
Shout-out: Mike Schenk
Shout-out: CUNA
Shout-out: Equifax
Shout-out: Warren Buffet
Shout-out: Dale Carnegie
Shout-out: Morgan Stanley
Shout-out: Farrell's Ice Cream Parlour
Shout-out: University of Montana
Shout-out: Jill Nowacki
Shout-out: Dennis Tanimoto
Album mentioned: Unforgettable by Israel Kamakawiwo'ole
Shout out: Carol's friend
Book mentioned: No One Succeeds Alone: Learn Everything You Can from Everyone You Can by Robert Reffkin
Shout-out: Carol's husband
Shout-out: Carol's children
Shout-out: Carol's father
Previous guests mentioned in this episode: Monica Belz, Jill Nowacki (episodes 4, 18, 37, 64, 82, 101, 113, & 126)
In This Episode:
[00:48] – Carol Marx says she worked in financial services for over 30 years.
[03:26] – Carol recognizes that credit unions offer immense value to members.
[05:34] – What is it like in Hawaii after the pandemic?
[07:17] – It's time to rally up and unite to share the goodness of credit unions.
[09:15] – Carol discusses why it's important to be aware of current needs in the entire community.
[11:08] – What is Carol hoping to see during her first year in her new team?
[13:17] – Carol's greatest investment happened when she bought a course at 18 years old. What course was it?
[14:53] – Was Carol always outgoing and friendly?
[16:34] – Everyone needs to do their part for all team members to coexist efficiently.
[18:35] – Carol's idea of feedback is focused on listening to a staff's perspective of a situation first.
[20:43] – What questions does Carol use once the staff give their side of a situation?
[23:27] – Carol talks about leading by example and emphasizing values as a leader.
[25:34] – How does Carol weigh her choices?
[27:18] – What kinds of talent does the credit union industry need?
[30:05] – Carol likes to take morning walks in beautiful Hawaii.
[32:16] – What initiative amazed Carol? She talks about a social impact initiative that impressed her with their commitment to youth and employment.
[33:54] – Carol says she listens to this album everyday.
[35:25] – Listen to Carol tell the inspirational story of her father, and why he is the personification for the mission of credit unions.
[37:23] – Create joy, and more positivity in the world.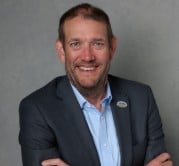 Randall Smith is the co-founder of CUInsight.com, the host of The CUInsight Experience podcast, and a bit of a wanderlust. As one of the co-founders of CUInsight.com he ...
Web: www.CUInsight.com
Details