The CUInsight Experience podcast: Caroline Willard – Being fearless not reckless (#20)
"We are all just experimenting all the time." - Caroline Willard
Welcome to episode 20 of The CUInsight Experience podcast. Hosted by Randy Smith, co-founder and publisher of CUInsight.com. I'm excited to introduce Caroline Willard, the President and CEO of the Cornerstone Credit Union League, as today's guest! She's also a board member of CUNA and one of my scuba diving and travel buddies. We'll dig into gender diversity and the need for inclusion, innovation and disruption in credit unions, and much more! (We'll do our best not to get distracted by chatting about traveling and diving.
Early in our conversation, Caroline talks about Ronaldo Hardy's gumbo analogy. Diversity is having all of the right ingredients on your counter. Inclusion is making sure they all make it into the pot. Equity is making sure that the ratios are balanced so that the dish turns out well. After sharing this powerful point, she explains that the push for transformation has to happen at all three levels (individual, credit union, and national). With that said, we need to start now instead of waiting for broader change at the national level.
In addressing how credit unions respond to disruption, Caroline points out that they tend to adapt and lead with what's important to their membership. She'll give some specific examples of people and credit unions who are listening to their membership and responding by creating a different experience.
We'll also dig into the importance of having a safe space where people can share their opinions without holding back, the value of branching out to different disciplines, the difference between fearlessness and recklessness, and much more. Because we can't resist, we'll even touch on how traveling relates to Caroline's professional life. Enjoy!
Subscribe on: Apple Podcasts, Spotify, Google Podcasts, Stitcher
How to find Caroline:
Caroline Willard
President and CEO, Cornerstone Credit Union League
cwillard@cornerstoneleague.coop
www.cornerstoneleague.coop
Twitter | Linkedin
Show notes from this episode:
Check out all the great work Caroline and her team are doing at the Cornerstone Credit Union League.
McKinsey & Company: Why Diversity Matters
Shout-out: Ronaldo Hardy
Conference mentioned: Women's Leadership Conference
Caroline mentioned how they are doing executive searches at Credit Union Resources, Inc. Find out more here.
Shout-out: Marcus Cotton
Caroline was on the senior management team at CO-OP Financial Services in her previous life.
Shout-out: Dave Bleazard
Shout-out: Crystal Long
Caroline is a Myers & Briggs EMTJ. If I remember correctly I'm an INTP. What are you? Take the test here.
Shout-out: Our friends at CUNA (Caroline is a board member).
Shout-out: Karen Hart from the best DE class ever (Winter 2015). Find out how you two can become a CUDE here.
Find out more about the CUNA Awareness Initiative here.
Shout-out: Caroline's rockstar team at the Cornerstone Credit Union League.
Shout-out: Barb Lowman
Shout-out: To our friends at CUES. Caroline served on the board in the past.
Book mentioned: Thinkertoys by Michael Michalko
Best album of all-time: Led Zeppelin IV
Book mentioned: 10% Happier by Dan Harris
Previous guests mentioned in this episode: Jill Nowacki (#4) (and episode #18), Maria Martinez, Samantha Paxson.
You can find all past episodes of The CUInsight Experience here.
And here is the picture we talked about. That is an active volcano behind us. Mount Agung on the island of Bali.

In This Episode:
[00:03] – Randy welcomes listeners to the 20th episode of the CUInsight Experience and introduces Caroline Willard.
[03:02] – As a woman, CEO, and CUNA board member, what changes does Caroline see that the credit union industry needs to make?
[04:12] – Caroline expands on her point that diverse people contribute to a conversation differently.
[06:19] – We hear about whether Caroline thinks the push for transformation can happen at individual levels, or needs to come across all levels.
[08:33] – Caroline shares her advice for someone who wants to get more involved in creating more seats at the table.
[11:00] – Is Caroline's advice on the subject any different depending on whether she's advising a woman or a man?
[13:59] – We learn about how credit unions across the board are responding to the current disruption that we're seeing.
[16:42] – Caroline talks about why growth is so important, both for credit unions and on a personal level.
[18:31] – What is Caroline's reaction to the phrase "but that's the way we've always done it"? She answers, then talks about how she helps people on her team get more comfortable with change.
[22:09] – Caroline discusses a belief currently held by credit unions that she thinks will fundamentally change in the near future.
[23:59] – We hear about what inspired Caroline to take the gig as the President and CEO of the Cornerstone Credit Union League.
[26:36] – Has Caroline's inspiration changed at all over the course of her time on the job?
[28:09] – Caroline talks about her leadership style, and how it has changed.
[30:16] – One of the greatest strengths of Caroline's team is that it's grounded while still having new blood, she explains.
[31:48] – What advice would Caroline give to a new leader trying to blend the old culture with the new culture?
[33:46] – Caroline shares the sentence that her team has heard her say so often that they could finish it for her.
[35:15] – Is there a mistake that Caroline made earlier in her career, or that she sees young leaders make often?
[36:32] – Caroline talks about fearlessness and recklessness, and why the latter is dangerous.
[38:53] – We hear Caroline's thoughts on the relation between traveling and her professional life.
[40:51] – Caroline had a spectacular failure that ended up turning out well, she explains.
[43:31] – When Caroline runs into a problem, does she have a hack for flipping it around or looking at it from a different angle?
[45:20] – Caroline chats about what she does on her (very rare) free days.
[47:15] – Caroline answers the first of the rapid-fire questions: does she remember the first time that she got into memorable trouble?
[47:58] – What daily routines does Caroline need to do or her day will feel off?
[48:26] – Caroline's favorite album of all time is Led Zeppelin IV.
[49:05] – What was Caroline's favorite concert of all time, and what's on her bucket list?
[50:30] – Are there specific books that Caroline has frequently gifted or recommended?
[51:40] – What has become more (and less) important to Caroline as she has gotten older, and what advice would she give to her 25-year-old self?
[53:08] – When Caroline hears the word "success," who's the first person who comes to mind?
[54:15] – Does Caroline have any final asks or final thoughts for the audience? And how can they get in touch with her?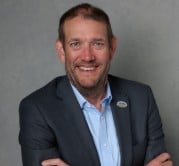 Randall Smith is the co-founder of CUInsight.com, the host of The CUInsight Experience podcast, and a bit of a wanderlust. As one of the co-founders of CUInsight.com he ...
Web: www.CUInsight.com
Details