The CUInsight Experience podcast: Charlie Amato – Attention to detail (#29)
"If you become complacent, your business begins to fail." - Charlie Amato
Welcome to episode 29 of The CUInsight Experience podcast. Hosted by Randy Smith, co-founder, and publisher of CUInsight.com. Today's guest is Charlie Amato. Charlie is the chairman and co-founder of SWBC, a board member of the Federal Reserve Bank of Dallas, and one of the owners of the San Antonio Spurs. His bio is long and his contacts are big names, but service is one of the pillars of his character. 
Gary Dudley and Charlie have created a culture of service and charity within SWBC and credit that culture for maintaining their beliefs through numerous changes in the business over the years. Charlie reveals their strategy for attracting and retaining their workforce, why technology is so important in today's market, and why service has been a mainstay in his life. 
If you don't have a pen and paper handy, press pause and get them. Charlie shares so many great nuggets of information, you won't want to miss them. Let Randy know your thoughts on his intriguing conversation with Charlie. 
Subscribe on: Apple Podcasts, Spotify, Google Play, Stitcher 
How to find Charlie:
Charlie Amato, Chairman and Co-founder of SWBC
www.swbc.com
LinkedIn
Show notes from this episode:
Shout out: Ray Hunt
Hospital mentioned: CHRISTUS Santa Rosa Children's Hospital
Shout out: Marie Osmond and Tommy Sargent
Program mentioned: Credit Union For Kids
Shout out: Jerry Jones, Jamie Dimon
Shout out: Herb Kelleher
Album mentioned: The Four Seasons (band)
Book mentioned: Grit: The Power of Passion and Perseverance
Shout out: Warren Buffett and Charlie Munger
Previous guests mentioned in this episode: Chuck Fagan
You can find all past episodes of The CUInsight Experience here.
In This Episode:
[00:29] – Welcome back! Randy introduces today's guest, Charlie Amato.
[02:10] – The conversation starts off diving into Charlie and Gary's belief in customer service first.
[03:23] – The culture of their company maintains the beliefs that Charlie and Gary have.
[04:20] – Charlie shares what good customer service looks like to him.
[05:02] – What kinds of changes has Charlie seen in his 43 years of being in business.
[06:44] – Charlie chats about the labor shortage in Texas and what SWBC is doing to attract and retain their labor force.
[08:05] – Adapting to technology is one of the most important things businesses can do today.
[10:26] – What advice does Charlie have for burgeoning entrepreneurs?
[11:04] – How did the concern for community grow and mature for Charlie?
[13:05] – Does Charlie wear all the NBA Championship rings?
[15:33] – The inspiration Charlie and Gary had for starting their company has not faded.
[17:00] – Charlie leads by example but works to maintain his health as well.
[18:14] – The team would describe Charlie as a team player, a builder, a people person, and a member of the family.
[19:40] – Understanding the complexities of SWBC is a strength of the leadership team.
[21:17] – Don't be afraid to make a mistake, the advice Charlie would give his younger self.
[24:55] – Repetition in their statements and consistency keeps their message fresh.
[25:37] – Charlie has an exotic game ranch that he retreats to when he needs to recharge.
[26:33] – Charlie recounts getting in trouble after a football game when emotions got heated.
[28:03] – Working out in the morning is necessary.
[28:34] – The Four Seasons is Charlie's favorite band.
[28:29] – You should read Grit, it speaks to work ethic!
[30:16] – Time and quality of life are more important as he gets older.
[32:11] – Warren Buffett and Charlie Munger come to mind when Charlie hears the word success.
[32:44] – Go to work every day, maintain your health, enjoy your families, and continue to enjoy your careers!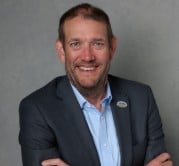 Randall Smith is the co-founder of CUInsight.com, the host of The CUInsight Experience podcast, and a bit of a wanderlust. As one of the co-founders of CUInsight.com he ...
Web: www.CUInsight.com
Details