The CUInsight Experience podcast: Chaz Rzewnicki – Be legendary (#107)
"It's not about the income; it's about the outcome" - Chaz Rzewnicki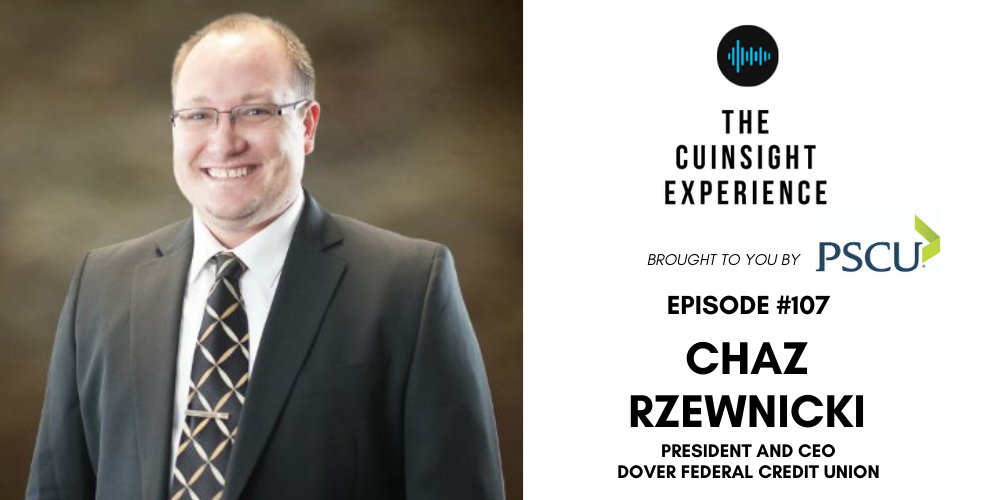 Thank you for tuning in to episode 107 of The CUInsight Experience podcast with your host, Randy Smith, co-founder of CUInsight.com. This episode is brought to you by our friends at PSCU. As the nation's premier payments CUSO, PSCU proudly supports the success of more than 1,500 credit unions.
In this episode, I sit down with Chaz Rzewnicki, the President & CEO of Dover Federal Credit Union. Chaz shares his leadership journey, the reason putting people first is so important to him, and the importance of diversity, equity, and inclusion for teams, credit unions, and the credit union industry.
Chaz shares pivots he made at Dover FCU during the pandemic that he believes will stick around going forward and his perspective on the unique opportunity credit unions have over the next 3 to 10 years. Chaz and I also discuss how credit unions have the ability to create solutions for the financial inequity challenges in the country and abroad.  
Listen in as Chaz chats about his thirty day plan, his life's mission, his philosophy on team development and DEI, and the importance of an intentional and inclusive culture. In the time of virtual everything, Chaz believes credit unions need to focus on technology to stay competitive and relevant in the financial services industry. 
When Chaz has time off, he likes to go camping and boating with his family because it's the one time he can shut his mind down, and you'll be surprised to learn how many hours of sleep he usually gets per night. In the rapid fire questions, we learn some leadership myths Chaz hates hearing, his credit union journey to CEO, and who he thinks of when he hears the word 'success.' Enjoy my conversation with Chaz Rzewnicki.
Subscribe on: Apple Podcasts, Spotify, Google Play, Stitcher 
Books mentioned on The CUInsight Experience podcast: Book List
How to find Chaz:
Chaz Rzewnicki, President & CEO of Dover Federal Credit Union
crzewnicki@doverfcu.com
www.doverfcu.com
LinkedIn | Twitter | Facebook | YouTube
Show notes from this episode:
A big shout-out to our friends at PSCU, an amazing sponsor of The CUInsight Experience podcast. Thank you!
Check out the awesome work Chaz and his team are doing at Dover FCU here.
To learn more about the Dover FCU commitment to diversity, equity, and inclusion, click here.
Shout-out: Chaz's amazing team at Dover
Shout-out: Chaz's wife, Crystal
Shout-out: Chaz's mother-in-law
Shout-out: Chaz's two daughters
Shout-out: Chaz's mom
Shout-out: Tim Ferriss
Shout-out: Jill Nowacki
Shout-out: Dover's financial equality taskforce
Program mentioned: Credit Union Development Education (CUDE)
Shout-out: Research Federal Credit Union (now Community Choice Credit Union)
Shout-out: Catherine Roberts
Shout-out: Susan Setera
Shout-out: Parda Federal Credit Union
Shout-out: John Pembroke
Shout-out: Dover, Delaware
Shout- out: Barack Obama
Book mentioned: A Promised Land by Barack Obama
Shout -out: Steve Yzerman
Book mentioned: Rebel Talent: Why it Pays to Break the Rules at Work and in Life by Francesca Gino
Book mentioned: We Can't Talk About That at Work! by Mary-Francis Winters
Previous guests mentioned in this episode: John Pembroke, Jill Nowacki (episodes 4, 18, 37, 64, 82 & 101)
In This Episode:
[02:14] – Welcome to the show, Chaz!
[03:04] – What are some pivots you made at Dover that you will carry over in the future?
[05:57] – Chaz shares some hacks for credit unions over the next five or ten years.
[08:08] – Chaz discusses how he can think of the big picture and strategically when there are always fire's to put out.
[09:37] – Chaz speaks about his 30 day plan that his coach helped him set up.
[10:46] – It's not about the income, it's about the outcome is something his team has heard him say over and over.
[11:12] – Chaz discusses the people he surrounds himself with.
[13:28] – Chaz shares his philosophy around leading his team at Dover Federal.
[15:45] – What brought your focus on diversity, equality and inclusion?
[18:41] – Chaz talks about how his board was open to his ideas around DEI.
[20:14] – Chaz shares what he believes credit unions need to do to stay relevant.
[23:02] – Was there a light bulb moment where you just knew you were going to work in credit unions?
[25:33] – Chaz says that moving to Dover Federal was a stepping stone that allowed him to become CEO.
[27:28] – Chaz talks about the inspiration to take the position at Dover and how it has changed with time on the job.
[28:35] – How do you live in your purpose both personally and professionally?
[30:32] – Great leaders know everything, great leaders have to be in charge are two things about leadership he doesn't like to hear.
[31:36] – Chaz spends as much time with his family camping and boating as he can when he has time off.
[32:50] – Chaz says that saying yes to camping is something he will never give up.
[33:28] – What were you like in high school and did you ever get into memorable trouble?
[35:07] – Is there a book you believe everyone should read?
[36:15] – What is the greatest album of all time?
[36:50] – When he hears the word success, he thinks about Barack Obama.
[37:35] – Chaz shares some final thoughts.
[38:49] – Thank you for being on the show!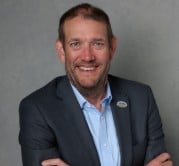 Randall Smith is the co-founder of CUInsight.com, the host of The CUInsight Experience podcast, and a bit of a wanderlust. As one of the co-founders of CUInsight.com he ...
Web: www.CUInsight.com
Details