The CUInsight Experience podcast: Denise Stevens – Adjusting to innovation (#70)
"Everybody makes mistakes, sometimes you just have to laugh at things and not be scared to try." - Denise Stevens
Thank you for tuning in to episode 70 of The CUInsight Experience podcast with your host, Randy Smith, co-founder of CUInsight.com. This episode is brought to you by our friends at PSCU. As the nation's premier payments CUSO, PSCU proudly supports the success of more than 1,500 credit unions.
Whether it's grocery delivery, UberEats, or Amazon Prime, consumers are rapidly adapting to new, online methods of service and delivery in order to protect their health and well being. Likewise, many credit unions are seeing a dramatic rise in contactless payments via Apple Pay, Samsung Pay, and more. To learn more about what this might mean for the future of payments, I'm talking with Denise Stevens, Chief Product Officer at PSCU, on this week's episode. 
Denise and I dig into the changing nature of payments and what it means for credit unions, and how PSCU has been on the leading edge of the transformation since before COVID-19. Denise also shares some insights into our current situation, specifically fraud prevention efforts, as well as discusses some of the exciting new payment features her team is exploring in light of our current situation. 
During the leadership and life hacks portion, Denise and I chat about her approach to leadership, the strategy she uses to make difficult decisions, and why she believes that humor is one of the best tools that leaders have in their arsenal. We also talk about some of the mistakes she made as a young leader, what she's learned from her mentors, and why it's so important to lean on your network when you're feeling lost – especially following the birth of a child. 
We have some fun with the rapid-fire questions, as we learn more about Denise's career aspirations growing up, her morning reflection routine, and her favorite albums/bands of all time. You definitely don't want to miss this great interview. Be sure to give it a listen! 
Find the full show notes on cuinsight.com
Subscribe on: Apple Podcasts, Spotify, Google Play, Stitcher 
Books mentioned on The CUInsight Experience podcast: Book List 
How to find Denise:
Denise Stevens, Chief Product Officer at PSCU
dstevens@pscu.com
www.pscu.com
LinkedIn | Facebook | Twitter 
Show notes from this episode:
A big shout-out to our friends at PSCU, an amazing sponsor of The CUInsight Experience podcast. Thank you! 
Shout-out: Chuck Fagan
Shout-out: VISA
Shout-out: Mastercard
Shout-out: UberEats
Shout-out: DoorDash
Shout-out: NICE 
Shout-out: Lean Industries
Shout-out: Denise's son
Shout-out: David Miller
Shout-out: CUES 
Shout-out: John Pembroke
Album mentioned: Crash by the Dave Matthews Band
Album mentioned: The Joshua Tree by U2
Album mentioned: Rearview Mirror by Pearl Jam
Shout-out: Jill Nowacki
Shout-out: Denise's parents 
Previous guests mentioned in this episode: Chuck Fagan, John Pembroke, Jill Nowacki (episodes 4, 18, 37 & 64),
You can find all past episodes of The CUInsight Experience here. 
In This Episode:
[02:00] – Denise, welcome to the show!
[02:56] – Denise speaks about contactless payments and how important they are during this pandemic, as well as the changes she sees happening industry-wide.
[05:41] – Do you think the pandemic will change how members do business with credit unions in the future?
[07:27] – Denise discusses whether contactless payments will add to the chance of fraud.
[09:47] – Denise shares what PSCU is doing to help credit unions keep in line with the pace of change.
[13:59] – Denise speaks about PSCU's innovation team that looks for new partners.
[15:45] – A year from now, what will you be most proud of that PSCU has accomplished?
[18:45] – Denise shares what inspired her to take the position as chief product officer at PSCU.
[19:43] – Denise believes her leadership style is direct, but she is fair, and she has a great sense of humor.
[20:53] – Let's not be average is something she tells her team all the time.
[22:02] – Did you have to cultivate the ability to make the hard decisions, or did it come easily?
[23:45] – Denise says that having a sense of humor is what makes a great leader.
[24:59] – Denise shares a mistake she made as a young leader and the mistakes she sees young leaders make today.
[26:48] – Is there a piece of advice or a lesson you learned that you still use today?
[28:23] – Denise speaks about some fantastic bosses that mentored her along her journey.
[30:01] – Was there a time in your career that you felt lost or had self-doubt, and how did you work through it?
[33:06] – Denise shares what a typical workday looks like and what a perfect day would entail.
[34:26] – Denise tells us a hack she has learned to stay productive while working at home.
[35:53] – Denise believes that spending time with her family recharges her, and that she has recently taken up golf. 
[36:53] – Denise shares what she was like in high school, and the first time she got into memorable trouble.
[37:46] – What did you want to be when you grew up?
[38:12] – Denise says if she doesn't have a period of morning reflection with a cup of coffee she feels very flustered the rest of the day. 
[39:15] – What is your favorite album of all time?
[40:13] – What book do you think everyone should read?
[41:02] – Denise shares what has become more important and what has become less.
[42:22] – When you hear the word success, who is the first person that comes to mind?
[44:24] – Denise shares her final thoughts and asks.
[44:57] – Thank you so much, Denise, for being on the show.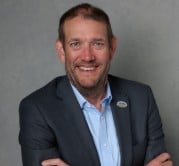 Randall Smith is the co-founder of CUInsight.com, the host of The CUInsight Experience podcast, and a bit of a wanderlust. As one of the co-founders of CUInsight.com he ...
Web: www.CUInsight.com
Details