The CUInsight Experience podcast: George Hofheimer – Pressure is a privilege (#33)
"If you don't want to know the truth, don't ask the question." - George Hofheimer
Welcome to episode 33 of The CUInsight Experience podcast. Hosted by Randy Smith, co-founder and publisher of CUInsight.com. On this episode, Randy is chatting with George Hofheimer, the EVP Chief Research and Development Officer at Filene. Learn all about George's time in the Peace Corps, the challenges credit unions face today, and what's new at Filene.
Filene is a research organization invested in providing needed information to the benefit of credit unions. They hear the good, the bad, and the ugly in credit union board rooms and George shares his insights on the future of credit unions. Also, listen in and learn why talent management and inclusion are extremely important to that future.
George talks about his family history in the Peace Corps and how it has impacted his life and career. All three stages of our conversation were packed with fantastic advice and insights for both business and life. You won't want to miss a second. 
Subscribe on: Apple Podcasts, Spotify, Google Play, Stitcher 
How to find George:
George Hofheimer, EVP + Chief Research + Development Officer
filene.org
georgeh@filene.org
LinkedIn | Twitter
Show notes from this episode:
Company mentioned: Filene Research Institute
Program mentioned: Filene i3 Program
Program mentioned: Filene Cooperative Trust Program
Blog mentioned: Filene Blog
Company mentioned: Credit Union Executive Society
Shout out: Billie Jean King
Shout out: Peace Corps
George's buddy, Rick Thomas' seafood distribution company: She Nah Nam
Albums mentioned: Darkness on the Edge of Town – Bruce Springsteen
Book mentioned: Sarge: The Life and Times of Sargent Shriver by Scott Stossel
Previous guests mentioned in this episode: Doug Leighton, Jim Nussle, Jill Nowacki (Ep. 4 & Ep. 18)
You can find all past episodes of The CUInsight Experience here. 
In This Episode:
[00:30] – Welcome back to the show and learn about this episode's guest, George Hofheimer.
[01:58] – George and Randy talk about their introversion and what led to this episode happening.
[02:51] – Filene is in an interesting position to understand the challenges credit unions face today and tomorrow, and George shares these insights.
[04:41] – What is Filene and what do they do?
[06:25] – How should credit unions move forward in the war for talent and how do equity and inclusion apply?
[10:51] – Listen to George react to the phrase, "That's the way we've always done it."
[12:12] – Learn what credit unions need to do to stay relevant in the industry.
[15:29] – How does technology factor into credit unions today?
[17:39] – Get in touch with Filene…
[20:20] – What inspired George to start with Filene and why is he still there?
[22:14] – Learn how George leads, what his teams say about it, and their greatest strength.
[25:00] – What does George say all the time?
[25:53] – Not asking for help or advice, the number one mistake young leaders make.
[28:40] – How the Peace Corps attributed to George's most impactful life lesson.
[31:11] – What does George do to get over the walls and roadblocks he encounters?
[32:05] – Learn how he balances work and life.
[35:35] – The first time George got into memorable trouble…
[38:08] – George's daily routines involve taking a walk with his dog.
[38:47] – Favorite album: Darkness on the Edge of Town – Bruce Springsteen
[39:17] – Recommended book: Sarge: The Life and Times of Sargent Shriver by Scott Stossel
[40:33] – What has become more and less important for George as he's gotten older?
[41:15] – Success equals George's friend Rick Thomas. Learn why!
[43:33] – Final thoughts?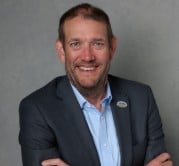 Randall Smith is the co-founder of CUInsight.com, the host of The CUInsight Experience podcast, and a bit of a wanderlust. As one of the co-founders of CUInsight.com he ...
Web: www.CUInsight.com
Details