The CUInsight Experience podcast: George Ombado – Rising up (#48)
"Focus on the well being of the people." - George Ombado
Welcome to episode 48 The CUInsight Experience with your host Randy Smith, co-founder of CUInsight.com. In this episode, Randy welcomes George Ombado, CEO of ACCOSCA, a Pan-African confederation of national associations of savings and credit cooperatives societies. This episode was recorded at the 20th Annual SACCA Congress in Mombasa, Kenya.
ACCOSCA has developed programs aimed at improving socio-economic needs of Africa through saving and credit unions, partnering with various government bodies, development agencies and research institutions to contribute towards mitigating challenges facing Africa in the twenty-first century.
Listen to this conversation about credit union growth in Africa, and the differences to the more mature U.S. credit union system. George talks about how he's fashioned the Africa Development Education program after attending DE in North Carolina and shares a great story about Bill and Crissy Cheney helping him get home after his flight was canceled due to snow.
George is inspired to see that young people and women are being accepted by the leadership today because these things wouldn't have been possible ten years ago. He is working to build the regulatory framework in Africa because it builds confidence to have it, whereas, in the U.S, we are trying to get rid of some of it. 
George has excellent insight into the global credit union movement of today, and you won't want to miss what he has to say. Enjoy!
Subscribe on: Apple Podcasts, Spotify, Google Play, Stitcher 
How to find George:
George Ombado, CEO of the Africa Confederation of Co-operative Savings & Credit Associations (ACCOSCA)
www.ACCOSCA.org
george.ombado@accosca.org
LinkedIn | Twitter | Facebook 
Show notes from this episode:
Check out all the amazing George and his team at ACCOSCA are doing on the continent.
You can find our more about the SACCA Congress here. I can't wait to attend next year.
This is an article I wrote about my experience at 20th SACCA Congress and the Don Bosco Special School project mentioned: Asante Africa: My heart is full from your cooperative spirit
Shout-out: David Mategwa
Shout-out: Julie Ferguson
It took only minutes for George and I to start talking DE. Are you a CUDE? Just do it. Sign up.
Shout-out: to our friends at the African-American Credit Union Coalition (AACUC)
Shout-out: Lois Kitsch and CU Difference. Lois is responsible for my first experience in Kenya and meeting George. Life changing.
Shout-out: to Bill and Crissy Cheney for getting George and his crew to DC for at flight home after DE.
Keep a lookout for more information on the ACCOSCA Foundation.
Shout-out: Mr. Bert J. Hash, Jr.
Shout-out: Brian Branch
Shout-out: Maureen, Betty Rose and the rest of George's team at ACCOSCA.
Album mentioned: Bob Marley's Greatest Hits by Bob Marley
Book mentioned: Allah is Not Obliged by Ahmadou Kourouma
Previous guests mentioned in this episode: Lois Kitsch, Bill Cheney, Julie Ferguson, Jill Nowacki (episodes 4, 18 & 37)
You can find all past episodes of The CUInsight Experience here. 
In This Episode:
[01:58] – George, Welcome to the show!
[02:38] – George discusses what ACCOSCA is and what they are involved in.
[04:41] – They talk about Africa's DE programs and why they are so invaluable.
[06:23] – George went to a DE program in North Carolina and had Crissy Cheney in his class. He used what he learned to set up the program in Africa.
[08:22] – They speak about the global board that George has set up.
[10:40] – Why does Africa see such growth in credit unions while the U.S considers a decrease?
[14:14] – George took the job at ACCOSCA to bring the level of engagement up and to have the ability to help his country.
[16:10] – Has your inspiration for taking the job changed over the years?
[17:50] – George says his leadership style is hands-on; he likes to empower people and see people get the right opportunities.
[18:46] – He feels that his team would say that he pushes to get things done.
[19:18] – George talks about planning all the time.
[19:53] – The 2020 SACCA Congress will be held in the Kingdom of Eswatini in South Africa.
[20:21] – What mistakes do you see young leaders make today?
[21:30] – When George gets frustrated, he puts his head down and gets it done.
[22:25] – He keeps his message fresh by communication, but he thinks there is improvement needed.
[23:15] – He likes to rugby games and travel when he has a little time off, which is rare.
[24:20] – George got into trouble when he was about 7 or 8; his mom got mad at him for having someone else pen.
[25:13] – Everyday he plans for the next day, he maps it out.
[25:46] – Favorite Album?
[26:13] – Favorite Book?
[26:48] – George says that money has become less important, connecting with people is more important.
[27:44] – When he hears the word success, his parents come to mind every time.
[29:03] – George says that the new SACCO Insight with Randy will help get the credit union movement out to other nations.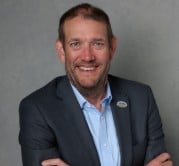 Randall Smith is the co-founder of CUInsight.com, the host of The CUInsight Experience podcast, and a bit of a wanderlust. As one of the co-founders of CUInsight.com he ...
Web: www.CUInsight.com
Details