The CUInsight Experience podcast: James Schenck – I love it here (#76)
"Focus on what matters, where it matters, and where you can make the most impact." - James Schenck
Thank you for tuning in to episode 76 of The CUInsight Experience podcast with your host, Randy Smith, co-founder of CUInsight.com. This episode is brought to you by our friends at PSCU. As the nation's premier payments CUSO, PSCU proudly supports the success of more than 1,500 credit unions.
While many credit unions contemplate the future of service for their members, PenFed Credit Union has been able to leverage their remote infrastructure to thrive in an otherwise chaotic environment. On this week's episode, I'm sitting down with James Schenck, President and CEO of PenFed Credit Union, to learn more about his team's strategic approach to digital service; how that has prepared the PenFed team to face hurricanes, blizzards, and even pandemics; and why credit unions are perfectly positioned to serve Main Street America. 
During our discussion, James and I discuss how his team has seamlessly transitioned to remote work since the start of COVID-19. We also talk about James' recent article in Forbes about effectively communicating with your team. James also shares his thoughts on the future of credit unions, playing the long-game, and giving back to the community. 
In the leadership and life hacks section, James and I discuss his transition from a military career as a helicopter pilot to President and CEO of the largest credit union. We chat about how the inspiration has changed since he started, the need to be empathetic and listen, his father's advice to lift books not weights, and more. He also shares that he yells "I Love Working Here!" at the start and end of his work day. 
We close out the episode with some fun, rapid-fire questions about James' personal life. We learn that he used to work a multitude of jobs in high school, earned his pilot licence at the age of 17, and that he is energized by being around people. This was a great conversation that I'm sure you'll enjoy! Be sure to hit play and give it a listen. 
Find the full show notes on cuinsight.com
Subscribe on: Apple Podcasts, Spotify, Google Play, Stitcher 
Books mentioned on The CUInsight Experience podcast: Book List 
How to find James:
James Schenck, President and CEO of PenFed Credit Union
james.schenck@penfed.org 
https://www.penfed.org
https://penfedfoundation.org
Facebook | Twitter | LinkedIn
Show notes from this episode:
A big shout-out to our friends at PSCU, an amazing sponsor of The CUInsight Experience podcast. Thank you! 
Check out all the outstanding work that James and his team at PenFed Credit Union are doing here. 
Check out some of James' most recent articles in Forbes here. 
Shout-out: Frank Pollack
Book Mention: Team of Teams: New Rules of Engagement for a Complex World by General Stanley McChrystal
Shout-out: Anthony Hernandez 
Learn more about the PenFed Foundation's charitable work
Shout-out: Jill Nowacki 
Shout-out: U.S. Military Academy at West Point 
Shout-out: James' father 
Shout-out: James' son
Shout-out: Harvard Yard
Album mentioned: Spirit Of Radio: Greatest Hits by Rush
Book mentioned: Atlas Shrugged by Ayn Rand
Shout-out: Mother Teresa 
Previous guests mentioned in this episode: Anthony Hernandez, Jill Nowacki (episodes 4, 18, 37 & 64)
You can find all past episodes of The CUInsight Experience here.
In This Episode:
[02:13] – James, welcome to the show!
[02:40] – James shares the history of PenFed and what it has accomplished over the years.
[03:09] – How has the history of PenFed helped you be prepared for any crisis that might arise?
[05:51] – James shares how they prepared their employees so they would be safe if something like the pandemic ever happened.
[07:03] – James shares some leadership hacks that he has learned over the years.
[09:58] – Do you think the pandemic will change the way members associate with credit unions?
[12:13] – James shares how credit unions can take advantage of what is happening right now.
[13:38] – Over the next year, James says that he will be most proud of what they have done with the PenFed Foundation and that they haven't stopped giving money to the non-profit organizations.
[15:48] – James shares why he took the position as President and CEO at PenFed.
[17:26] – Has the inspiration changed over the last six years?
[18:30] – "I love it here" is something James says every day when he walks into work.
[19:34] – James surrounds himself with incredible minds, which allows him to make hard decisions.
[21:04] – Is there a mistake that you see young leaders make?
[22:21] – Listening to understand, not listening to respond.
[23:02] – two female executives told James that he must take perfect care of the people who work for you.
[24:19] – Have you had mentors, and what have you learned from them?
[26:16] – James shares what a perfect workday would look like for him.
[29:21] – Say no to what doesn't matter!
[30:20] – James shares what he does to recharge when he has a day off.
[31:30] – James discusses what he was like in high school and that he worked so many jobs he didn't have time to get into trouble.
[33:59] – Do you have any routines that, if you don't do, your day feels off?
[36:10] – What is the best album of all time?
[36:40] – Is there a book you think everyone should read?
[37:16] – Eating healthier and getting away from work mentally has become more important.
[38:39] – When you hear the word success, which is the first person who comes to mind?
[39:29] – James shares his final thoughts.
[40:48] – Thank you for being on the show!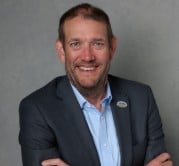 Randall Smith is the co-founder of CUInsight.com, the host of The CUInsight Experience podcast, and a bit of a wanderlust. As one of the co-founders of CUInsight.com he ...
Web: www.CUInsight.com
Details