The CUInsight Experience podcast: Jeanne Bliss – Start with the customer (#23)
"You can operationalize empathy." - Jeanne Bliss
Welcome to episode 23 of The CUInsight Experience podcast. Hosted by Randy Smith, co-founder and publisher of CUInsight.com. Today's guest is Jeanne Bliss the founder and president of Customer Bliss and the co-founder of the Customer Experience Professional Association. She is one of the foremost experts on customer-centric leadership and the role of the chief customer officer. She is a consultant and thought leader. She guides C-suites all over the world toward earning the right business growth by improving customer lives. She is also an author, podcaster, and blogger.
We recorded this episode prior to Jeanne's presentation at the CO-OP Think Event and start our conversation discussing business in general and redefining the customer service model. She explains the difference between customer service and customer experience. Rather than focusing on your key performance indicators and how the customer factors into the numbers, give customers what they need and your KPI will show the impact.
Traditionally, the number of incoming new customers are indicative of success. Instead, Jeanne says that businesses should focus on net growth. Having 50 new customers means nothing if 35 existing customers no longer do business with your organization.
Jeanne's new book Would You Do That to Your Mother discusses making business personal. Business leaders need to see their customers as human rather than as metrics. Empower employees to make decisions in the moment of conflict to take care of the customer. Your employee will feel like a partner in the business, and your customer will feel heard.
Listen today to learn how customer experience should drive business decisions and employee engagement. We talk about Jeanne's path through various corporate positions and creating the customer experience process and position.
Subscribe on: Apple Podcasts, Spotify, Google Podcasts, Stitcher
How to find Jeanne:
Jeanne Bliss
Founder & President of Customer Bliss
Co-Founder of the Customer Experience Professional Association
jeanne@customerbliss.com
www.customerbliss.com
Twitter | LinkedIn | Podcast | YouTube
Show notes from this episode:
Conferences mentioned: CO-OP Think Event
Book mentioned: Would You Do That to Your Mother – Jeanne Bliss
Company mentioned: Alaska Airlines – We Trust You Toolkit case study
Company mentioned: Land's End
Shout out: Gary Comer
Company mentioned: Mazda Motors of America
Company mentioned: Coldwell Banker
Company mentioned: Allstate
Company mentioned: Microsoft
Favorite album: The Beatles – White Album
Favorite books: Dale Carnegie's books
You can find all past episodes of The CUInsight Experience here.
In This Episode:
[00:03] – Welcome back to the show! Randy introduces Jeanne Bliss this episode's guest.
[02:35] – Jeanne discusses redefining the customer service model.
[03:27] – How businesses make the mistake of putting the customer experience last.
[04:27] – The shortest most sustainable path is giving customers what they need.
[05:02] – Jeanne evaluates gross customer growth versus net customer growth.
[06:10] – Using whole numbers makes the numbers more human.
[06:23] – Jeanne's new book discusses how to make business more personal.
[07:14] – Leadership is key to changing the customer experience.
[08:08] – What can credit unions do today to impact their customer experience process?
[09:19] – Alaska Airlines case study revolving around intersection of high tech and high touch.
[11:05] – Empathy does have a place in business.
[11:35] – Coaching versus consulting and how credits can find a coach if needed.
[13:05] – Leaders have to have skin in the game and be part of the work.
[14:40] – The C-suite must be united for sustainable growth and change.
[16:20] – How did Jeanne become a coach?
[18:06] – Staying motivated and energized while making career changes.
[18:40] – Mistakes young leaders make when they are just starting out.
[19:14] – Favorite piece of advice that she received and goes back to over time.
[20:23] – What does work-life balance look like for Jeanne?
[21:21] – Jeanne's needed daily routines: work out, gratitude, and sit in silence.
[22:29] – The Beatle's White Album is the best.
[22:47] – Favorite books to read or give: Dale Carnegie's books
[23:20] – First person that pops into your head when you hear the word success?
[24:37] – Listen to hear Jeanne's final thoughts for the listeners – they are great!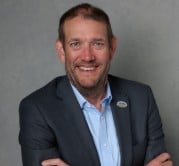 Randall Smith is the co-founder of CUInsight.com, the host of The CUInsight Experience podcast, and a bit of a wanderlust. As one of the co-founders of CUInsight.com he ...
Web: www.CUInsight.com
Details