The CUInsight Experience podcast: Jim Morrell – Unknown impact (#43)
"Community development is not a fad, it's who we are." - Jim Morrell
Welcome to episode 43 of The CUInsight Experience podcast. Hosted by Randy Smith, co-founder of CUInsight.com. Randy welcomes Jim Morrell to the show. Jim is the President and CEO of Peninsula Credit Union in Shelton, Washington, he is also involved in community and international development and on the board of NACHA. Jim believes that when credit unions are entwined with community purpose, it benefits everyone involved.
Randy and Jim discuss their trip to Kenya this past summer and the impact it had on them, what they learned, and what Jim brought home to his credit union and community. Jim has made many of these trips and believes that the value gained is irreplaceable, plus he says that everyone benefits from meeting new people and sharing with them.
This conversation about how credit unions are teaming with communities to ensure people have the tools they need to sustain them and how just talking to someone can change your life. Jim believes that everyone, every day, makes an unknown impact on another's life. You may never know what that impact is but trust that you are impacting someone somewhere. Enjoy!
Subscribe on: Apple Podcasts, Spotify, Google Play, Stitcher
How to find Jim:
Jim Morrell, President and CEO of Peninsula Credit Union
jmorrell@pcfcu.org
www.pcfcu.org
Linkedin | Twitter | Facebook 
Show notes from this episode:
Check out all the amazing work Jim and his team are doing a Peninsula Credit Union.
Shout-out: Lois Kitsch the woman behind our trip to Kenya from CU Difference.
Shout-out: George Ombado and our friends at ACCOSCA.
Shout-out: Credit Union Development Education: It didn't take us long to talk about DE. Are you a DE? You should be.
Shout-out: Marjory Mhandu
Shout-out: Brent Rempe
Check out the community project Jim and Peninsula are working on with the YMCA of Shelton.
Shout-out: Gigi Hyland and the National Credit Union Foundation.
Shout-out: Danielle Brown
Shout-out: Credit Union Strategic Planning 
Jim is also on the board of Nacha helping shape and influence payments in the U.S.
Shout-out: iQ Credit Union
Shout-out: Our friends at CUNA and NAFCU.
Shout-out: Pacific Lutheran University
Shout-out: Jill Nowacki
Shout-out: Filene's I3 Program
Shout-out: Brett Martinez
Book mentioned: Life is What You Make It by Preeti Shenoy
Musical mentioned: Dear Evan Hansen & Come From Away
Shout-out: Chad Helminak
Previous guests mentioned in this episode: Lois Kitsch, Jill Nowacki (episodes 4, 18 & 37), Gigi Hyland, Brett Martinez.
You can find all past episodes of The CUInsight Experience here. 
In This Episode:
[01:27] – Jim, welcome to the show!
[01:35] – They discuss their trip to Kenya and how great the Safari was.
[02:38] – Jim talks about how impactful the trip was, and he thinks about the unknown impact they had on the people.
[03:40] – What was your motivation for going on the tour?
[04:36] – He brings what he learns from the motivational trips home to impact his community.
[05:34] – Jim tells us a story about his journey in 2016 and what he remembers most about the credit unions there.
[09:38] – Community development and partnership are critical, which is why Jim works with the Shelton YMCA and other programs in his area.
[12:39] – When you started at Peninsula, did you already have the passion for community, or is it something that grew as you worked in the credit union industry? What is Alice Pearl?
[16:35] – Jim discusses how he became part of NACHA, the Electronic Payment Association, and how his background made it a smooth transition.
[20:59] – Fundamentally, Jim believes that credit unions need to lead with their core purpose and make that the filter through which they make decisions.
[23:08] – What inspired you to take the position with the Peninsula Credit Union?
[24:31] – Jim tells us that he has the same driving force to succeed at the credit union as he did day one.
[25:08] – He says his leadership style is being an innovator that explores new ideas to make a difference in people's lives.
[26:01] – Jim says his team would call his leadership non-stop.
[26:28] – Assumptions are deadly, and why are we doing this, are things his team has heard him say over and over.
[27:02] – What is the greatest strength of the Peninsula team?
[28:11] – Trying to go too far to fast is something he sees young leaders do that he feels is a mistake.
[30:30] – Always understand whom you are serving, he thinks about this every day.
[31:44] – How do you keep your message fresh to your team? How do you keep Peninsula's message to its members fresh?
[34:01] – If he has a day off, he likes to spend time at home or go out kayaking.
[35:10] – What was the first time you got into memorable trouble? What did you do?
[36:02] – He says a prayer every night before bedtime, and in the morning, he looks forward and thinks about all of his blessings.
[37:24] – He doesn't have a favorite album, but he is really into the theatre and musicals.
[38:50] – What is your favorite book or the one you always have on hand to hand out?
[40:05] – Time with family and friends has become more important to him.
[41:30] – Who do you think of when you hear the word success?
[42:23] – Jim's final thought is to think about what you do everyday that makes an impact on others lives.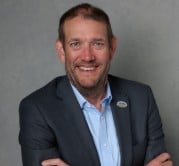 Randall Smith is the co-founder of CUInsight.com, the host of The CUInsight Experience podcast, and a bit of a wanderlust. As one of the co-founders of CUInsight.com he ...
Web: www.CUInsight.com
Details