The CUInsight Experience podcast: John Bratsakis – Be authentic (#40)
"Be who you are whether it's your credit union, you as a leader, or as an individual." - John Bratsakis
Welcome to episode 40 of The CUInsight Experience podcast, hosted by Randy Smith, Co-Founder of CUInsight.com. In this episode, Randy has a conversation with John Bratsakis, the President and CEO of the Maryland and DC Credit Union Association.
Giving a voice to credit unions with our legislators is something John feels strongly about. He believes that being present, learning, and listening is how credit unions can get ahead in an arena where everything changes daily.
John discusses how he started in credit unions, why he wanted to be President and CEO of the Maryland and DC Credit Union Association and how he believes we can bring awareness to the benefits of credit unions to the forefront of the public and legislators minds.
John speaks to us about his leadership style and philosophy. He believes that you should listen to and be authentic with your team and everyone else. He gives us many tidbits of great information that will apply to any industry or career. You won't want to miss this episode, so plugin and enjoy.
Subscribe on: Apple Podcasts, Spotify, Google Play, Stitcher 
How to find John:
John Bratsakis, President and CEO of the Maryland and DC Credit Union Association
jbratsakis@mddccua.org
www.mddccua.org
Twitter | Linkedin | Facebook | YouTube
Show notes from this episode:
Check out all the good John and his crew have going on for credit unions at the MD/DC Credit Union Association
Shout-out: CUNA Mutual Group, PSCU, CU Direct
Shout-out: SoFi
Shout-out: To our friends at Credit Unions For Kids and the CMN Hospitals
Will you be ready to run in Credit Union Cherry Blossom 10 Mile Run next year?
A song for John: Gridiron Heroes
Shout-out: Our mutual friend, Greg Michlig at CUNA
Shout-out: Teachers Credit Union
Shout-out: Vic Pantea and Rick Rice
Shout-out: Duane Nelson retired from United Federal Credit Union
Shout-out: Mike Valentine at Baxter Credit Union
Album mentioned: Live Alive by Stevie Ray Vaughan 
Album mentioned: Live at the Sands by Frank Sinatra 
Book mentioned: Values-Based Leadership by Harry M. Kraemer 
Previous guests mentioned in this episode: Chuck Fagan, Bob Trunzo, John Pembrook, Jill Nowacki (episodes 4, 18 & 37), Diana Dykstra
You can find all past episodes of The CUInsight Experience here.

In This Episode:
[01:36] – Welcome to the show, John!
[02:08] – John chats with Randy about how his national position allows him to learn and bring ideas home to the local credit unions.
[04:29] – What are the challenges facing credit unions today? What can you do to alleviate the struggles they have?
[07:29] – John speaks about how credit unions give back to the communities.
[09:57] – Randy asks about John's favorite team.
[11:34] – John believes that credit unions need to more on a personal relationship with members.
[14:05] – They discuss how John got a career in credit unions and how he got the position of President and CEO of the Credit Union Association.
[17:43] – Has the inspiration changed since he took the job?
[18:49] – John says his leadership style is just being who he is. He says everyone fails, but you get up and do it better next time.
[20:14] – John tells us about his most memorable failure.
[21:28] – Advocate, educate, communicate, and collaborate are words that John's team hears from him all the time.
[22:16] – He feels that young leaders make the mistake of making hard goals instead of focusing on the milestones that are needed to get to that goal.
[23:32] – What advice have you been given that you still use today?
[25:03] – Did you have mentors that helped you form your leadership style?
[27:56] – When they have an issue, they can't rectify; they call the team together and go through it and get ideas.
[29:56] – How do you keep your message fresh in all areas?
[31:38] – When John isn't working, he likes to hang out with friends and family.
[32:26] – What was the first time you got into memorable trouble?
[32:57] – John's favorite way to the day is having coffee with his wife, he says that he needs that hour every morning for his day to feel right.
[33:30] – What's your favorite album?
[34:08] – What book do you think everyone should read?
[35:07] – Being present has become more important to him as he has gotten older, and being right has become less critical.
[36:05] – When he hears the word success, he thinks of his grandparents. They immigrated from Greece with nothing and made it work.
[37:32] – Final thoughts?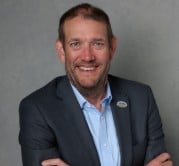 Randall Smith is the co-founder of CUInsight.com, the host of The CUInsight Experience podcast, and a bit of a wanderlust. As one of the co-founders of CUInsight.com he ...
Web: www.CUInsight.com
Details