The CUInsight Experience podcast: John Spence – Communication is key (#24)
"Deal decisively with mediocrity." - John Spence
Welcome to episode 24 of The CUInsight Experience podcast. Hosted by Randy Smith, co-founder and publisher of CUInsight.com. Today's guest is John Spence is a consultant and coach to organizations all over the world. He works with startups and businesses in the Fortune 10. He's been named as one of the top 50 leaders to watch by the American Management Association. He is committed to making the complex, Awesomely Simple.
John and I discuss the importance of communication in all areas of life, but especially in business. John also walks us through the 5-steps to creating a culture of accountability. Communication is nothing if there is no accountability. In brief, clarity, managing expectations, agreement, track and post, coach, mentor, train, support, and celebrating success all lead to strong communication and strong, capable teams.
Bonus! John reveals his four moments of truth: they are different for every organization. We discuss the food service industry. The food is amazing, the prices are reasonable, but the bathroom is disgusting, what's the first thing that comes to mind? You look at a financial institution, your customers want it done right, it should be easy, they want to be treated well, and the whole thing should be easy!
Listen today to learn how communication and accountability are the keystones to success in any business but especially in credit unions and banking. Deal decisively with mediocrity and you will inspire excellence.
Subscribe on: Apple Podcasts, Spotify, Google Podcasts, Stitcher
How to find John:
John Spence
Author, Speaker, Consultant and coach to startups and the Fortune 10.
john@johnspence.com
www.johnspence.com
Twitter | LinkedIn | Instagram | Facebook | YouTube
Show notes from this episode:
Book mentioned: Awesomely Simple by John Spence
Shout out: Dan Berger and Anthony Demangone at NAFCU
Shout out: Jack Welch, CEO of GE
Company mentioned: Rockefeller Foundation
Theory X – Leadership mindset
TED Talk: John Spence
Book mentioned: Good to Great: The Three Circles of the Hedgehog Concept by Jim Collins
Apps mentioned: Evernote
Japanese word for hoarding books: Tsundoku
Book mentioned: The Prophet by Kahlil Giibran
Book mentioned: A Strategy for Daily Living by Ari Kiev
Book mentioned: Man's Search for Meaning by Victor Frankl
Shout out: Richard Branson
Previous guests: Dan Berger, Jill Nowacki (and episode 18)
You can find all past episodes of The CUInsight Experience here.
In This Episode:
[00:06] – Welcome back to the show! Randy introduces John Spence this episode's guest.
[02:45] – Communication – the lynchpin of John's beliefs in business and life.
[03:29] – 3 words to define communication: open, honest, and robust!
[04:10] – Single most important thing that people look for in a leader – They ask great questions!
[05:08] – Life Hack – If what you're about to say won't add any value to the conversation, don't say it.
[06:35] – The biggest problem with companies is a lack of accountability and execution.
[07:47] – Just because you can measure something, doesn't mean you should!
[08:32] – "Ambiguity breeds mediocrity." one of John's favorite quotes!
[11:11] – How do you hold people accountable in your organization?
[11:46] – 5-Steps to Creating a Culture of Accountability
[16:25] – John shares his four moments of truth.
[17:50] – John shares his path to his current success and breaking through his introversion.
[20:34] – Ambiverts: people with the ability to soak through their shirts and love other people at the same time.
[21:37] – Making organizations stronger keeps John motivated. He loves opening the door.
[23:35] – John recounts his biggest mistake was causing a bottleneck by wanting to make all of the decisions and feeling like he was always right.
[24:45] – Leadership has changed dramatically over the years — we discuss the history of leadership practices.
[26:02] – "You become what you focus on and like the people you surround yourself with" – TED talk.
[27:12] – John recounts his most memorable failure while at Rockefeller Industry.
[29:04] – What was the basis for the three accountability steps he implements in his training?
[31:30] – Messaging — value versus vision.
[33:33] – Fly-fishing is what recharges John's batteries
[34:07] – First time John got into memorable trouble? Wrecking his car at 16!
[35:20] – John's daily routine involves eggs and news.
[36:04] – How does John keep up with study and action steps?
[37:14] – Most impactful album — anything by Sister Hazel
[38:13] – Recommended books — The Prophet by Kahlil Giibran, A Strategy for Daily Living by Ari Kiev, and Man's Search for Meaning by Victor Frankl
[39:07] – John's links to 50 business books he recommends
[39:25] – Japanese word for hoarding books: Tsundoku
[40:00] – What's most important and least important for John as he gets older?
[41:20] – First person John thinks of when he thinks of success — Richard Branson
[41:56] – John's version/definition of success.
[43:20] – John's final thoughts for the world – Check out the podcast and his newsletter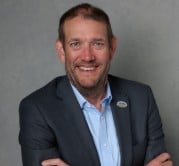 Randall Smith is the co-founder of CUInsight.com, the host of The CUInsight Experience podcast, and a bit of a wanderlust. As one of the co-founders of CUInsight.com he ...
Web: www.CUInsight.com
Details