The CUInsight Experience podcast: Lucas Tindell – Invest your time (#134)
"Make the change, be the change, or get swept away in the current of change." - Lucas Tindell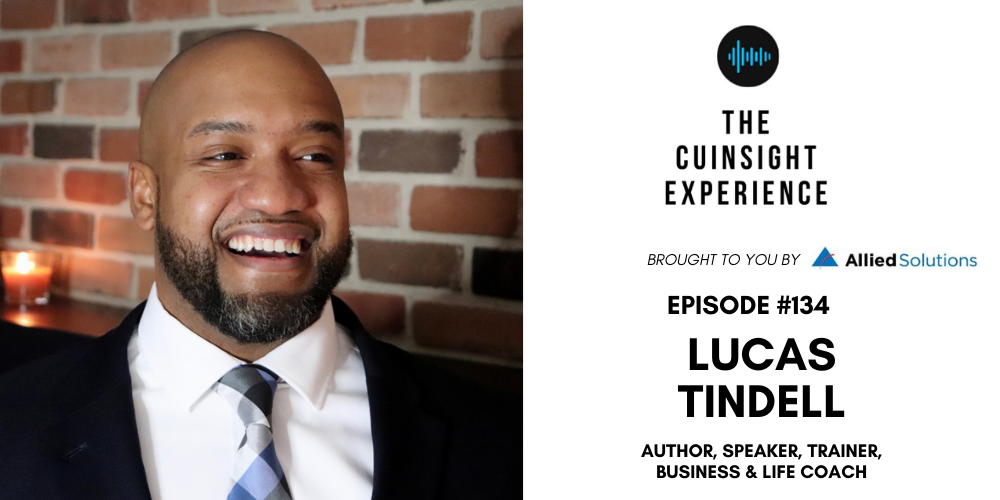 Thank you for tuning in to episode 134 of The CUInsight Experience podcast with your host, Randy Smith, co-founder of CUInsight.com. This episode is brought to you by Allied Solutions. Allied Solutions is focused on helping clients grow their bottom line, protect their business and members, and evolve to stay ahead of the competition.
My guest on today's show is author, speaker, trainer, and business and life coach, Lucas Tindell. He is also the keynote speaker for the CUInsight Mini-Con: CHANGE event on May 25. Lucas shares how he helps people connect the dots between what they want and what it takes to achieve it. He also talks about building emotional intelligence (EQ), developing leadership skills, and creating intentionality in life and work.
As we start the episode, Lucas shares how his career began by serving his community, much like credit unions do. Lucas talks about the importance of taking control of your time and having stronger intentions than your distractions. Lucas believes emotional intelligence starts with being in control of yourself, ensuring you are able to better connect with others. He also emphasizes self-awareness, empathy, and social skills as critical components of effective leadership. 
Lucas encourages leaders to be the ones who push their team up from the bottom rather than pull them from the top. He shares the importance of having a balance of system, structure, order, and vision to lead people towards a unified goal. Lucas dives into the greatest investment he's ever made in his career and the importance of building bridges before you need them. Listen to his insights on making feedback more effective with competency and behavior markers, investing time vs. spending time, and prioritizing core relationships in a work-life balance.
As we wrap up the show, Lucas talks about the figurative keys of success, Michael Jackson's Thriller album, and his inspirational wife. Enjoy my conversation with Lucas Tindell!
Subscribe on: Apple Podcasts, Spotify, Stitcher 
Books mentioned on The CUInsight Experience podcast: Book List 
How to find Lucas:
Lucas Tindell, Author, Speaker, Trainer, and Business & Life Coach
lucas@tindelltraining.com
www.lucastindell.com
LinkedIn | Facebook | Instagram
Show notes from this episode:
A big shout-out to our friends at Allied Solutions, an amazing sponsor of The CUInsight Experience podcast. Thank you!
Want to hear more from Lucas? Click here.
To learn more and register for the CUInsight Mini-Con: CHANGE event, click here.
Place mentioned: Canton, OH
Shout-out: LeBron James
Shout-out: Pro Football Hall of Fame
Shout-out: Canton McKinley Senior High School
Shout-out: Robbie Young
Place mentioned: Cleveland, OH 
Place mentioned: Detroit, MI
Place mentioned: South Beach ("SoBe")
Shout-out: Warren Buffet
Shout-out: Dale Carnegie
Shout-out: Dr. Anthony Rhodman
Shout-out: Epitomize University, Success Epitomized
Shout-out: Sidetrain
Shout-out: Netflix
Shout-out: Blockbuster
Shout-out: Sears
Shout-out: Toys "R" Us
Place mentioned: Mexico
Shout-out: Mark Zuckerberg
Shout-out: Tim Ferriss
Interview mentioned: Mark Zuckerberg on The Tim Ferriss Show
Artist mentioned: Michael Jackson
Album mentioned: Thriller by Michael Jackson
Shout-out: Lucas' wife Corine
In This Episode:
[00:57] – Lucas Tindell talks about how a summer job inspired him to take on a career of serving the community.
[03:21] – How did Lucas start to diversify his career?
[06:01] – Do most people have a clear idea of what they want?
[09:00] – Your business is a reflection of who you are internally.
[12:16] – Lucas describes the four pillars of emotional intelligence (EQ), and how it is related to leadership.
[14:55] – The idea of leadership evolved. What does today's leadership require?
[17:16] – Lucas mentions the winning combination for leadership that keeps a team and business strong.
[18:48] – Lucas talks about a personal investment in education and community that changed his career for the better.
[21:28] – For powerful feedback, tie evaluations to competency and behavior markers.
[24:08] – Build the relational bridge before you need it. Be proactive.
[26:58] – Nurture your personal matters, instead of letting your business run your life.
[28:56] – As a leader, empower your team to lead their own way.
[30:32] – Employees are not chained to companies. Lucas explains the shift to more flexible work culture.
[32:48] – Be the change or be swept away in the current of change.
[34:35] – Lucas talks about success being predictable and Michael Jackson's Thriller album. 
[36:37] – Lucas shares how inspirational his wife is in his journey, and expresses his thoughts on women being powerful.
[39:00] – We'll see you at Mini-Con!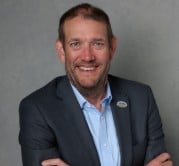 Randall Smith is the co-founder of CUInsight.com, the host of The CUInsight Experience podcast, and a bit of a wanderlust. As one of the co-founders of CUInsight.com he ...
Web: www.CUInsight.com
Details