The CUInsight Experience podcast: Mark Alguard – Purposeful change (#81)
"Go slow in making long-term decisions that are hard to unwind." - Mark Alguard
Thank you for tuning in to episode 81 of The CUInsight Experience podcast with your host, Randy Smith, co-founder of CUInsight.com. This episode is brought to you by our friends at PSCU. As the nation's premier payments CUSO, PSCU proudly supports the success of more than 1,500 credit unions.
When it comes to the future of member service, the role of traditional branches and headquarters, as well as workspaces in general, has begun to shift. On this week's episode, I sat down with Mark Alguard, President and Director of Client Strategy at Momentum, to learn more about how the global pandemic and trends around remote work are transforming the way credit unions will likely look and operate in the future.  
Mark and I chat about many of the facilities challenges credit unions are currently facing, as well as the short and long-term trends in planning, designing, and building. We also discuss effective strategies to drive technology solutions, the need to think deeper about the branch as an experience, and how member's expectations of credit unions are changing. Mark also shares his thoughts on how credit unions can remain competitive despite so much disruption. 
In the leadership and life hacks portion of the show, Mark shares what inspired him to take the job and how that inspiration has changed over the course of the last year. We talk about the need to practice making difficult decisions, developing friendships with your team, and why it's important for young leaders to be vulnerable. We also learn about his passion for high altitude hiking and how it helps him recharge after a long week at the office. 
As always, we wrap up with the rapid-fire section of the show. Mark shares that he was a bit of an underachiever in high school, but that it didn't stop him from reaching his dream of becoming a businessman. He also tells us about his favorite book by Charles Dickens, why he thinks it's important to spend time with family, and the TV personality/gardener he thinks of when he hears the word success. There's a lot of great stuff in this conversation that you won't want to miss. Enjoy!
Find the full show notes on cuinsight.com
Subscribe on: Apple Podcasts, Spotify, Google Play, Stitcher 
Books mentioned on The CUInsight Experience podcast: Book List 
How to find Mark:
Mark Alguard, President and Director of Client Strategy at Momentum
malguard@momentumbuilds.com
hwww.momentumbuilds.com/
LinkedIn | Facebook | Twitter
Show notes from this episode:
A big shout-out to our friends at PSCU, an amazing sponsor of The CUInsight Experience podcast. Thank you! 
Check out all the outstanding work that Mark and his team at Momentum are doing here. 
Read the New York Times article about technologies in the work place here
Shout-out: Bob Saunders, Vice President of Strategic Partnership at Momentum
Shout-out: Michael Scott from The Office
Shout-out: Mark's family 
Shout-out: Vistage
Shout-out: Maurice Smith
Want to learn more about high-altitude hiking? Check out this great article from REI CO-OP! 
Shout-out: North Cascades National Park 
Shout-out: Olympic Peninsula
Shout-out: University of Washington Michael G. Foster School of Business
Album mentioned: In The Aeroplane Over The Sea by Neutral Milk Hotel
Shout-out: Jill Nowacki
Book mentioned: David Copperfield by Charles Dickens
Shout-out: Monty Don
Shout-out: Big Dreams Small Spaces on BBC Two
Previous guests mentioned in this episode: Jill Nowacki (episodes 4, 18, 37 & 64), Maurice Smith
In This Episode:
[02:10] – Welcome to the show, Mark!
[02:45] – Mark shares what his company hears from credit unions about returning to the office.
[04:20] – Mark believes the challenge now is to go back to a new normal and still have the benefits of working from home.
[06:15] – What do you see in the branches?
[09:01] – Mark believes that this will change the way members interact with their credit unions.
[10:18] – Mark shares what credit unions need to be thinking about now and for the next few years.
[13:35] – What do you think credit unions need to do to stay relevant in this ever-changing financial market?
[15:08] – Mark discusses what he will be most proud that his team accomplished a year from now.
[16:27] – Mark speaks about what inspired him to take the position at Momentum and how the inspiration has changed over the past year.
[18:22] – "My part went well" is something his team hears him say all the time.
[19:47] – Making hard decisions is something Mark has had to cultivate.
[21:42] – Is there a mistake you see young leaders make?
[23:21] – Marks shares some advice that he was given early in his career.
[24:20] – Mark speaks about some mentors he has had in his life.
[26:47] – Hiking is what Mark does when he has a day off and needs to recharge.
[29:03] – What did you want to be when you grew up?
[29:26] – Marks shares his daily routines.
[30:34] – What is the best album of all time?
[31:16] – Is there a book you think everyone should read?
[32:17] – Looking good has become less important over time, and spending time and being with the family has become more important.
[33:08] – Who is the first person who comes to mind when you hear the word success?
[34:18] – Mark shares some final thoughts with the listeners.
[35:12] – Mark, thank you so much for being on the show today!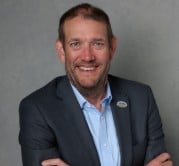 Randall Smith is the co-founder of CUInsight.com, the host of The CUInsight Experience podcast, and a bit of a wanderlust. As one of the co-founders of CUInsight.com he ...
Web: www.CUInsight.com
Details