The CUInsight Experience podcast: Mark Weber – Leaning In (#35)
"If we are going to leave a legacy in life, let's leave a rich one." - Mark Weber
Welcome to episode 35 of The CUInsight Experience podcast. Hosted by Randy Smith, co-founder, and publisher of CUInsight.com. In this episode, Randy is talking to Mark Weber CEO and Chairman of Strum, the new face of Weber Marketing Group. Strum with Mark at the helm is doing research into artificial intelligence and other ways to make it possible for credit unions data to be actionable.
Mark shares the journey to rebranding and restructuring to make Strum a voice for credit unions and credit union customers. Adapting new ideas into an old structure to make sure customers are getting the most up to date innovation available to help them navigate the savings highway.
Randy and Mark get into his work with Agros International, he describes the work that they have done in his many years with the organization.  They buy land and sell it to people in poverty, people who couldn't buy it on their own and let them turn it into a future that they had no way of having before, this is just one way they are changing lives and building hope.
This episode is full of ways that credit unions are changing and keeping up with technology, don't miss the interesting and at times amusing interaction between these two friends as they take us through the ups and downs in a credit union journey.
Subscribe on: Apple Podcasts, Spotify, Google Play, Stitcher 
How to find Mark:
Mark Weber, CEO and Chairman of Strum
mark.weber@strumagency.com
www.strumagency.com
LinkedIn | Twitter | Facebook 
Show notes from this episode:
Mark has contributed to the community over the years. Read his articles here.
Check out everything Mark and his team have going on at Strum.
Company mentioned: Argos International (and on Facebook)
Company mentioned: Gates Foundation
Company mentioned: Cairo TV
Company mentioned: Microsoft
Shout-out: Simon Sinek – Start with Why
Shout-out: Austin Powers
Company mentioned: Starbucks
Album mentioned: The Who – Live At Leeds
Book mentioned: Onward by Howard Shultz
Book mentioned: E-Myth by Michael Gerber
Mark's Winery: Cana's Feast
Book mentioned: The Moment of Lift by Melinda Gates
Previous guests mentioned in this episode: Bradley Leimer, Jill Nowacki (Ep. 4 & Ep. 18)
You can find all past episodes of The CUInsight Experience here. 
In This Episode:
[02:04] – Welcome to the show Mark Weber CEO and Chairman of Strum.
[02:33] – What in Mark's opinion are the greatest challenges for credit unions today?
[04:20] – Did the fast pace of change in the financial services area motivate you to rebrand Strum?
[07:04] – Is Strum working to solve the problem of making all the data credit unions have actionable?
[10:10] – How did you feel when you saw the new company name for the first time on the building?
[12:22] – Strum is working on artificial intelligence for that help credit union leaders to track the data and share results.
[14:02] – What is your reaction to the phrase that's the way we've always done it?
[16:32] – What are the things that need to be adapted in the credit union industry to keep up with the new trends that customers want?
[18:31] – Does your core values have anything to do with the work you've done in Latin America and Africa?
[22:02] – Mark shares his love of Agros International and the way they help people in poverty in many countries, building hope.
[24:53] – What inspired Mark to open Weber Marketing 30 years ago and work in credit unions?
[28:22] – Has the inspiration changed over the years?
[30:19] – Mark describes his leadership style as hands-on but his employees call it too hands-on but approachable.
[35:15] – What is the greatest strength of Mark's crew at Strum?
[37:54] – What has Mark said to his team over and over again through the years?
[39:40] – What piece of advice or life lesson do you still use?
[42:45] – What does Mark do with his free time?
[45:07] – Memorable trouble you've gotten into?
[47:23] – Do you have any daily routines that you have to do?
[48:41] – Mark's favorite album of all time?
[49:33] – What book does Mark recommend?
[52:30] – What is had become less important as he's gotten older?
[54:28] – Who is the first person that comes to mind when he hears the word "success?"
[57:13] – Mark's final thoughts.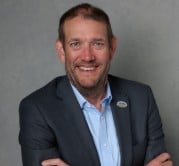 Randall Smith is the co-founder of CUInsight.com, the host of The CUInsight Experience podcast, and a bit of a wanderlust. As one of the co-founders of CUInsight.com he ...
Web: www.CUInsight.com
Details